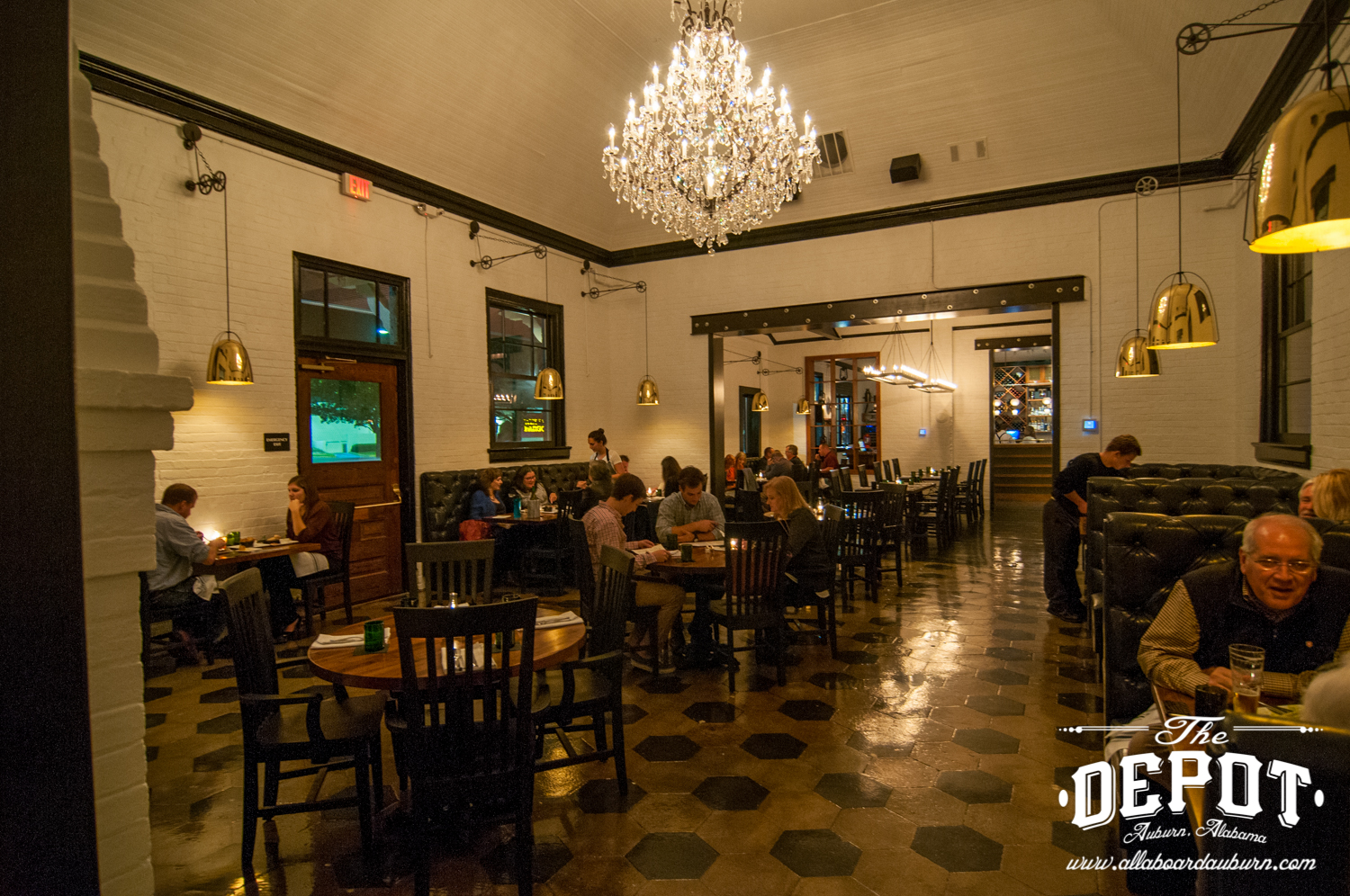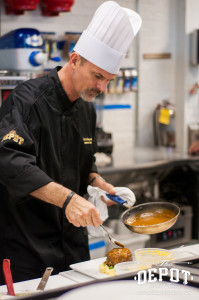 In September 2015, Chef Scott Simpson, along with his partners, opened the seafood restaurant, The Depot in Auburn, Alabama. It's the  newest dining establishment in a town which is also home to the well-known University of Auburn. Overall, the southern enclave, although small compared to larger urban areas, is home to more than sixty thousand individuals, mostly employed by the liberally based higher learning institution.
It's a far cry from the Southern California beaches where Simpson grew up and many of the global culinary regions where his chef skills were perfected. For more than a decade, Simpson worked at the JW Marriott, first in Palm Springs and then, cheffing at the property in Quito, Ecuador. He joined Capella Hotel Group, luxury hotelier, as the opening chef for many of their new global properties. He skillfully crafted menus for the room and boards' restaurants in Mumbai, Bali, Mexico, Singapore, the Caribbean, and domestically, in the United States south including Washington D.C, Virginia Beach, and then to Auburn. At each global stop, Simpson acquired cooking nuances used in each cuisine.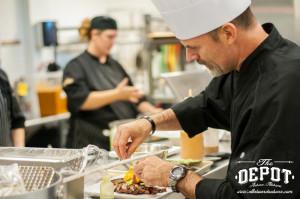 Simpson says of The Depot, "It's not Auburn's normal cuisine. The area hasn't had global food, so our objective was for the eating experience to be educational yet still be identifiable as having Southern roots."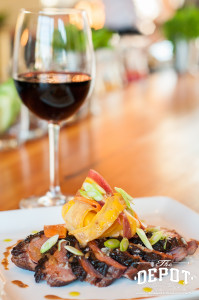 Housed in a former train station, The Depot was reincarnated as a restaurant, a Southern hospitality showcase to its Victorian birth and former life as a transportation hub. Original black and white tiled floors have a polished sheen, a massive shining chandelier dusts a warm glow over the tufted, leather booths and wooden tables. It's breathtaking food hall for Simpson to display his virtuosity, skillfully turning the former rail station into a delicious seafood brasserie. From the menu descriptions, there's an international traveler and culinary master manning the stove, with the flash fried cobia wings served with a buffalo buerre blanc, blackened amberjack with a hoppin' john risotto, short rib osso buco with an ancho demi glaze. Each item plucked  is an ode to the Deep South combined with an international flavor.
With The Depot under Simpson's adroit cookery talent, Auburn may have a destination restaurant to rival any of the big cities. Luckily, for the college town, Simpson is calling it home.
CHEF QUESTIONNAIRE (with a nod to Proust): 
How long have you been cooking?  Since I was 8. I have a picture of me on a chair so I could reach the stove and first cooked an omelet.
What is your favorite food to cook? Super fresh Seafood (It's also my favorite NOT to cook – nothing like a delicious crudo or sashimi).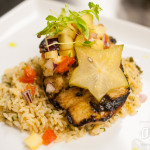 What do you always have in your fridge at home? Kerrygold butter, fresh garlic, cilantro, Hass avocados, lemons. Local farm eggs, cooked rice, raw tortillas, an array of international condiments ,and at least 3 distinct varieties of cheeses and some Albarino chilling.
What do you cook at home? "Somma Pasta" – I like to open my fridge and make a simple and spontaneous some-of-this and some-of-that dish. I love making creative pasta dishes. I received formal culinary training in Florence, and pasta is always a comforting and quick dish to make.
What marked characteristic(s) do you love in a customer? Adventuresome diners eager to step outside their norm and willing to trust me to introduce them to a new flavor or dish. Sharing guests who have enough appetite to keep tasting and tasting and sharing dish after dish at their table. Appreciative – I love customers who understand this is my artwork, I crave feedback and comments, I am always waiting to hear their honest assessment of the dish.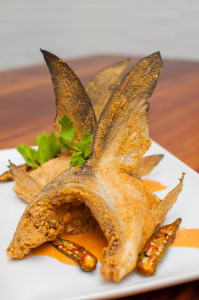 What marked characteristic do you find unappealing in a customer? I confess I am disappointed in those guests who come in, smile, and say "everything was so wonderful and delicious," and then terrorize you later that week on Social Media.
Tupperware, Rubbermaid, or Pyrex? We use clear square Cambro's in the restaurant to be more space efficient and reduce potential breakage. At home, my wife and I like more eco-friendly, Pyrex style glass containers. They don't get scratched from scrubbing or stained from a curry or a Spicy tomato sauce.
Beer, wine, or cocktail? Wine: I spent a lot of my life working in restaurants with amazing wine cellars. I am totally spoiled and have a strong appreciation for the pleasure of wine with food. Plus, I've never read a Bible story of Jesus changing water into anything else but wine.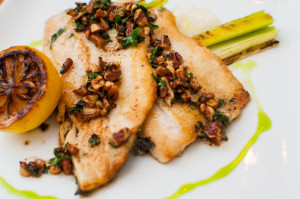 Your favorite cookbook author? I really respect the meticulous research and commitment to the authenticity of chefs like Rick Bayless or Marcella Hazan. Many other chefs throw all that out the window in order to market a gimmicky twist. Many longstanding recipes and techniques are the way they are for a reason.
Your favorite kitchen tool?  Tasting spoons.
Your favorite ingredient? I think Garlic is delicious in most anything and the same for a squeeze of fresh lemon…and never underestimate the difference a great sea salt like Maldon makes.
Your least favorite ingredient? Sugar!
Least favorite thing to do in a kitchen? Waste something.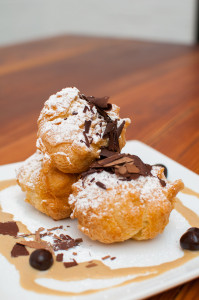 Favorite types of cuisine to cook? I really enjoy cooking Latin inspired dishes. Certainly I remain humbled by true Indian Cuisine. Still I try to satisfy myself with a semblance of Indian cooking I enjoyed there while working with some of the very best Chefs in all of India.
Beef, chicken, pork or tofu? I love them all, but beef is hands down what I most often crave – after fresh seafood. I start salivating when I see a tender juicy medium-rare steak. Fewer things are more satisfying than slicing into a perfectly cooked piece of properly aged, high-quality, well-marbled meat.
Favorite vegetable? Super tough question! Frequently I incorporate exotic mushrooms, or eggplant, which enhances many dishes. Also, I enjoy a very simple side of Sea Salt Maple Roasted Carrots that we pair with our Pecan Brown Butter Trout. Right now, I'm featuring some delicious Malabar spinach, rainbow chard, and Red Mustard frills, which are fresh and seasonal here in Auburn, Alabama.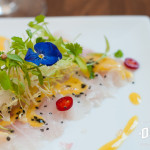 Chef you most admire? I admire Jamie Oliver, simple pure style of cooking, his obvious, passionate enjoyment of cooking. More importantly, he aspires to more than selfish glory or feeding his own pocketbook – he puts his popularity and voice to much better use.
Food you like the most to eat? I enjoy bold spicy flavors. The cuisine of the Sun and Sea.
Food you dislike the most? Unauthentic, "mis-prepared" or ruined ethnic specialties.
How many tattoos? And if so, how many are of food? My art is all edible.
Recipe: Chef Scott Simpson's Blue Corn Grits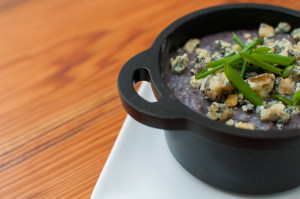 Ingredients:
2 teaspoons kosher salt
1 qt. water
1 cup stone-ground grits
2 ½ tablespoons butter
2 ½ tablespoons mascarpone
Crumbled artisan bleu cheese to taste
Preparation
1. Bring salt and water to a boil in a heavy saucepan over high heat. Whisk in grits, and cook, whisking constantly, 45 seconds. Scrape bottom and sides of the pot.
2. Return to a boil; cover and reduce heat to medium-low. Cook 20 to 25 minutes or until tender. (For a looser consistency, whisk in 2 to 4 Tbsp. water halfway through cooking.)
3. Stir in butter and mascarpone until fully melted. Garnish with artisan crumbled bleu cheese and serve immediately.
The end. Go eat.
(All photos courtesy of The Depot)