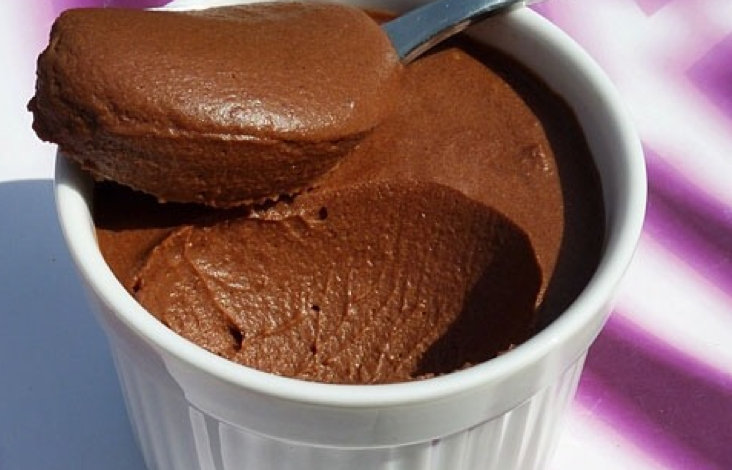 22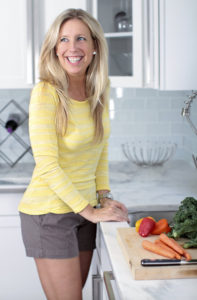 With a deep breath, I called…a vegan chef. Not knowing what to expect, I was surprised by the endless laughter we shared, and gained a new appreciation for a plant-based diet. But I get ahead of myself….
Rooted deep in the St. Louis food and wellness scene, chef Caryn Dugan is STLVegGirl, a plant-based nutrition and culinary educator with a simple mission, "A Plant on Every Plate™."
Caryn notes that the A Plant on Every Plate concept is not judgy or difficult, but an easy way to incorporate healthier eating at your own pace. She says, "Eating only plants is not only eating something green – beans, grains, seeds, even cocoa beans (think chocolate!) – plants come in all different forms. However, greens are the most nutrient dense foods. You can be so creative with eating what comes out of the ground. It's the most healthy way to live, nourish, and thrive."
Caryn adopted a plant based diet in response to tragedy; in 2008, cancer took her father at an early age and ten weeks later, tried to take her. In response to her diagnosis, she searched for an answer and found one in the growing body of literature supporting a whole food, plant-based diet to bolster our natural immune system. Adopting a vegan diet herself and beating cancer, she sought to share her knowledge to help others.
In 2011, Caryn studied in Washington, DC, under the direction of Neal Barnard, MD, at the Physicians Committee for Responsible Medicine's (PCRM) Food For Life program, becoming a certified instructor. Bringing this knowledge home, she teaches immune boosting, plant-based cooking classes at the Cancer Support Center of St. Louis for the benefit of others who have, like her, met cancer at the door.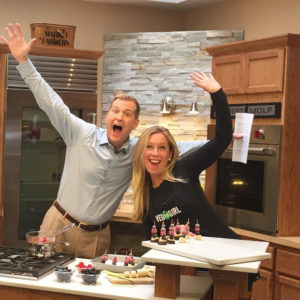 Caryn went on to form STLVegGirl, LLC, St. Louis' first fully plant based entity providing cooking instruction, personal cheffing, and catering services, regularly appears in cooking segments on local television morning shows, and teaches cooking classes in many locations around the St. Louis area.
What I love most about Caryn's approach to cooking and teaching healthy eating is that she's not the Vegan Police. Instead, she inspires us to incorporate nourishing, healthy foods into our lives. And when I asked for her best tip for someone wanting to move toward putting a plant on every plate, she said, "start with whatever you already have in your fridge and pantry, because those are going to be the most familiar foods to you. Don't make it hard on yourself. Make the food you already like, and veganize it."
She started slowly herself, moving from a microwave and frozen-meal diet to learning and researching – and teaching – how nourishing, healthy foods can change your meals – and your life. She worked hard on gaining certificates and education because she didn't want to lead people down the wrong path with her work – she wants them to learn, eat, and say, "WOW! That was totally worth my time and my money."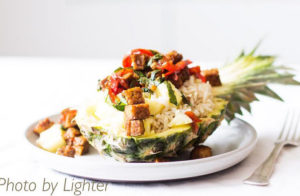 Perhaps our loudest laughs came from learning about her biggest pet peeve – the phrase "Vegan Food." Caryn said, "It's just food!!! It's just real food. It feeds into that view of vegan as unattainable and hippie. Just because you change what's on your plate doesn't mean you have to uproot your entire life. You're just using real food…not food that is processed, crazy, or something you can't say or spell. This can be very simple stuff." Indeed.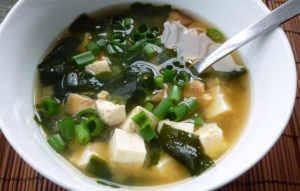 Chef's Questionnaire (with a nod to Proust):
How long have you been cooking?
Since 2008.
What is your favorite food to cook?
I enjoy seeking out the new food trends and then making them into plant-based dishes.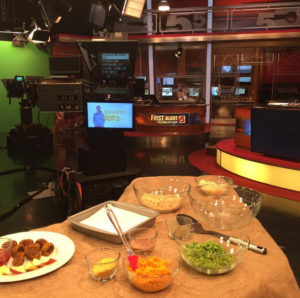 What do you always have in your fridge at home?
I'm often trying new recipes for a TV segment, cooking class, or to post on my website, so you'll typically find random ingredients.
What do you cook at home?
If I'm not in work mode – I usually one-pot meal our nights. You might call them kitchen sink nights: open the fridge and freezer and start pulling things out and throwing them in a large pot. You'd be amazed at how many recipes have come out of nights like this.
What marked characteristic do you love in a customer?
The one who wants to learn.
What marked characteristic do you find unappealing in a customer?
The one who has no time for "rabbit food."
Tupperware, Rubbermaid, or Pyrex?
Pyrex
Beer, wine, or cocktail?
Wine!
Your favorite cookbook author?
Isa Chandra Moskowitz
Your favorite kitchen tool?
My husband bought me a NHB Knifeworks Chef Knife for Christmas and I LOVE it!
Your favorite ingredient?
It varies, right now I'm using a lot of tahini paste and dates are high on the list too. Adding one more: fresh rosemary from the garden – does anything smell nicer?!
Your least favorite ingredient?
Eggplant
Least favorite thing to do in a kitchen?
Clean the stove
Favorite types of cuisine to cook?
I love experimenting with making the perfect veg burger
Beef, chicken, pork, or tofu?
Tofu
Favorite vegetable?
Brussels sprouts and sweet potatoes tie for first place
Chef you most admire?
Angela Liddon of Oh She Glows
Food you like the most to eat?
Veg Burger
Food you dislike the most?
Mushy eggplant
How many tattoos? And if so, how many are of food?
No ink
Recipe: The New Summertime Burger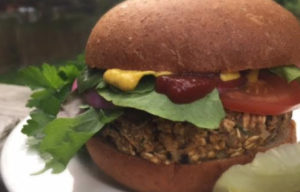 2 1/2 tablespoons ground flax
5 tablespoons water
1 cup shredded sweet potato (one very small sweet potato)
8 oz mushrooms, roughly chopped
1/2 red onion, diced small
2 garlic cloves, minced pinch of sea salt
1 14 oz can of black beans, drained and rinsed
1/2 cooked chickpeas (if from the can, drain and rinse)
1/4 cup Italian parsley, roughly chopped
2-3 green onion stalks (green part only), roughly chopped
2 tablespoons sunflower seeds
2 tablespoons dried oregano
1 tablespoon ground cumin
1/2 tablespoon paprika
1/2 teaspoon red pepper flakes (or to taste)
1/2 teaspoon sea salt & 1/2 teaspoon ground black pepper
1 3/4 cups whole oats
Mix the flax and the water together in a small bowl and allow it to sit for 15 minutes or until it begins to become gelatinous (this will be your "egg" and act as a binder).
Wash, but do not peel the sweet potato. Shred it by using a hand grater or run it though a food processor using the shred blade.
To a large non-stick pan, add the sweet potato, red onion, and mushrooms. Over medium heat and stirring often, allow the vegetables to cook down. Once they begin to soften, add in the garlic and a pinch of sea salt. Transfer to a food processor. Add the black beans, chickpeas, parsley, green onion, sunflower seeds, spices, and flax/water mix.
To a blender, add one cup of the oats and grind down until it is a coarse flour.
Add the flour and 1/4 of the whole oats to the food processor with the rest of the mixture.
Pulse the mixture until well mixed, but not blended or pureed.
Making the burgers
Transfer to a large bowl and add the rest of the oats.
Mix well with your hands and taste. Adjust spices to your liking.
Cover and refrigerate the mixture for an hour up to overnight.
Preheat oven to 375-F. Line a baking sheet with parchment paper.
Patty up your burgers. I made mine about 3″ in diameter and 1/2″-3/4″ thickness.
Bake for 18 minutes on one side, flip and bake for another 10 minutes.
NOTES:
These can be made into sliders or meatballs; remember,you'll have to adjust your cooking time down the smaller the patty.
You can either refrigerate the mixture or patty up the burgers and and refrigerate them – either way, be sure to cover them.
The End. Go Eat.