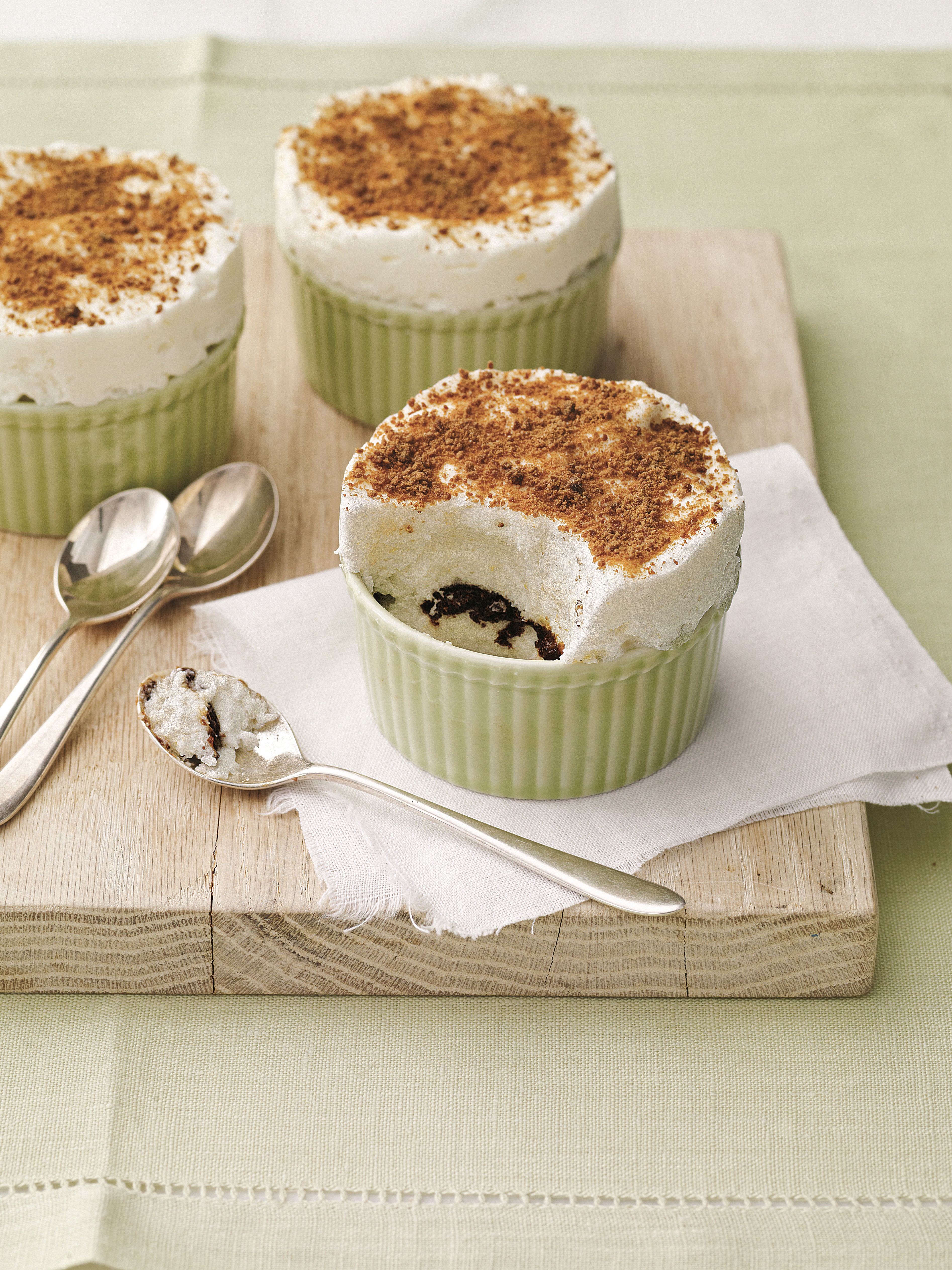 What began as a love for baking at a young age, developed into a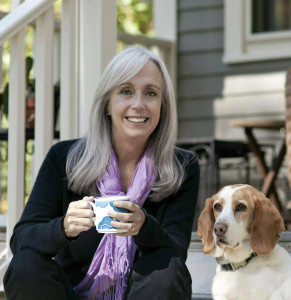 passionate and successful career for Abby Dodge. A widely respected, award-winning expert in baking and cooking for both kids and adults, as well as a popular food writer, instructor and media personality, Abby has a simple mission: To streamline baking and cooking for home cooks of all ages.
She studied in Paris at La Varenne and worked under superstars Michel Guerard and Guy Savoy, specializing in pastry. She has held food editorial posts at Parents and Woman's Day, and has contributed to over seven dozen special-interest publications focusing on baking and family cooking. Abby is currently a contributing editor at Fine Cooking magazine, where she has been on the masthead since its first issue in 1994. She founded the magazine's test kitchen, has written and contributed to over eighty articles to date, and serves as the magazine's guru for all things baking.
In addition to her regular blog postings, Abby hosts a Baking Boot Camp video class on the popular site Craftsy.com, where she teaches and encourages an international group of bakers of all skill levels to become better bakers.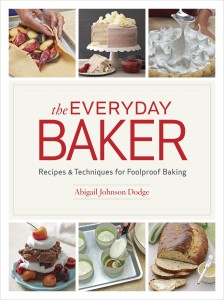 Her tenth book, The Everyday Baker ~ Recipes & Techniques For Foolproof Baking (The Taunton Press, Dec. 2015), has just been released to much critical praise – including my own! I love this book – and have recommended it far and wide. It's the most comprehensive – and interesting – baking cookbook I've ever seen (and I own more than 5,000 cookbooks). I love the detailed instructions (with photos), as well as the creative, intriguing recipes (176 of them!). I've reviewed many of Abby's cookbooks through the years – they are all amazing, and keep getting better. Highly recommended.
Abby's  Ten Popular and Award-Winning Cookbooks:
The Everyday Baker ~ Recipes & Techniques for Foolproof Baking, 2015 (Washington Post Top Ten Cookbooks of 2015; Dorie Greenspan Top Baking Cookbooks of 2015)
Mini Treats & Handheld Treats ~ Delicious Desserts to Pick Up & Eat (September, 2012)
Desserts 4 Today – Flavorful Desserts with just FOUR INGREDIENTS , 2010 (a viral & critically acclaimed sensation)
Williams-Sonoma Mini Pies, 2010
Around the World Cookbook, 2008 (Good Morning America Top 10 Cookbooks of 2008; Parents Choice Recommended Award 2008; Cordon d'Or Culinary Academy Award 2008)
The Weekend Baker, 2005, reprinted 2008 (Food + Wine Top Ten Cookbooks of 2004; IACP Cookbook Award Finalist)
Kids Baking, 2003 (Over 347,000 copies in print, translated into Spanish)
Williams-Sonoma Dessert, 2002 (Over 300,000 in print, translated into Spanish)
The Kid's Cookbook, 2000 (Over 368,000 copies in print)
Great Fruit Desserts, 1997 (Translated into six languages)
Abby has also contributed or co-authored many cookbooks, including:
Baking Out Loud (Hedy Goldsmith, Clarkson Potter 2012)
B. Smith's Southern A to Z (Scribner, 2008)
The Joy of Cooking, 75th Anniversary Edition, 2006
Savoring America, 2002 (James Beard Award finalist; Ben Franklin Award winner)
Cookies for Christmas, 1999
The All New Joy of Cooking, 1997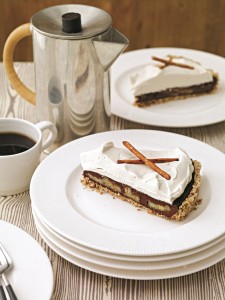 Food Questions (with a nod to Proust):
What is your favorite food to cook at home?
Eggs. Easy & options abound.
What do you always have in your fridge at home?
Unsalted butter.
What marked characteristic do you love in a person with whom you are sharing a meal?
Keeping it real – no posers at my table.
What marked characteristic do you find unappealing in a person with whom you are sharing a meal?
Open-mouth chewer.
Beer, wine or cocktail?
Yes, please.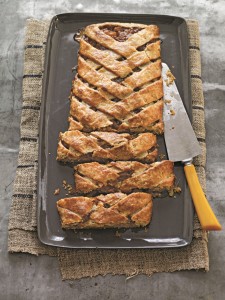 Your favorite cookbook author?
I'm promoting a book so.. me.
Your favorite kitchen tool?
My Oxo kitchen scale
Favorite types of cuisine to cook?
French… Italian… Greek… Spanish… don't make me chose.
Beef, chicken, pork, or tofu?
Easy: Chicken
Favorite vegetable?
Brussel sprouts but ask me again tomorrow, I happily bounce all over the veggie aisle.
Chef you most admire?
Alfred Portale – insanely gifted, a bear to work for & surprisingly shy.
Food you like the most to eat?
Cake. Make mine chocolate and in big pieces, please.
Food you dislike the most?
I'll take some heat for this one but… beets. Chalk it up to a bad childhood experience.
Don't ask.
What is your favorite non-food thing to do?
Watching RHOBH with my darling daughter- a guilty pleasure.
Who do you most admire in food?
Michael Rulhman. A straight talker and brilliant writer worth listening to.
Where is your favorite place to eat?
On a warm day, I'll be sitting at an outside table, preferably by the water. Please pass the Rose.
What is your favorite restaurant?
See above.
Do you have any tattoos? And if so, how many are of food?
My Motto: Don't answer questions that you don't want your kids to read.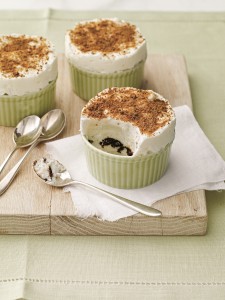 Recipe: Lemon Ginger Mousse Soufflés from The Everyday Baker
Serves 6
These light, billowy individual soufflé-like mousses are a variation on a pie filling in my book, The Weekend Baker. Instead of adding heavy cream to the mousse, I use puréed ricotta (for a smooth texture) to add richness without heaviness. The lemon and fresh ginger make for a refreshing flavor profile, but it's the ginger cookies hidden inside that are the surprise ingredient. Softened by the mousse, they bring texture and a burst of ginger flavor.
Adding a collar of parchment adds additional height to the ramekins. This way you can mimic the impressive height of a baked soufflé without the need for any last-minute fussing.
Neutral oil (safflower, canola, vegetable, or corn), for the
ramekins
For the mousse
3⁄4 cup (180 ml) freshly squeezed lemon juice
1 envelope (1⁄4 oz./7 g) unflavored powdered gelatin
11⁄4 cups (111⁄4 oz./319 g) ricotta (part skim is fine)
3⁄4 cup (51⁄2 oz./156 g) granulated sugar
1 Tbs. finely grated lemon zest
2 tsp. finely grated fresh ginger
Pinch of table salt
4 whites from large eggs (4 oz./ 113 g), at room temperature
1⁄2 tsp. cream of tartar
1⁄2 cup (2 oz./57 g) confectioners' sugar, sifted if lumpy
12 gingersnap cookies + more for the crushed cookie topping
(I use Nabisco or homemade molasses cookies)
Blackberry Compote (recipe in the book) or other berry sauces, optional
Have ready six 6-oz. (180 ml) ramekins (31⁄2 inches wide and 12⁄3 inches high/9 cm wide and 4.25 cm high) arranged on a flat plate or quarter sheet pan. Cut parchment into six strips 21⁄2 inches (6 cm) wide and 12 inches (30.5 cm) long. Wrap one strip around each ramekin so that the paper covers the ramekin and stands 1 inch (2.5 cm) above the rim; secure with tape. Lightly grease the inside of the paper rim (I use a paper towel dipped in a bit of neutral oil).
Make the mousse
1. Pour the lemon juice into a small heatproof ramekin (or keep it in the measuring cup) and sprinkle the gelatin evenly over the top. Set aside to soften. Once the gelatin has absorbed the liquid and is plump (about 3 minutes), microwave briefly until it is completely melted and crystal clear, 1 to 2 minutes. This can also be done in a small saucepan (instead of the ramekin) over low heat.
2. Put the ricotta, granulated sugar, lemon zest, ginger, and salt in a blender. Scrape the lemon–gelatin mixture into the blender, cover, and process until the ricotta is smooth and the mixture is well blended, about 11⁄2 minutes, scraping down the sides once or twice. Pour into a medium bowl and refrigerate, stirring frequently, until the mixture is cooled and thickened, 20 to 30 minutes. It should be as thick as unbeaten egg whites. For faster cooling, set the bowl over a larger bowl filled with ice, stirring and scraping the sides frequently until cooled.
3. Put the egg whites and cream of tartar in the bowl of a stand mixer fitted with the whisk attachment (or in a medium bowl and using an electric handheld mixer fitted with wire beaters) and beat on medium speed until the whites are frothy, 30 to 45 seconds. Increase the speed to medium high and beat until the whites form soft peaks, 1 to 2 minutes. Continue beating while gradually adding the confectioners' sugar, stopping occasionally to scrape down the sides of the bowl. Beat until the whites form firm and glossy peaks when the beater is lifted.
4. Scoop about one-quarter of the whites into the thickened lemon mixture and, using a silicone spatula, gently stir until blended. Add the remaining whites and gently fold in until just blended.
Assemble the mousses
Arrange one cookie in the bottom of each ramekin. Using a large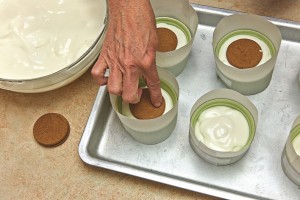 spoon, fill the ramekins halfway with the mousse. Arrange a cookie on top of the mousse and evenly portion the remaining mousse on top of the cookies. Using a small offset spatula, smooth the tops.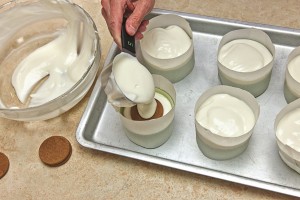 Cover loosely with plastic wrap and refrigerate until firm, at least 6 hours or up to 1 day.
To serve
Using a sharp paring knife, carefully peel away the parchment from the ramekins (up to 3 hours ahead). Just before serving, place each ramekin on a small plate and top with some of the crushed ginger cookie or a little of the blackberry compote, passing the remainder at the table.
MAKE AHEAD
The soufflés can be prepared, covered, and refrigerated for up to 2 days before serving.
– The End. Go Eat. –
Recipe and author photo courtesy and copyright Abby Dodge. Recipe photos courtesy and copyright Tina Rupp  [finished dishes] and Sloan Howard, Taunton Press [how-to photos]