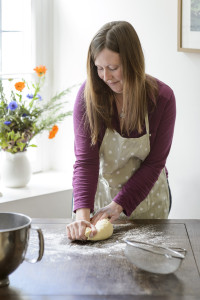 "Who doesn't love cake?" Thus my introduction to Holly Farrell began, when I called her at her gardener's cottage on an estate in the UK, near the Shropshire/Herefordshire border. Farrell is a serious gardener, mom of a toddler, and the author of Grow Your Own Cake: Recipes from Pot to Plate, a genius book that is both a backyard gardening guide and cookbook. The beautiful, inspiring photos are by Jason Ingram.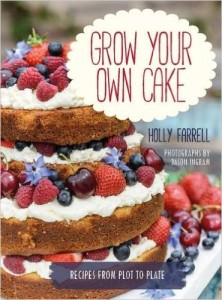 Farrell has a delicious twist to her cake recipes, though – she has a vegetable garden devoted to all things cake. How did this come about?
In college, Farrell majored in history. Which led, curiously, to gardening. What? Yes, well, love entered the picture, too, as you'll find out in a moment. She got the growing bug working at a chili pepper farm, after which she trained at RHS Gardens Wisley, where she gained the Wisley Diploma in Practical Horticulture and the RHS Certificate and Diploma, both with Commendation – and met her husband! They now live on the country estate where he is the Head Gardener.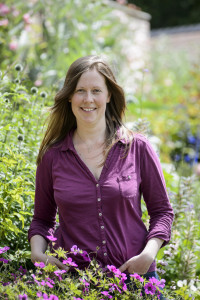 Soon, she started writing garden books – and freelancing on kitchen gardens for private clients. Now one thing that's a bit unusual, you'd think, for gardeners – sometimes the accommodations where they lived didn't have big gardens, because the estate had such extensive gardens! So, she has been growing her own fruit and vegetables for many years, in a variety of settings, from allotments to container gardens. I think for Farrell, gardening is like breathing – something you do no matter where you are. It was amazing to hear her clear passion for gardening –  and her love of teaching how to grow things – from across the pond.
Farrell has always cooked, and always liked cake. This book is a glorious combination of the two, where ingredients you never thought would be in a cake are the stars – or the firmament.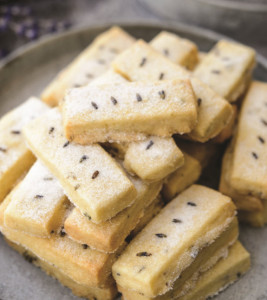 She hopes to inspire people to expand their gardens – and palates. This book will appeal to gardeners who are already growing, and bakers who have never gardened, too. Using freshly grown ingredients (including herbs and flowers) – especially from your own hand and land – makes such a difference. Can't grow much? Start with herbs in pots on your windowsill, and get the rest from local farmers at your farmer's market.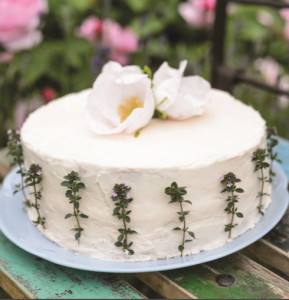 I love this book, for it teaches much in both the garden and the kitchen. If you know one, skip ahead to the other. But the recipes (50 of them!) shine, I will be honest. Her chapters include spring and summer cakes, autumn and winter cakes, afternoon tea, pudding, and savory bakes. When I asked what readers might be surprised about her book, Farrell mentions that she while she loves gardening, she doesn't grow her own wheat, or raises cows and chickens – and the recipe that raises the most eyebrows is the savory cheesecake (you know I flipped right to that page after our afternoon chat, and indeed, I was both intrigued and impressed. Making soon!).
As a mom, I asked Farrell for tips were to get kids started baking (and gardening) early. She said to start early by baking sweet stuff! And while plenty of people are great at hiding vegetables in a cake, that's not what she's about. She prefers getting kids to appreciate growing things, picking, and then cooking them. Their time and efforts are rewarded and they'll want to try it again (and again).
I was impressed with Farrell's philosophy on gardening, eating, and life. She noted that, "so much goes into the experience of eating – where you are, who you're with, if the sun is shining, etc. The cakes in the book will taste good, but hopefully you'll be in a good place, a garden, and the satisfaction of having grown it yourself will make it better."
To that end, she's shared two recipes to inspire you.
Questionnaire, with a nod to Proust:
What is your favorite food to cook at home?
Cake! Or anything involving cheese.
What do you always have in your fridge at home?
Butter and eggs, and parmesan cheese (see above).
What marked characteristic do you love in a person with whom you are sharing a meal?
I'm terrible at deciding between dishes in restaurants, so it's always nice when they order the other choice so I can try both!
What marked characteristic do you find unappealing in a person with whom you are sharing a meal?
Poor table manners.
Beer, wine, or cocktail?
Cocktail.
Your favorite cookbook author?
Too many to choose, but for the writing, Nigel Slater and recently Ruby Tandoh.
Your favorite kitchen tool?
My silicone spatula.
Favorite types of cuisine to cook?
Anything sweet – pudding, dessert, cake…
Beef, chicken, pork, or tofu?
Chicken, but I couldn't live without pancetta for ragu.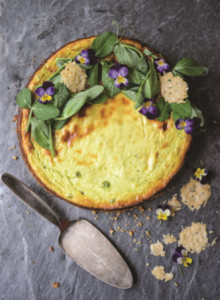 Favorite vegetable?
Broccoli – it's what I crave when I'm under the weather, but for baking with, carrots.
Chef you most admire?
Jamie Oliver and Hugh Fearnley-Whittingstall do great work with their campaigns for better food.
Food you like the most to eat?
I couldn't live without chocolate.
Food you dislike the most?
Visible fat on meat – I just can't stomach chewing it. Or semolina and rice puddings, a school-dinner legacy.
What is your favorite non-food thing to do?
Gardening.
Who do you most admire in food?
Michael Pollan writes so well, and his Food Rules is brilliant.
Where is your favorite place to eat?
At the kitchen table with my husband and daughter.
What is your favorite restaurant?
The best meals I've ever had out were at Raymond Blanc's Le Manoir, and at a little place called Da Enzo in Rome.
Do you have any tattoos? And if so, how many are of food?
Hah! No, sorry, I'm not nearly rock and roll (or brave) enough for tattoos.
Growing Carrots & Carrot Cake Recipe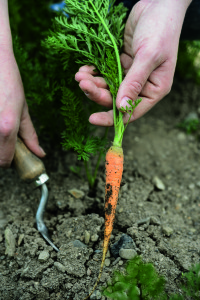 G R O W CARROTS
When I first started growing my own vegetables, I had a friend who thought carrots is carrots is carrots. I presented him with my home-grown roots for dinner, pulled from the soil that afternoon. 'Oh', he said, 'so that's what carrots are supposed to taste like.'
BEST VARIETIES
For recipes that call for blended or grated carrot, sweet, juicy, long, blunt-ended varieties are best, such as 'Sugarsnax 54', 'St Valery',
any of the 'Nantes' type or the shorter 'Amsterdam Forcing' for growing in pots. When using whole carrots, as in Root veg
tarte Tatin, baby carrot varieties such as 'Paris Market' are a good choice, and also suitable for growing in pots.
PLANTING
Sow carrots in a sunny spot in spring, and again at intervals until late summer. Scatter the seed thinly in a drill in well-prepared soil free from large stones. Small carrots can be grown in pots, and this is actually preferable to growing them in heavy clay soils.
MAINTENANCE
Carrot flies are attracted by the scent of the foliage so avoid brushing it while tending the plants. To protect the crop from such pests, cover with horticultural fleece or fine mesh. Clear plastic tunnels can also be used if aired daily. Check the edges and folds regularly for slugs and snails. Thin the seedlings once the roots have grown to a usable size, leaving one plant every 10cm/4cm or so.
HARVEST
Satisfying as it is to just pull up carrots using the foliage, this should be avoided so the root does not break; instead use a fork to lever them out of the ground. Carrot thinnings provide the first harvest, while the main crop will be ready around four months after sowing.
Recipe: CARROT CAKE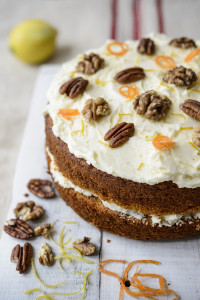 Perhaps the most well-known of all the vegetable cakes, and with good reason, carrot cake comes in many guises. This sponge version is lightly spiced, moist and includes a zesty buttercream. It is light enough for baking with fresh, sweet carrots in summer.
MAKES A TWO-LAYER CAKE
YOU WILL NEED
2 x deep, round cake tins, 20cm/8in diameter, greased and base-lined
INGREDIENTS
Cake:
200g/7oz peeled carrots
2 tbsp natural yogurt
1 tbsp orange juice
330g/11oz plain flour
300g/10oz light brown muscovado sugar
2 tsp ground cinnamon
1 tsp ground ginger
1½ tbsp baking powder
180g/6oz unsalted butter
3 eggs
Candied carrot:
1 peeled carrot
70g/2½oz caster sugar
70ml/2½fl oz water
Buttercream:
300g/10oz icing sugar
150g/5oz unsalted butter
3 tsp lemon juice, to taste
Decoration:
1 lemon, zest
75g/2½oz walnuts and/or pecans, toasted
METHOD
• For the cake, preheat the oven to 170°C/325°F/gas mark 3. Grate the carrots, then blitz in a food processor or blender with the yogurt and orange juice to form a rough purée. Set aside. Sift the flour, sugar, spices and baking powder into a large bowl, then beat in the butter until it has coated the dry ingredients and the mix looks like breadcrumbs. Beat in the eggs until just incorporated, and then the carrot purée for 2–3 minutes. Divide between the two tins. Bake for 30 minutes, or until a skewer comes out clean. Then remove from the oven and turn out the cakes to cool on a wire rack.
• For the candied carrot, using a zester or small knife, pare long, thin strips of carrot into a small saucepan. Then add the sugar and water. Bring to a simmer over a medium heat and cook for about 5 minutes, until a thin syrup has formed. Hook out the carrot strips and leave to cool on a wire rack.
• For the buttercream, sift the icing sugar and beat with the butter to combine, then add lemon juice to taste. Beat for 5–10 minutes until light and fluffy.
TO ASSEMBLE
Use half the buttercream to sandwich the two layers of cake together, and the other half to cover the top. Grate over the lemon zest and finish by sprinkling over the toasted nuts and candied carrot.
Recipe: PUMPKIN SODA BREAD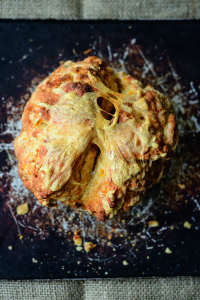 Soda bread, which is created using baking powder rather than yeast, requires no kneading and no proving. It is best served warm, making it an ideal choice for a quick weekend lunch. Tradition has it that the cross sliced into the top of the bread is to ward off the devil, but whatever the origin it makes each loaf easy to tear apart into
chunks to share.
MAKES 2 LOAVES
YOU WILL NEED
1 × baking sheet, dusted with flour
INGREDIENTS
500g/1lb 2oz plain flour, plus extra for dusting
1 tsp salt
pinch of freshly ground pepper
4 tsp baking powder
150g/5oz grated pumpkin
100g/3½oz grated
gruyere cheese
300ml/½ pint buttermilk
METHOD
• Preheat the oven to 200°C/400°F/gas mark 6. Mix the flour, salt, pepper, baking powder, pumpkin and three-quarters of the cheese quickly and thoroughly in a large bowl. Then make a well in the centre.
• Pour in the buttermilk and stir until it comes together as one ball of dough. Work as quickly as possible until the ingredients are all incorporated, but do not mix for longer than necessary to do this.
• Divide the dough into two equal pieces, and shape each into a ball. Put on to the baking sheet and flatten slightly. Cut a deep (almost to the base) cross in each ball, sprinkle with the remaining cheese and dust with a little flour.
• Bake for 25–30 minutes, until the bread sounds hollow when tapped on the base. Remove from the oven and cool on a wire rack.
TO SERVE
Serve warm or cold. The loaves will last 2 days at most, and are best eaten as soon as possible after baking.
Inspiration, indeed. Spring is here – what are you planting, with a mind to bake and eat?
The End. Go Eat.