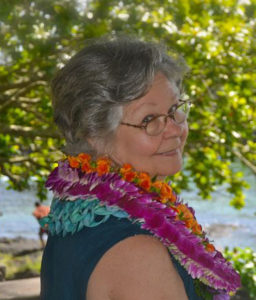 Sonia R. Martinez was born in the island of Cuba, and has always been drawn to tropical climes and cuisines. For the last 22 years she has lived on the Island of Hawai'i in a beautiful rain forest where she loves to play in the garden, grow herbs, collect cookbooks, test recipes, visiting farms; learning and reporting about new sustainable growing techniques, read voraciously, and work on crossword puzzles.
Her passion for food and cooking led her to own kitchen/gourmet shops and cooking schools first in Orangeburg, South Carolina and later in the Miami, Florida area. After moving to Hawai'i, she and her son owned Akaka Falls Inn, a B&B, cooking school and gourmet shop in Honomu for several years.
She has been a food writer and columnist since early 1999, writing a monthly column for The Hamakua Times newspaper of Honoka'a. Sonia is also a regular contributor to Ke Ola Magazine as well as many other local publications. I first met Sonia in the early days of Gather, a website that featured great writing and an even greater community. Her recipes, photos of life in Hawai'i, and generous, smiling personality attracted many followers, including myself. Her care and attention is genuine and I consider her decade+ friendship one of the best things coming from the islands to Michigan! She has been a beacon for visitors to visit Hawai'i, promoting the delicious local foods there, as well as encouraging healthy and fresh eating. Her recipes, food photos, and sharing of local farmer's markets, island food, and the beautiful place she lives in has inspired countless readers.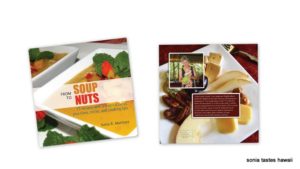 Her cookbook Tropical Taste, published in 2001, is a compilation of three years' worth of monthly columns published in The Hamakua Times and is now in its second printing after being picked as one of the "Best of the Best" cookbooks in Hawai'i by Quail Ridge Press. Her second cookbook, From Soup to Nuts, was published a year ago .
Sonia has maintained a blog for several years, sharing her adventures in food and gardening and her ongoing love affair with Hawai'i at www.soniatasteshawaii.com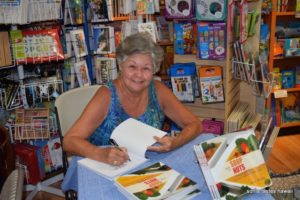 Food People Questionnaire (with a nod to Proust):
What is your favorite food to cook at home?
Mainly simple and fresh…but I grew up with the 'waste not' concept and love to find creative ways to recycle leftovers so they don't look or taste like leftovers.
What do you always have in your fridge at home?
Eggs, butter, cheese…I can live on cheese.
What marked characteristic do you love in a person with whom you are sharing a meal?
Appreciation and enjoyment of the food.
What marked characteristic do you find unappealing in a person with whom you are sharing a meal?
Inattention to the food or the other extreme, showing off their 'gourmandise'
Beer, wine, or cocktail?
Definitely wine…unless I'm eating a paella or Arroz con Pollo…then I do enjoy a very cold beer. I am not fond of cocktails.
Your favorite cookbook author?
This is a hard one. At one time I owned a collection of well over 3000 cookbooks. Lost them in a fire, but in no time at all, my 'new' collection grew by leaps and bounds with gifts from friends who were trying to replace the lost ones, plus the many I added through the years. A couple of years ago, I started going through them and culling them to a manageable 4 shelf units in my office and hallway instead of all over the house. It was a time of hard decisions, but now know exactly what I have and where to find it…No mean feat, since I still own about 500, give or take.
I have an extensive collection of Cuban and Hawaiian cookbooks; a few Spanish & Portuguese, some Italian ones and Tropical Fruit ones, plus several on herbs & spices, a few single topic ones (sushi, dim sum, chocolate) and several of the classics that don't fit into any of the categories mentioned…and of course, my own two titles, Tropical Taste and From Soup to Nuts.
Your favorite kitchen tool?
My Santoku knife…I seem to reach for that one above all other ones.
Favorite types of cuisine to cook?
Tropical, Cuban, Italian.
Beef, chicken, pork, or tofu?
I'll eat anything but am most creative with chicken. I am not fond of tofu.
Favorite vegetable?
Asparagus, any way it can be prepared.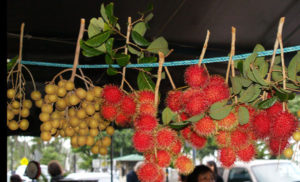 Chef you most admire?
Although I have met a few of the well-known chefs in the culinary world, and admire several of them, I will have to say that there are three 'local' chefs I admire the most on this island. Sam Choy of Sam Choy's Kai Lanai in Kailua-Kona, James Babian of Pueo's Osteria in Waikoloa, and Diana Soler of Aloha Bayfront Café in Hilo, for their commitment to using locally sourced ingredients whenever possible and their honest approach to food. Simple, fresh, beautifully prepared and presented without ostentation.
Food you like the most to eat?
Any shellfish but love scallops
Food you dislike the most?
Anything that is an imitation of the real thing
What is your favorite non-food thing to do?
Play in the garden…I love planting edibles among our ornamental landscaping (I even joy weeding!), and am a voracious reader.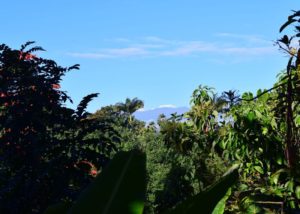 Who do you most admire in food?
My mentor and inspiration from way back has always been Shirley O. Corriher, who came to my first cooking school as a guest cooking teacher fairly often in the early 80s. She demystified so many of my preconceived notions in cooking and her enthusiasm and love of all things food served as great encouragement.
Where is your favorite place to eat?
A good sushi or seafood restaurant.
What is your favorite restaurant?
Takenoko's Sushi in Hilo, is in my opinion the best sushi restaurant anywhere. We're lucky if we can get reservations since the waiting list is so long, but it is well worth the waiting. I also enjoy dropping by Aloha Bayfront Café in Hilo for lunch. The food is always fresh, delicious, and beautifully presented, the staff is friendly, and you're never rushed to vacate the table.
Do you have any tattoos? And if so, how many are of food?
No tattoos. My mother would have killed me!
Recipe: Salade Niçoise with fresh 'ahi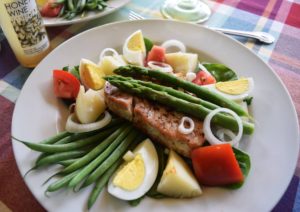 One of my favorite simple and healthy meals to prepare at home when I can buy fresh 'ahi (tuna) is my version of a Salade Niçoise.
Season to taste fresh 'ahi (tuna), sear in avocado oil, serve on a bed of fresh spinach or Manoa lettuce, boiled potato wedges, hard-boiled eggs, tomatoes, sliced onions, a handful of lightly steamed haricot vert, and asparagus, dressed simply with Honey Wine Vinegar to which I had added a vanilla bean.
The End. Go Eat. 
All photos courtesy and copyright Sonia R. Martinez