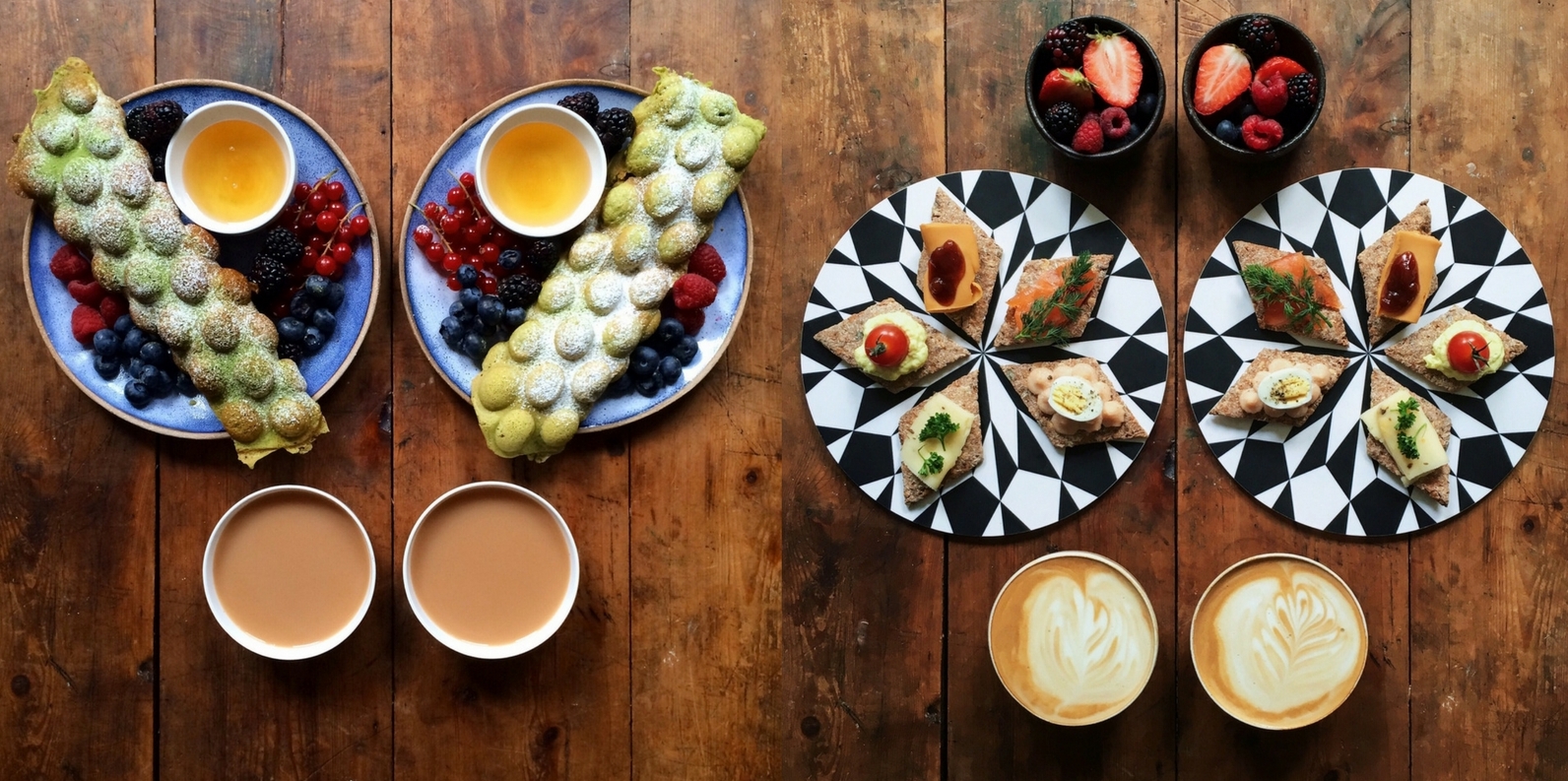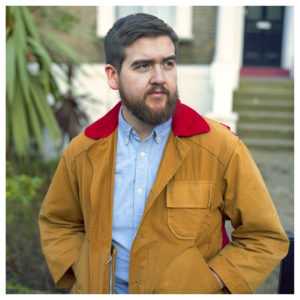 When I asked Michael Zee, author of the incredibly beautiful cookbook and popular Instagram, SymmetryBreakfast, what inspired him each morning, to create such lovely meals? Well, I bet you won't be surprised by his answer: "I love to cook a lovely meal for Mark to make breakfast a special moment for both of us."
SymmetryBreakfast incorporates world cuisines, contemporary design and a story of love over the meal of breakfast. Featured in the Guardian, Washington Post, Telegraph, Bravo, and endorsed by Jamie Oliver, it is also a favourite account of Kevin Systrom, Instagram CEO and co-founder.
Michael studied photography at the Arts Institute at Bournemouth in 2003 and later went on to teach Art and Design in secondary schools in London's East End. He then completed his masters in Museums and Galleries in Education and went to work in public programming at the Victoria & Albert Museum, London.
He now works on SymmetryBreakfast full time.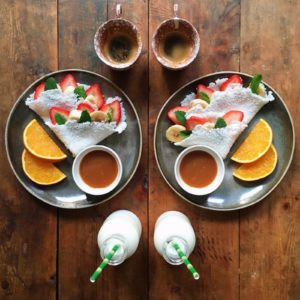 Michael's passion for cooking comes from his parents. His mixed English, Scottish and Chinese heritage. Weekends and school holidays would be spent working in his father's Chinese and English chippies in Liverpool and teaching himself to bake for his mother's sweet tooth.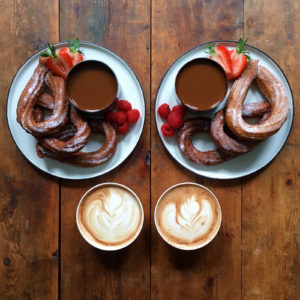 Michael created SymmetryBreakfast for his partner Mark in their Hackney flat in 2013. Mark's hectic job as a menswear fashion designer means late nights and weekends in the office. Early on in their relationship, breakfast became a sacred moment in the day and Michael started on his mission to make each meal as celebratory as possible. Over 1,000 breakfasts later, Michael still wakes up early to make breakfast for Mark, looking carefully around the world and at home for inspiration, taking a simple idea and making it beautiful.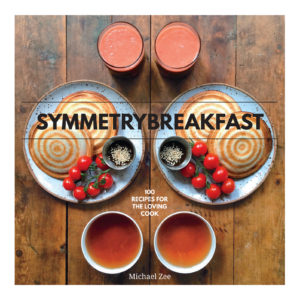 His new cookbook, SymmetryBreakfast, contains over 100 recipes from around the world. The book takes an anthropological view of how food shapes culture and vice versa and how in the many different ways we break the fast.
The book has been published by Transworld (part of Penguin Random House) in the UK and Commonwealth, by PowerHouse in North America and by Shanghai Insight in mainland China.
Food People Questionnaire (with a nod to Proust):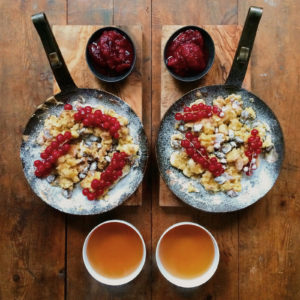 How long have you been cooking?
Since I was about 5 years old in our family restaurant in Liverpool. It was a Chinese food and English fish and chip takeaway (very popular in Liverpool and probably nowhere else!)
What is your favorite food to cook?
Fresh pasta. It becomes such an event and is so much fun to do with friends, whilst having a glass or bottle of wine, one person turns the handle and the other feeds it through. You get in a huff when it goes wrong, but it's pure joy when it comes out perfect.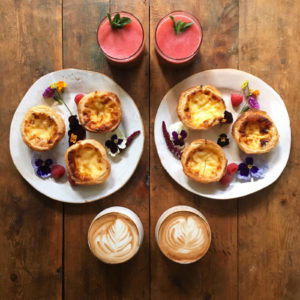 What do you always have in your fridge at home?
Butter. If there isn't any then something is wrong
What do you cook at home?
Absolutely everything from every country and cuisine possible.
Tupperware, Rubbermaid, or Pyrex?
Being British, I only have one Pyrex thing in my kitchen and it's a measuring jug.
Beer, wine, or cocktail?
All three in that order.
Your favorite cookbook author?
Ernest Matthew Mickler of White Trash Cooking . One of my favourite books ever, too, food with soul and humour.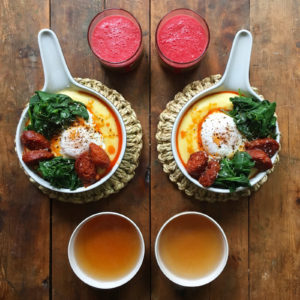 Your favorite kitchen tool?
My santoku chef knife from Blenheim Forge
Your favorite ingredient?
Tea – its not just a drink! An Earl Grey infused gin or a tea smoked salmon are delicious and add excitement in so many ways. I have over 50 teas from The Rare Tea Company and I love that they can be paired in so many ways
Your least favorite ingredient?
Olives, can't stand them.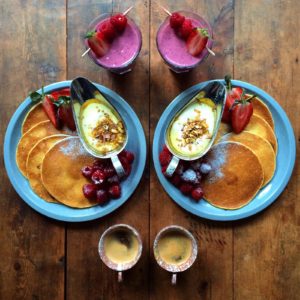 Least favorite thing to do in a kitchen?
Doing the dishes. It's a luxury to have a dishwasher in London. I'm very happy Mark loves doing the washing up.
Favorite types of cuisine to cook?
I love cooking Middle Eastern food. There are some fantastic shops and markets in East London that you can get fresh pistachios or pomegranate molasses easier than getting white sliced bread.
I also have a soft spot for French country cooking, things like Soupe à L'oignon or Pot-au-feu. I also have a deep love for Comte cheese and particularly love a Tartine au jambon et Comte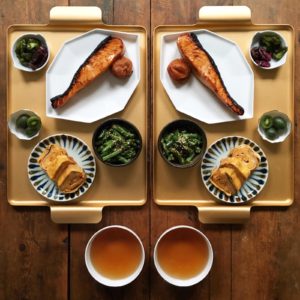 Beef, chicken, pork, or tofu?
I'd prefer to say a pig rather than pork. I love crispy belly pork or char sui pork, but lets not forget jamon and a glass of wine.
Favorite vegetable?
Aubergine, or as you might call it, eggplant. Roasted whole on a fire and mashed with some olive oil.
Chef you most admire?
Jamie Oliver – he's changed the way the majority of people eat in the UK for the better.
Food you like the most to eat?
Cheese, in every form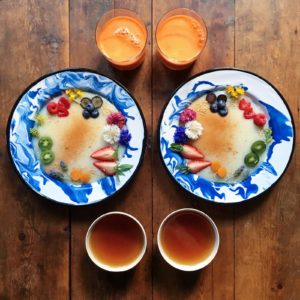 Food you dislike the most?
Dark chocolate, I also hate it when people pretend to like it because it's somehow cool. Give me the cheapest milkiest chocolate any day.
How many tattoos? And if so, how many are of food?
None!
Recipe: Idli – South Indian fermented rice pancakes with masala chai spiced tea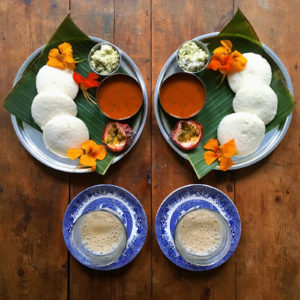 Makes about 20 idli
3 cups rice (long–grain is fine)
1 tsp fenugreek seeds
1⁄2 cup water
1 cup black gram lentils (urad dal)
3 tsp salt
Oil for greasing the pans
Start in the morning of the day before you'd like to eat – as I said, some forward planning is required. In a bowl, mix the rice with the fenugreek seeds and cover with the water. In another bowl, put the urad dal and cover with water. Leave both bowls for a minimum of 5 hours.
The evening of the day before eating, drain the water from the rice but don't discard it. Put the wet rice in a blender and add 1⁄2 cup of the water. Blend until you have a smooth batter, adding extra water, a little at a time, until it flows easily. Decant this into a large bowl and repeat with the dal (start with 1⁄4 cup of water this second time, as you should have some residual liquid in the blender).
Add the liquid dal to the rice with the salt and mix together using your hands. The bacteria on your skin will help kickstart the fermentation. Leave this covered overnight to ferment in a warm oven; I leave the oven light on. Depending on the time of year, this process will give different results, but you should have a huge, bubbling white mass.
The day of eating, give the batter a good stir. The consistency should be that of thick cream.
Prepare your idli pan by lightly oiling each of the sections with either a brush or a paper towel. Fill the bottom of the pan with water, making sure it doesn't touch the idli holder. Ladle in enough batter to reach just beneath the edge; you'll get some rise but not lots.
Steam the idli for 20 minutes with the lid firmly clamped on.
Remove the idli with a wet spoon, running it round the edge of each pancake. Repeat with the remaining batter. Serve with sambar and coconut chutney.
Leftovers can be transformed into idli fry, a delicious snack of deep fried idli served with a dip, chutney, or sauce of your choosing and a cup of tea.
– The End. Go Eat  –
All photos courtesy and copyright Michael Zee/SymmetryBreakfast