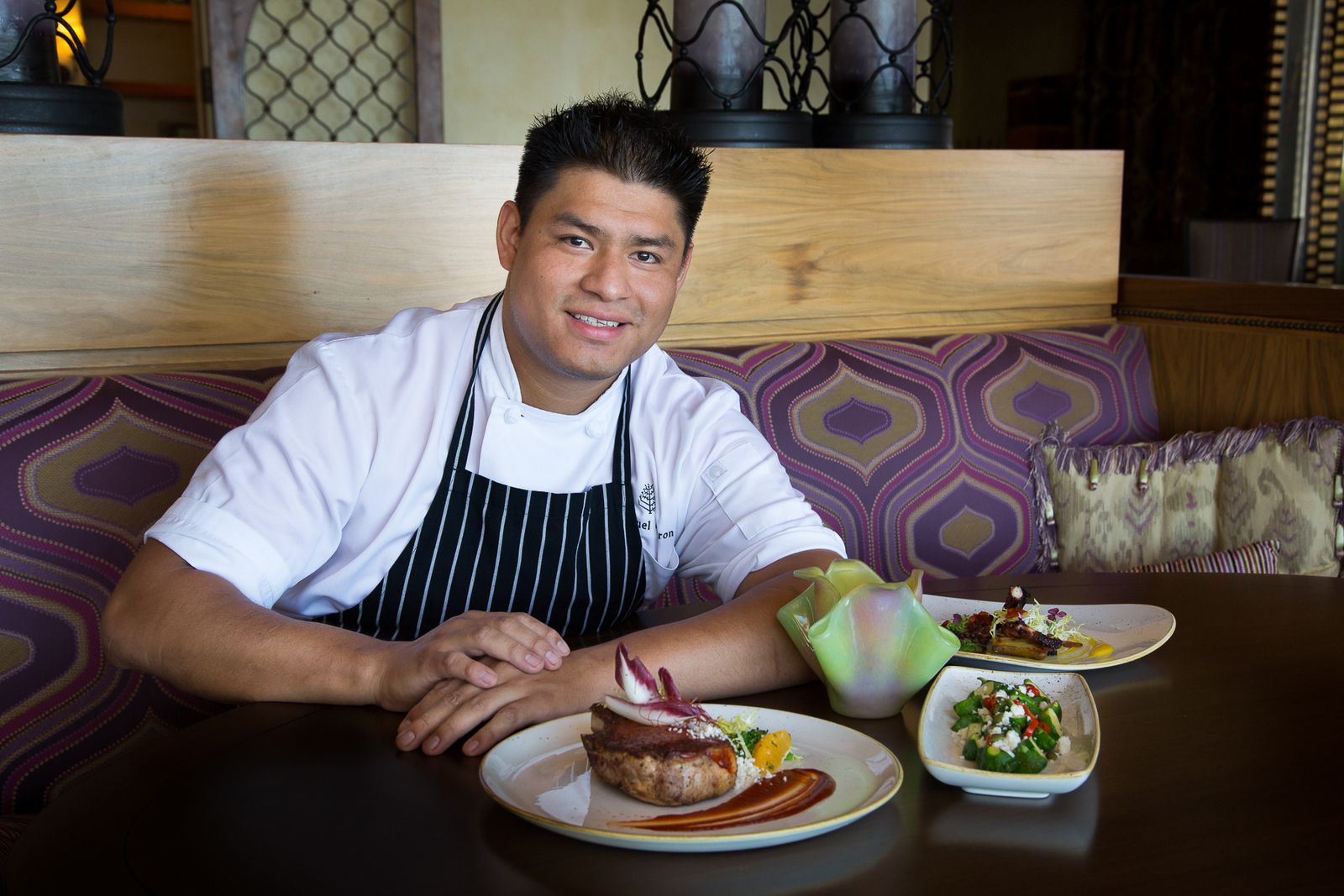 The food world has many captivating stories, such as Kim Sunee's Trail of Crumbs: The Hunger for Food, Love, and a Search for Home, Born Round: The Secret History of a Full-Time Eater by former New York Times restaurant critic Frank Bruni, and Gabrielle Hamilton's Blood, Bones & Butter: The Inadvertent Education of a Reluctant Chef. All feature great storytelling narratives detailing how food played an important part of their lives. However, Executive Sous Chef at the Four Seasons Santa Barbara Emmanuel Calderon is not only fascinating, but humble as well. Here's his story.
When I first met Calderon, he was the banquet chef to Executive Chef Mel Mecinas at Four Seasons at Troon Nort, Scottsdale. I had been writing two Arizona Latino stories – one on Mecinas, who had won an Arizona Culinary Hall of Fame award as best chef, and his new restaurant sous chef Sammy Sanz, who was, at the time, the youngest female sous chef working in a Four Seasons in North America. To me, they are both interesting accounts about the rise of a Mexican-born man becoming one of the top chefs in Phoenix, and with Sanz, how a woman, born in Mexico as well, rose to the top of a luxury hotelier while working with two of the city's best cooks: Chef Beau MacMillian at Sanctuary and Virtu's Gio Osso, before heading to work with Mecinas.
Mecinas said to me, "I want you to do a story on Emmanuel. He is like a son to me. One day, he will be a great chef." Of course, I agreed. However, things happen, Mecinas went on to a new position at a private club after more than two decades working for Four Seasons, and Calderon became the executive sous chef at the luxury hotel company's Santa Barbara property, working at the breathtaking Bella Vista, helmed by Italian-born talented chef Marco Rossati.
Having just turned 30 last year, he has already received an award for Top Ten Chefs Under the Age of 30 while working for the Four Seasons Mexico. He's also worked in the kitchens of Four Seasons Punta Mita, Scottsdale, Dallas, and many other of hotels, as well as the cruise line Holland America, which took him to Italy, Philippines, and throughout the Mediterranean. Through these excursions abroad from his homeland, it taught him different flavors and techniques. Not bad for a guy who was born in the tourist city of Cancun on the Yucatan Peninsula and wasn't planning on becoming a chef.
"I wanted to eat all the time," says Calderon. "I think this has not changed at all. As a kid, I spent most of the time waiting for my grandmother and mom (serving up) the food."
Now , as Calderon is an adult, we have the pleasure of eating his well-rounded dishes and get to explore the world through his global experiences.
Chef Questionnaire (with a nod to Proust):
How long have you been cooking?
This year will be 14 years since I start cooking – but to be honest…not sure If I should consider the first couple of years, when I was just trying.
What is your favorite food to cook?
I love seafood, I find it challenging and interesting to cook, plus reminds me: respect to the ocean.
What do you always have in your fridge at home?
Tortillas, habanero chili, limes, shrimp…………Negra modelo .
What do you cook at home?
On my days off, I like to cook easy but slow cooking food that allows me to do laundry and have food for a week…cochinita pibil, chicken soup, marinara sauce….this will help me to make a lot of turns up during the week!!
What marked characteristic do you love in a customer?
I really love when customers respect and make an effort to understand the menu and let themselves be surprised.
What marked characteristic do you find unappealing in a customer?
Modifications…I understand allergies but nowadays, you have people allergic to seafood that can eat lobster!! Gf that can eat pasta or vegans that eat FISH!!!!!
Tupperware, Rubbermaid, or Pyrex?
Pyrex
Beer, wine, or cocktail?
Beer
Your favorite cookbook author?
Marco Pierre White
Your favorite kitchen tool?
Chef Knife
Your favorite ingredient?
Chilies of all kinds
Your least favorite ingredient?
I haven't met him yet!
Least favorite thing to do in a kitchen?
I think while you are in the kitchen everything is fun…even pastry shop, but my least favorite thing to do is office work!! It's the longest hour of my day…
Favorite types of cuisine to cook?
Mexican…..or more specific Yucatecan.
Beef, chicken, pork, or tofu?
Pork
Favorite vegetable?
Corn…. My mom sells a beautiful corn on the cob and "esquites" in Cancun
Chef you most admire?
This one is difficult. Since I started, I had been having a model to follow – I'm used to admiring to the person who share his knowledge and passion. I still remember the name of my first Chef de Partie….. But If I need to say a famous chef, it must be Marco Pierre White and a Mexican – Carlos Juan Gaytan.
Food you like the most to eat?
I love street food like taco stands, pho places, and when in Mexico you find everything in the street nothing fancy. I found a tasty relaxation after work…
Food you dislike the most?
As a cook, it is difficult to me to dislike something, but if I think as a kid, I don't like fish soup……something that my mom used to make me when I was a kid… It was a soup made just with the head of the fish…I love my mom, though.
How many tattoos? And if so, how many are of food?
No tattoos…yet
Ceviche Tostadas Recipe
1# Clean Fish Fillet (could be any kind of fish; the least fatty fish the best)
½ teaspoon salt
½ teaspoon pepper
1 teaspoon oregano
1 habanero chili
2 roma tomatoes
1 avocado
1 small size red onion
8 Limes
1 orange
½ bunch fresh cilantro
8 corn tortillas
Get 3 ea 5 oz clean fillets, skin off, at your local market.
Dice the fish in medium size dice. Marinate with lime juice salt, pepper, and oregano.
In a dry hot pan, put 1 habanero chili to literally get burned – be careful and make sure you have ventilation.
Once the chili is burned in a black color, squeeze the juice of 1 orange and blend, add mix to the fish.
Small Dice ½ red onion and add to the fish.
Keep at the fridge for 20 min.
While the fish is in the fridge, small dice roma tomatoes, small size medium avocado, and chopped fresh cilantro and reserve.
Also, I love to do oven baked tortillas instead of using commercial tortilla chips or tostadas. It is more healthy and traditional, too – we used to cook it in a comal until they get crunchy.
Put your oven as high as you can then place whole corn tortillas in a sheet pan. Bake between 7 to 10 min, depending your oven, until they are firm and crisp.
At this moment, the fish should be ready. The fish should have a white color now. Add the tomatoes, avocado, and cilantro. With the help of a kitchen spoon, mix all together – add more salt to taste, and enjoy!!!
– The End. Go Eat. –