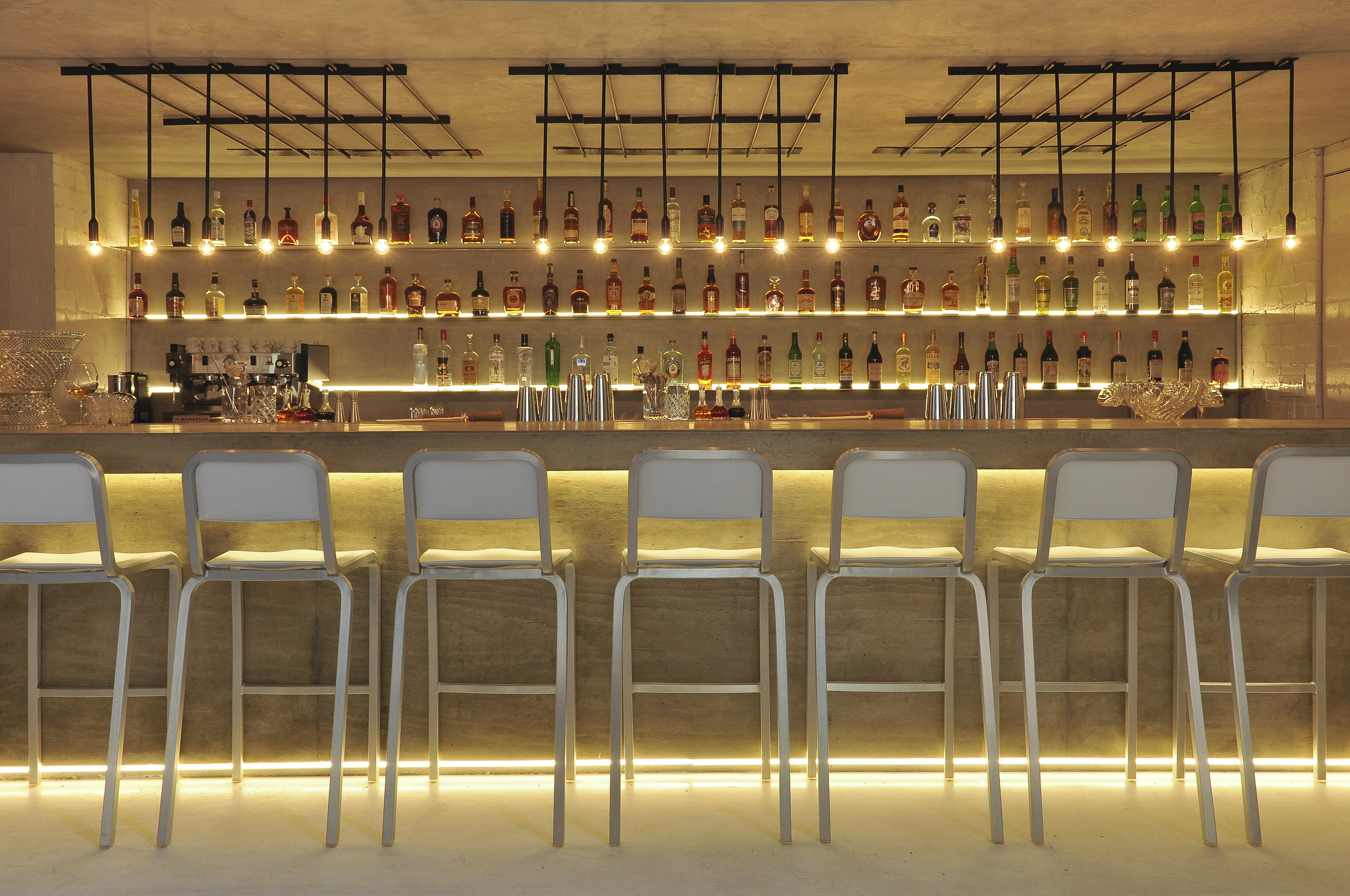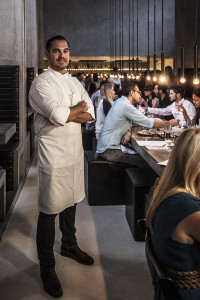 Palm Springs is known as a resort town – an enclave for second homes, secret hotel pools, and cocktails. The cocktail culture is the town's prevailing modus operandi. With a population of a little over 50,000, it's never really been considered a food haven. Ask a few of the locals who live in the desert year round, and the answer is their private chef does the cooking. Or, they recommend one or two restaurants which are more about an elongated drink menu rather than a superbly pan-roasted fish or braised greens from the surrounding Coachella Valley farmers. There are a few notable exceptions to this observation.  The first that comes to mind is the four-year-old Workshop, owned and cheffed by Michael Beckman, which can be the honest answer to the question: "Where to eat in Palm Springs?"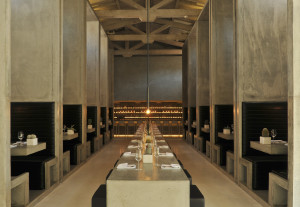 There are two reasons for this. The first is that Mr. Beckman is a classically French-trained chef with stints apprenticing, cooking, and learning in European kitchens, including Burgundy's three Michelin-starred Lameloise and working under noted German chef Thomas Kellerman at the Ritz-Carlton, Berlin. Beckman maybe the only independent chef in the Southern California desert communities to claim to work in a Michelin-starred dining room.
Secondly, he's smart enough to promote his restaurant outside the Palm Springs area, getting the first and the last reservations from area visitors. It's been a very smart business move to market his talents to the gourmand set, rather than wait for visiting travel media shuffling through for an annual Palm Springs pilgrimage. Instead of getting the backend of travel pieces, Beckman put forth the effort and it's paid off with stories in Sunset Magazine, Bon Appetit, Eater, and Wall Street Journal. But the question remained: how could someone with Beckman's background become part of Palm Springs? Truthfully, he stated he was a private chef working with a client based in Rancho Mirage. He grew to love the area's farmers markets and vendors, as well as the community's natural beauty, so he stayed, opening Workshop and having a family.
Interestingly, Beckman – though successful — is so dedicated to his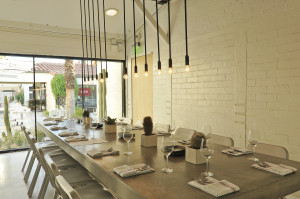 craft that he recently completed a several month staaj (cooking apprenticeship) with celebrated New York City's chefs Dan Barber, Blue Hill Farms and Daniel Hume, Nomad (also of the Michelin-starred Eleven Park Madison). Beckman, as a chef, wants to continue to creatively evolve.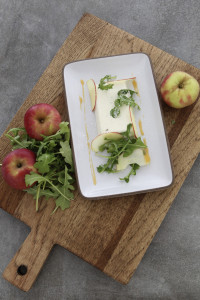 Beckman will have another feather to add to his list of accomplishments – Truss + Twine, a bar serving handcrafted cocktails and small bites; a chef will work in tandem with the bartenders behind the bar in a dedicated cooking area. Palm Spring's newest watering hole is slated to open fall 2016. Lastly, he also partnered to oversee the food and beverage program for an unnamed independent 44-room hotel concept that that will have a restaurant and rooftop pool area. The hotel's construction will start at the end of 2016.
Beckman will soon be hailed as Palm Springs' Emperor to All Things Culinary. Rightly so.
Chef's Questionnaire (with a nod to Proust):
How long have you been cooking? 16 years.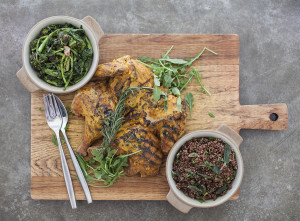 What is your favorite food to cook? Braises are most satisfying for me with deep flavors that develop, and the cozy aromas and feel of a braised dish is somehow emotional for me.
What do you always have in your fridge at home? Quesadilla mise en place.  Eggs for omelettes.  A perfectly made omelette is one of my favorite challenges to see a chef's skill set.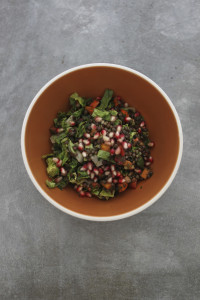 What do you cook at home? I love my Weber grill for smoking and grilling fish and meats.  I also get nostalgic for the Lebanese food I cooked as a private chef in Beverly Hills and love those flavors.  Super healthy and super flavorful.
What marked characteristic do you love in a customer? Someone who puts us in the drivers seat and trusts us.
What marked characteristic do you find unappealing in a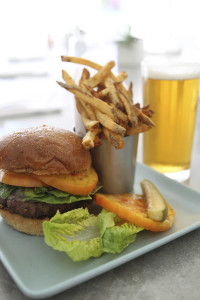 customer? People who lie at the host stand about their reservation.  People who don't even read the menu and want to order something they can get anywhere.
Tupperware, Rubbermaid, or Pyrex? None of the above. Deli cups.
Beer, wine or cocktail? Yes, please.
Your favorite cookbook author? Dan Barber for "The Third Plate"
Your favorite kitchen tool? My Chef de Cuisine Max.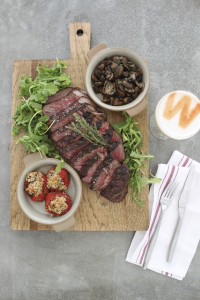 Your favorite ingredient? Eggs.
Your least favorite ingredient? Balsamic reduction.
Least favorite thing to do in a kitchen? Cleaning the fryer.
Favorite types of cuisine to cook? Mediterranean basin.
Beef, chicken, pork or tofu? Beef.
Favorite vegetable? Right now I'm digging parsnips.
Chef you most admire? I like Paul Kahan's rustic straight-forward style and also how prolific he is with his projects.
The food you like the most to eat? Oysters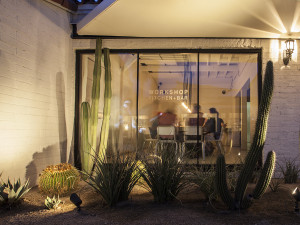 The food you dislike the most? Shitty banquet food.
How many tattoos? And if so, how many are of food? None yet.  Never could figure out the first one…we'll see.
Recipe: Beet Braised Lentils
Here's a recipe from Feasting at Home, inspired by Chef Beckman's dish at Workshop. She notes, "This recipe was inspired by a dish we had at a restaurant in Palm Springs, called Workshop. They topped their Beet braised lentils with a warm, crispy breaded goat cheese "cake". It was divine. The chef, Michael Beckman, adds browned butter to the finished lentils, which brought it over the top."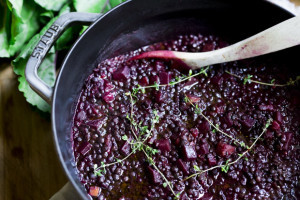 Beet infused lentils are a healthy side dish, with chicken or fish, or serve it on its own, as a vegetarian meal in a bowl with crumbled goat cheese.
Ingredients
3 T olive oil
1 C diced red onion ( ½ a red onion)
1 C diced carrot
½ C diced celery
1 Cup peeled and diced beet (one large beet, plus 2 more for juicing)
4 cloves roughly chopped garlic
1 T fresh Thyme leaves
1 Bay leaf
1 1/2 C black caviar, beluga, or Puy lentils ( soaked overnight if possible)
4 C chicken or vegetable stock
½ tsp salt
salt and pepper to taste
splash balsamic vinegar
1 Cup fresh beet juice (either purchase from a juice bar, or juice 2 extra large beets)
2- 3 T browned butter (optional but delicious)
crumbled goat cheese (optional)
Directions
In a large heavy bottom pot or dutch oven, heat olive oil over medium high heat. Add onion, carrot, beets and celery, and saute for 5 minutes, until slightly softened. Turn heat to medium, add garlic, lentils and herbs and sauté for 2 more minutes.
Add stock and salt. Bring to a boil. Once boiling, cover with lid, and turn heat to low, maintaining a gentle simmer. Simmer for 30 minutes.
After 30 minutes, add the beet juice, taste for salt, add more if necessary, and continue simmering on low for 10-15 more minutes or until tender. If you feel there is too much liquid for your liking, keep the lid off, and increase the heat, letting it reduce. (I like the braise slightly juicy, personally, so I just replace the lid.)
Stir in a generous splash of balsamic vinegar and browned butter (optional) but the brown butter is divine.
Serve in a bowl with crumbled goat cheese, or as a base for fish or chicken.
Read about this recipe – and see more gorgeous photos – here.
The end. Go eat.