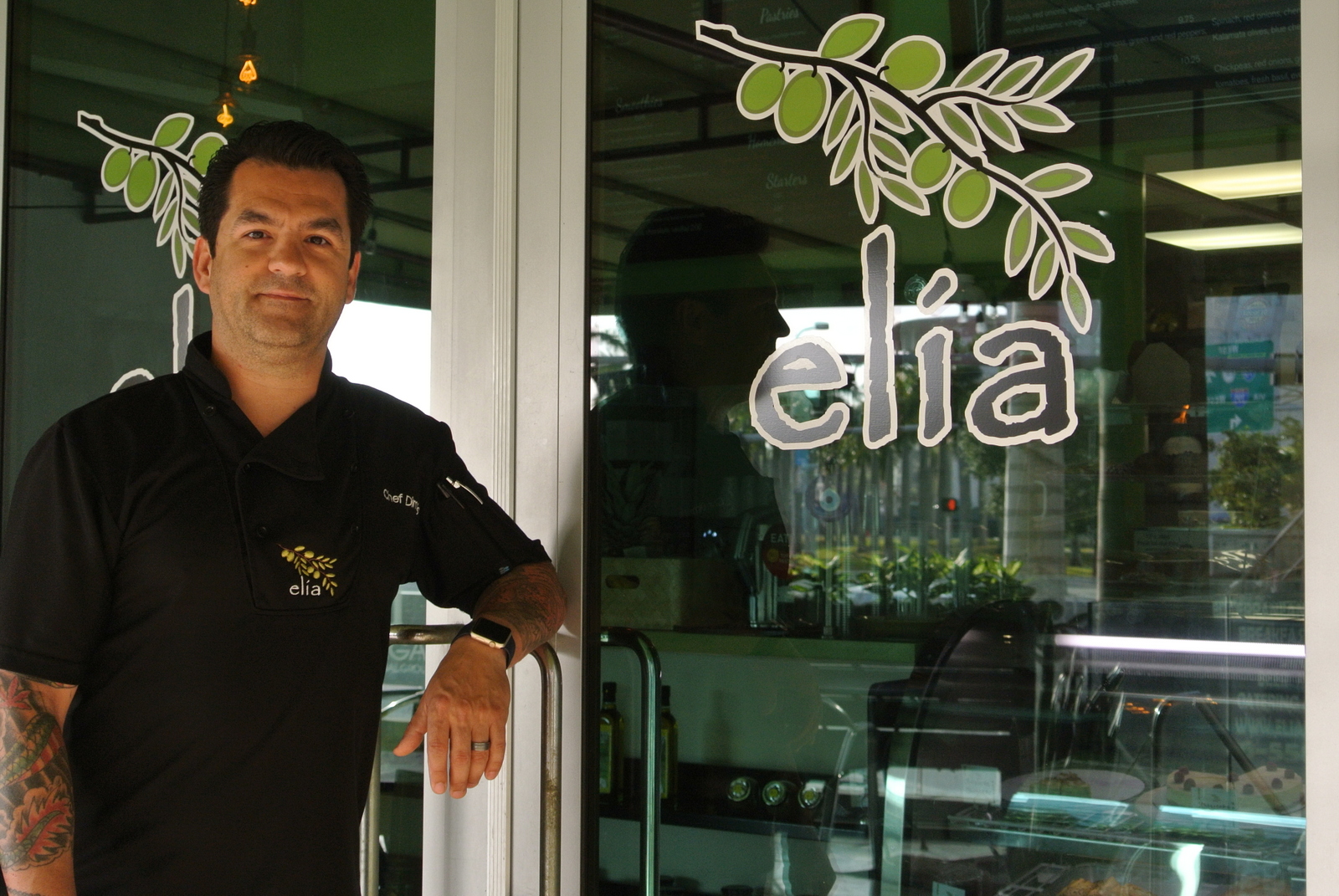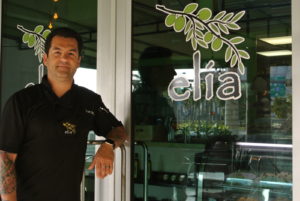 Born in Athens, Greece, Chef Dmitri Harvalis followed his mother to New York City at the age of seventeen. He never went back. Although not fond of the Big Apple, he had already started a love affair with Miami. It was the warm air and white sand of the North American peninsula that captured his young expatriate heart.
Starting in Hollywood, Florida, Harvalis began working his way up in Taverna Opa, a group of Greek restaurants starting as a server. Over the next several years, he worked his way up the restaurant ladder. From waitperson to bar, assistant manager to manager, learning the ways of running a successful eating establishment.
"In 1997, I left to join the nightclub industry," says Harvalis. "I worked as the General Manager for Nikki Beach Group, then one of the most popular entertainment and dining companies in South Beach." Nikki Beach transcended the beach club concept by combining Southern European elements of music, dining, entertainment, fashion, film, and art into one. Essentially, Ibiza came to Miami. This lead to Harvalis becoming an entrepreneur. Over the next three years, he was a co-owner of RokBar, one of the area's leading nightclubs. At the height of its status, the velvet rope swung open for movie stars (Josh Hartnett, Mickey Rourke) and music acts (Courtney Love, Tommy Lee).
Around 2012, Harvalis was having life-changing moments. Marriage. A daughter. The nightlife scene wasn't fitting into his growing-up. "I took the decision to change my life," he says. "I had never owned a restaurant and always wanted to have one." So, he looked back to his Mediterranean roots and opened Elia (meaning "olive" in Greek) Miami.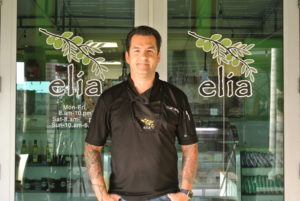 Using his grandmother's (Yiayia) recipes, Elia Miami serves fresh locally sourced ingredients with a Grecian flair. Baklava and Galaktoboureko (a native Greek custard pie) are served up for morning and afternoon repasts, but the main courses are where diners experience the flavors of Harvalis' childhood with a mezze platter, housemade hummus, and freshly baked pita. The healthful yet delicious Mediterranean diet is at work with smatterings of tomato, extra virgin olive oil, lemon, and olives.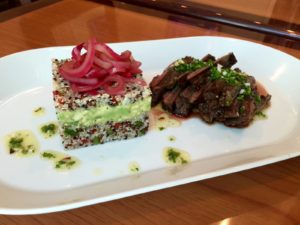 Harvalis' says, "I'm not just the chef of the restaurant. I have a great reverence for my Grandma's recipes and Greek flavors. That's what I like, and that's what I want to serve."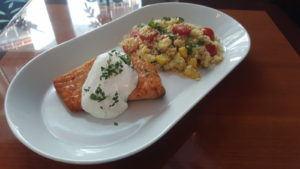 Chef's Questionnaire (with a nod to Proust):
How long have you been cooking?   Professionally 4 years / amateur all my life
What is your favorite food to cook?  Greek, of course
What do you always have in your fridge at home?  Feta & Kalamata olives
What do you cook at home? Lots of pasta dishes (my kids love pasta)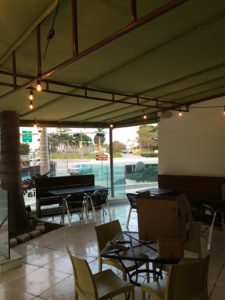 What marked characteristic do you love in a customer? When they allow me to get creative  with their meal, no questions asked
What marked characteristic do you find unappealing in a customer?  When they change a  recipe of mine
Tupperware, Rubbermaid, or Pyrex? Pyrex
Beer, wine, or cocktail?  It all depends on the mood, but wine always gets me creative
Your favorite cookbook author? My grandmother (she never wrote a book, but she is the reason everything started)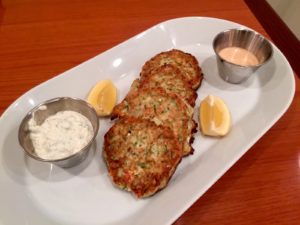 Your favorite kitchen tool?  My knives
Your favorite ingredient? Olive oil… 4, actually – salt, pepper, oregano, olive oil
Your least favorite ingredient? Don't have one
Least favorite thing to do in a kitchen?  Clean onions
Favorite types of cuisine to cook?  Mediterranean / Asian
Beef, chicken, pork, or tofu?  Beef, by far
Favorite vegetable?  Tomato
Chef you most admire?  Anthony Bourdain
Food you like the most to eat? Anything with meat
Food you dislike the most?   Okra
How many tattoos? And if so, how many are of food?  7, working on 8 & 9  (9 will be a  combination of my favorite kitchen tool and heritage)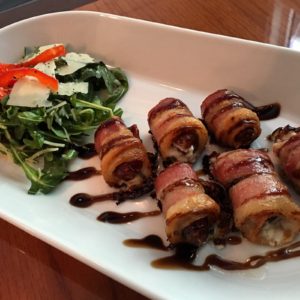 Recipe: Papoutsakia
The meal is called PAPOUTSAKIA ( it means a little shoes in greek )
2 large eggplants
2 pounds ground beef or turkey
1 small white onion
1 tomato
salt / pepper/ oregano/ olive oil
a small amount of fresh parsley
1 lb dry shredded mozzarella
6 potatoes
Cut the large eggplants in half long ways.
Use a small spoon (or tool) to empty the eggplant heart without damaging the skin (do not open a hole).
Once finished, use a small amount of olive oil to coat the inside of the eggplant and place in the oven for 10 min (350 F).
In the meantime, take the eggplant that was removed, the onion, tomato, and parsley, and fine chop all of them.
Take a skillet and drizzle a small amount of olive oil and place it on the stove on high. After one minute, carefully add all the chopped ingredients, adding a pinch of salt, pepper, and oregano.
After about five minutes, add the ground meat of your choice and stir all of them until the meat is cooked ( usually no more than 5 – 6t minutes do not overcook it ).
Once, ready use a spoon and add the mix to the eggplant until its filled.
Top it off with the mozzarella cheese, and place in the oven on bake until the cheese turns to golden brown.
Take the potatoes and cut them in quarters long ways ( skin on or off, your choice). Place in a pan with a bit of olive oil, salt , oregano, and pepper; toss them around until seasoned, and place in the oven for 20 minutes. It can also be served with yellow saffron rice.
Oonce everything cooked, serve it with a nice glass of Cabernet and GO EAT !!!!!
The End. Go Eat.