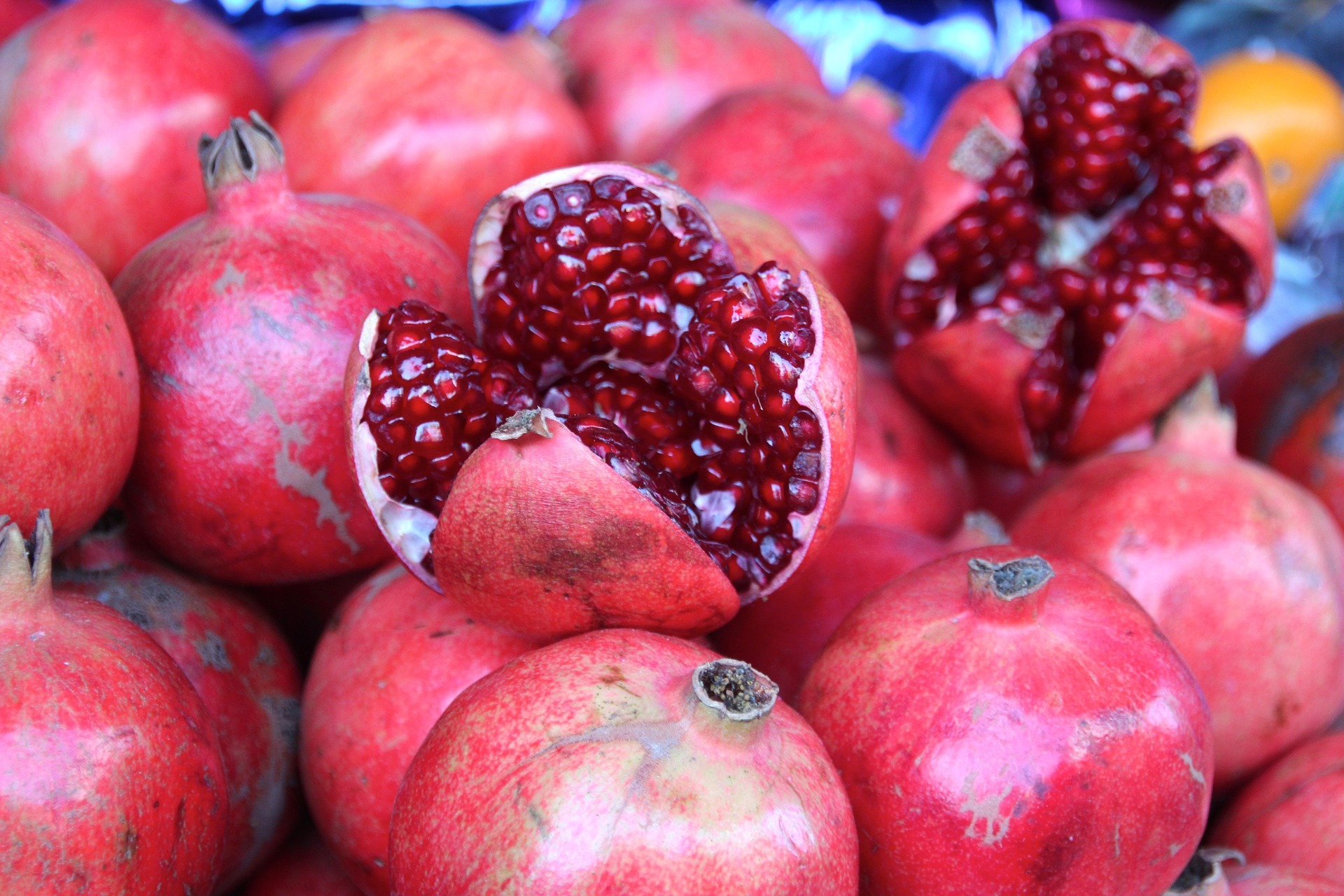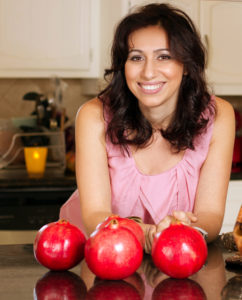 I've recently fallen in love with the cuisine of Azerbaijan – thanks to the efforts of Feride Buyuran. With her new cookbook, Pomegranates and Saffron – the first comprehensive cookbook on Azerbaijani cuisine published in the U.S. – and her impressive and inspiring cooking website, http://azcookbook.com/, she's singlehandedly promoting Azerbaijani cuisine to an audience unfamiliar with it. There are few Azerbaijani restaurants in the US – you can count them on one hand – and while the cuisine is somewhat familiar, because of its Persian, Russian, Middle Eastern, and Turkish influences, much is new and exciting.
Imagine a country where East and West are beautifully intertwined in the cuisine and culture and where its treasured cooking secrets are waiting to be discovered. Welcome to Azerbaijan. In Pomegranates and Saffron, Feride Buyuran takes you on a delightful culinary journey through this beautiful land in the Caucasus.
In the cookbook, there are over 200 tempting recipes for appetizers and salads, soups and stews, pasta, meat, vegetable and egg dishes, breads, saffron rice pilafs, aromatic drinks, and desserts, all adapted for preparation in a Western kitchen. Interspersed throughout the text are fascinating glimpses of local culture and traditional proverbs related to food that will make your adventure even more memorable.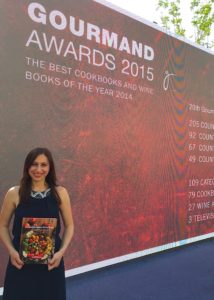 Pomegranates & Saffron has won 4 major awards, including Gourmand Best in the World Award, U.S. Winner of Gourmand World Cookbook Award for Best Eastern European Cookbook, Living Now Book Award with a Silver Medal in the Ethnic Cookbooks Category, and a National Indie Excellence Award in the International Cookbooks Category.
I chatted with Feride via Skype, and as we talked, I grew more and more impressed with her worldview – and cooking. Originally from Azerbaijan, Feride moved to the US about 15 years ago. While she visits home as often as possible, she wanted to cook the foods she grew up with, to satisfy her cravings for food from home. Feride had started a recipe notebook when she was 13, curating those recipes as stories. To supplement that small notebook once she was in the US, she started calling her mom, grandma, sister, and other family members (all excellent home cooks) to ask for recipes from home. She conceived of her cookbook when she was 8 months pregnant (talk about pregnancy food cravings!), and has worked for 7 years on her book and accompanying website. She talked about not giving up on her dream, and gaining an education in the publishing industry – that "it's a hard road, but so worth it."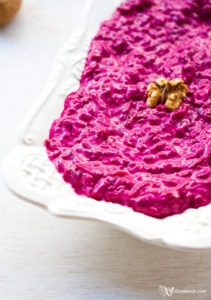 It shows. The book is beautiful, informative, and chock full of cultural goodness. The website shares recipes, links to interesting food articles, and travel and cooking inspiration. When I asked Feride what she'd want to say to readers about Azerbaijani cuisine, she noted, "Don't be scared of the name Azerbaijan. The food is a beautiful melange of cultures, and is unique. The ingredients are widely available in the US and not scary. See for yourself how delicious it is!"
She is the perfect bridge to representing two countries in cooking, an ambassador from Azerbaijan who shares the best way to learn about a place – through its food, recipes, and culture.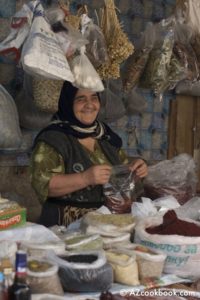 One thing I loved learning about the culture and cuisine of Azerbaijan is the traditional hospitality toward guests. For meals, the table is filled with as many dishes as possible, putting the best you have out for your guests. If there's a celebration (birthday, wedding) meal, there's a person at the head of the table to make toasts. Meals are to be lingered over, while enjoying the time spent together.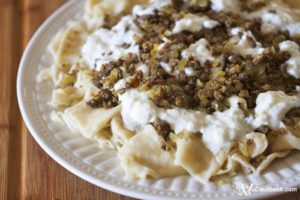 Food People Questionnaire (with a nod to Proust):
What is your favorite food to cook at home?
Stuffed grape leaves – dolma. Very laborious, but the entire family is crazy about it.
What do you always have in your fridge at home?
Plain yogurt (homemade) and milk (because I always need a batch to make yogurt again), and fresh herbs (cilantro, parsley, etc).
What marked characteristic do you love in a person with whom you are sharing a meal?
Enjoying the food set in front of him or her and being appreciative.
What marked characteristic do you find unappealing in a person with whom you are sharing a meal?
An extremely picky eater is the recipe for an unpleasing meal.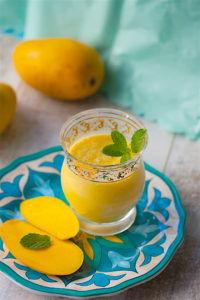 Beer, wine, or cocktail?
Generally speaking, none, as I am not much of a drink lover. But I do enjoy a few sips of wine or cocktail with friends at get-togethers.
Your favorite cookbook author?
I have a few in mind – Faye Levy, Claudia Roden, Darra Goldstein, Anna vom Bremzen, Najmieh Batmanglij, and others. Their books are enlightening and their recipes appeal to my taste.
Your favorite kitchen tool?
Cliche, but a good knife and a sturdy cutting board. Also a good blender for those impromptu smoothies.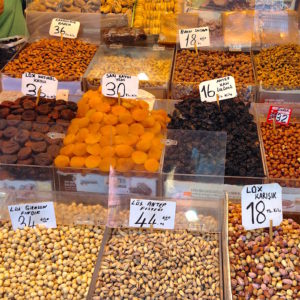 Favorite types of cuisine to cook?
Turkish, Azerbaijani, Middle Eastern, Eastern European.
Beef, chicken, pork, or tofu?
Beef and chicken. I don't cook with pork, and tofu is ok once in a while.
Favorite vegetable?
Eggplant all the way, although it is actually a fruit.
Chef you most admire?
No favorite. I don't want to pick a celebrity chef because there are many chefs out there who are equally talented yet don't have media exposure. So, to me, any chef who is hard working, creative, yet humble is admirable.
Food you like the most to eat?
I love food of all sorts and anything delicious is good for me. I love anything with eggplant. Also, lamb kabab. And, if it's pomegranate season, I love the fruit. I also like dried fruits. b. See? My list can continue.
Food you dislike the most?
It's more of an ingredient – wasabi. Every time I try to like it, my palate says no.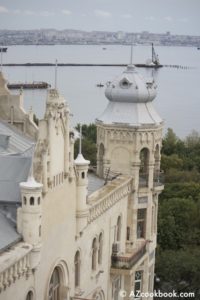 What is your favorite non-food thing to do?
Dancing flamenco (my hobby), reading when my brain is not cluttered, and chatting with friends around tea table.
What do you most admire about food?
Its innate power to bring people together. Everywhere.
Where is your favorite place to eat?
At home, in any home. I love homemade foods. They come with stories and if it's a good company, with a good dose of laughter.
What is your favorite restaurant?
I really like ethnic restaurants serving traditional or fusion foods. There are a few on my mind but no absolute favorite yet.
Do you have any tattoos? And if so, how many are of food?
No tattoos. But I am beginning to wonder if a pomegranate tatoo would look good on me.
Recipe: Fresh Herb Kükü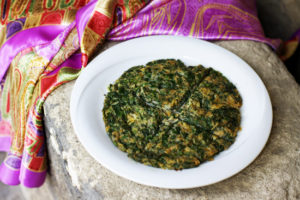 In Azerbaijan, kükü (read: kyukyu) is the general name given to dishes in which main ingredients—vegetables, herbs, meat or fish—are bound with eggs, then browned on both sides on a stovetop. It is not to be confused with omelet, as the featured ingredients in kükü are used in far greater amounts than eggs. By its appearance and texture, kükü can be likened to a Persian kookoo, Middle Eastern eggah, Spanish tortilla or Italian frittata.
Simplicity in itself, fresh herb kükü is by far the most popular and the most frequently made kükü of all in the versatile kükü repertoir. In this light summer dish, fresh herbs are mixed with eggs, then the mixture is leveled in a frying pan and cooked in butter on both sides to yield a tender, flavorful interior laced with a golden surface
If you wish, add some fresh mint to the kükü, and if in season, fresh green garlic (green parts only) as well, decreasing the amount of other herbs accordingly. Sometimes, spinach is added too. Herb-laden tender kükü wedges can be served cold or at room temperature as an appetizer or immediately as a light standalone dish with bread or as a side dish to rice pilaf. You can also make it a part of your breakfast and brunch menu. Don't forget to drizzle the kükü with thick, creamy garlicky yogurt sauce, for that extra touch of authenticity.
Serves 4
Ingredients
2 packed cups chopped fresh cilantro
1 packed cup chopped fresh dill
½ cup fresh green onions
5 eggs
½ teaspoon salt
Ground black pepper to taste
¼ cup unsalted butter or clarified butter (can substitute olive oil)
Garlicky yogurt sauce (mix 1 cup plain yogurt with crushed garlic to taste) or plain yogurt, to serve
Instructions
In a large mixing bowl, combine the chopped fresh herbs and eggs. Season with salt and pepper, then stir with a spoon to mix well.
Melt the butter or oil over medium heat in a 10-inch non-stick frying pan. Pour the herb-egg mixture into the pan to fill it completely, leveling it with the back of a spoon. Cook until golden brown on the bottom, 5 to 8 minutes.
Using a knife, carefully cut the Kükü into 4 wedges (or 8 if you wish). Gently turn the wedges over to brown the other side. If you need to, add more butter or oil to the pan.
Remove the cooked Kükü from the heat and transfer it onto a serving platter. Serve with bread or as accompaniment to rice pilaf.
Separately serve a bowl with garlicky yogurt sauce or plain yogurt, to spoon onto Kükü to taste.
The End. Go Eat.