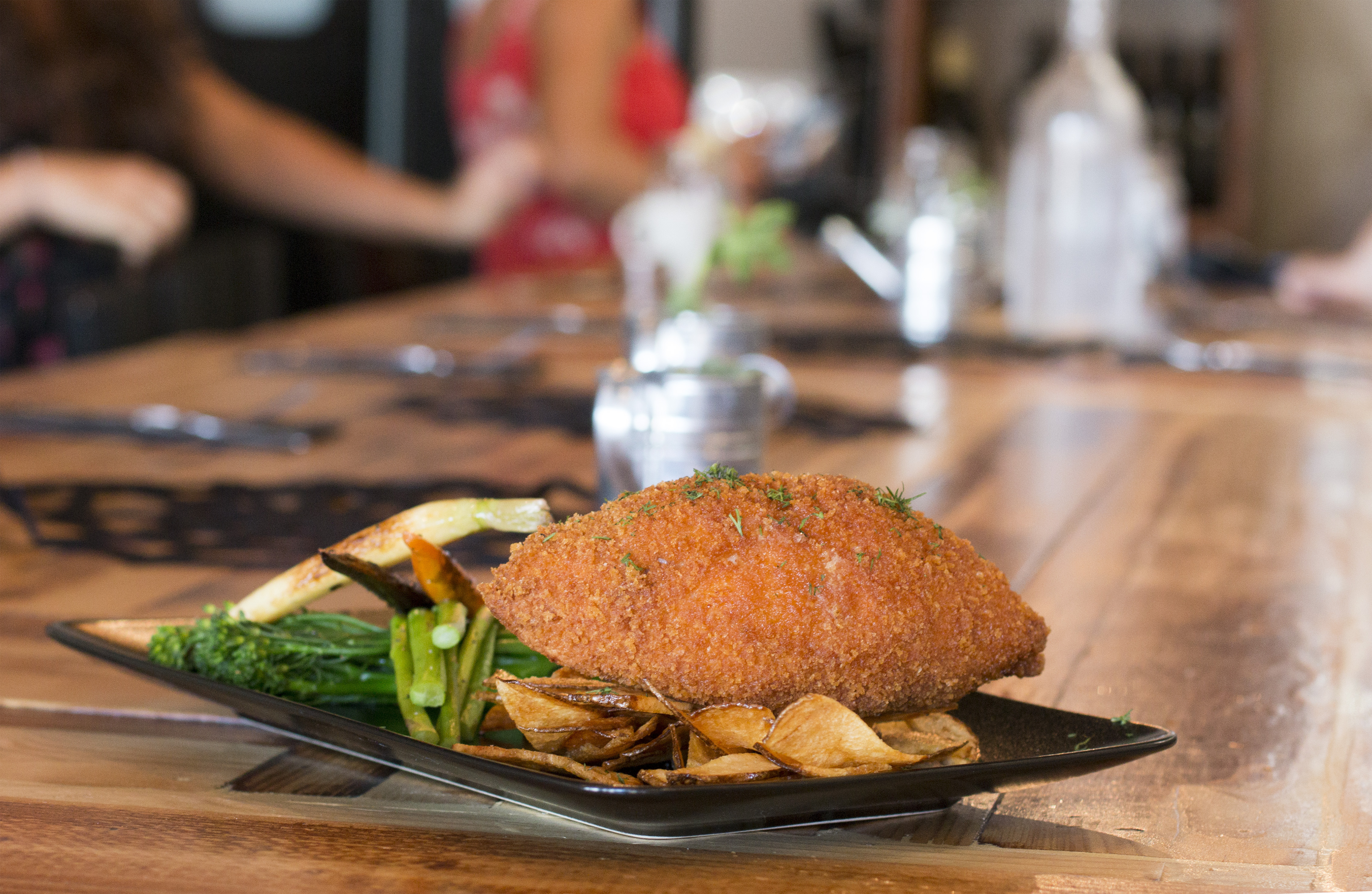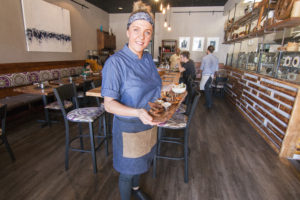 A cursory internet search on Lithuanian chefs yields one or two male names located in Europe. Narrowing the searching to California leads us to San Francisco's East Bay and the Los Angeles' Annual Lithuanian Festival, which recently celebrated its annual event in the city's Silver Lake neighborhood.  Digging a little deeper brings us to Doma (which means "home" in Lithuanian) Kitchen in Los Angeles County's coastal community of Manhattan Beach. It's a delicious neighborhood bistro with a heavy focus on Eastern European foods using seasonal California ingredients. In other words, going to Doma Kitchen is an enlightening travel experience without having to leave the county.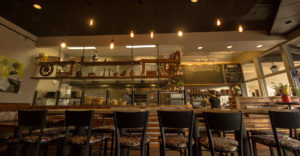 Owned by three people, Chef Kristina Miksyte and entrepreneurial couple Angelika Corrente and Stanislav Mayzalis, Doma Kitchen brings together a taste of Lithuania to the Southern California food scene. The latter was already a working chef in her homeland before winning the green card lottery and becoming an American citizen.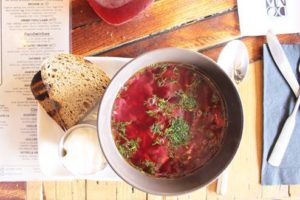 Having attended a culinary school in her hometown of Vilnius, the capital of Lithuania, like so many immigrants, Miksyte's dream was to live and cook in the United States. She says, "I love my country but it didn't give me the opportunities to work. In Los Angeles, I have a restaurant, I am married, and I cook what I want."
Lithuanian food is characterized by the cooking of potatoes, beets, pork, barley, berries, and mushrooms. The use of indigenous herbs such as dill, caraway, and juniper mimic their Eastern European neighbors (Uzbekistan, southern Russia, Latvia, Poland, and Belarus). And Doma Kitchen's menu reflects this rich, fragrant cuisine with plov (braised rice or rice pilaf), kasha (braised barley or buckwheat-like risotto), and vareniki (similar to pierogies).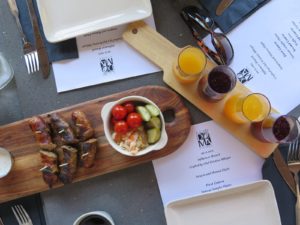 However the food isn't all relegated to the "stans" of the world; Chef Miksyte makes liberal use of other Mediterranean ingredients, such as burrata, basil, tomato, and walnuts to showcase her global tastes. "I wanted to come to the States to become a better cook and learn more of what the world offers," says Doma Kitchen's stove director.
Los Angeles is all the better for it.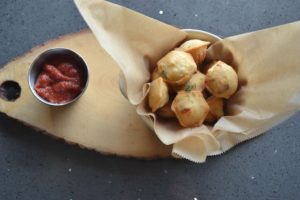 Chef's Questionnaire (with a nod to Proust):
How long have you been cooking?
I've been cooking for almost twenty years.
What is your favorite food to cook?
I love to bake and also enjoy cooking good meat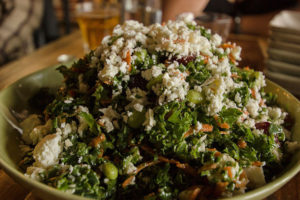 What do you always have in your fridge at home?
Fresh veggies and fruits, fresh meat or fish, few cheeses and salami. Almost nothing in the freezer. Basically I'm stocked with produce for all meals, something for breakfast, snacks and for a nice dinner.
What do you cook at home?
I'm constantly experimenting and messing around with new recipes. Often go back to authentic recipes either from Russia, Lithuania, or Persian. Weekends are BBQ.
What marked characteristic do you love in a customer?
I love to make my customers happy through eating my food. When I see the excitement after first look at the food followed up with "Wow," "OMG," "This looks so good and tastes even better." The love is mutual between us – I love to cook and they like to eat.
What marked characteristic do you find unappealing in a customer?
I hate when the customer changes the ingredients in my dishes. It's basically changing the whole dish completely, and creating a new dish.
Tupperware, Rubbermaid, or Pyrex?
Pyrex
Beer, wine, or cocktail?
Wine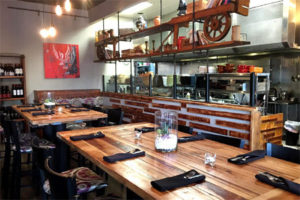 Your favorite cookbook author?
My Grandma
Your favorite kitchen tool?
Knives
Your favorite ingredient?
Fresh herbs and dill, of course!
Your least favorite ingredient?
Don't have one
Least favorite thing to do in a kitchen?
Wipe down and polishing the dishes
Favorite types of cuisine to cook?
Central Asian, Middle eastern, and whatever that's on my mind
Beef, chicken, pork, or tofu?
Beef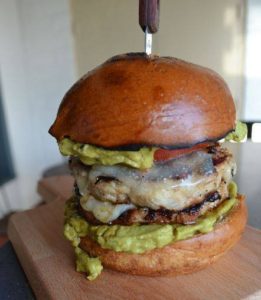 Favorite vegetable?
Fresh cucumbers from my mother's garden
Chef you most admire?
Egidijus Lapinskas in Lithuania
Food you like the most to eat?
Good piece of meat, sushi, or fish
Food you dislike the most?
Overly spicy food that you can't taste anything else.
How many tattoos? And if so, how many are of food?
I have two tattoos. No food tattoos to date.
Recipe: Doma Kitchen's Borscht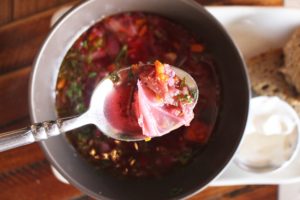 Doma Kitchen Borscht recipe
Ingredients
1 lb Lamb, stew meat, or whatever kind of beef you like, bone-in or boneless
1 Tbsp salt + more to taste
2 large or 3 medium beets, washed, peeled and grated
4 Tbsp olive oil
1 Tbsp vinegar
1 Tbsp sugar
1 Tbsp butter
1 medium onion, finely diced
2 carrots, grated
2 large or 3 medium potatoes, peeled and sliced into bite-sized pieces
½ head of small cabbage, sliced
2 tomatoes, peeled and diced (**see note)
2 bay leaves
¼ tsp freshly ground pepper
¼ cup chopped fresh parsley and dill
2 cloves garlic, pressed
Garnish: Sour cream and fresh sprigs of parsley or dill.
Instructions
Wash meat in cold water, cut into 1″ pieces and place in a large soup pot with 14 cups cold water and 1 Tbsp salt. Bring it to a boil and remove the foam crud as soon as it boils (if you wait, it will be hard to get rid of the crud as it integrates into the broth and you'd have to strain it later). Reduce heat, partially cover and simmer 45 minutes – 1 hr, periodically skimming off any crud that rises to the top.
Grate beets on the large grater holes (a food processor works amazingly well). Place them in a large heavy-bottom skillet with 4 Tbsp olive oil and 1 Tbsp vinegar and sauté for 5 minutes, then reduce heat to med/low and add 1 Tbsp sugar. Mix thoroughly and sauté until starting to soften, stirring occasionally (about 10 min). Remove from pan and set aside. In the same skillet (no need to wash it), Sauté onion in 1 Tbsp butter for 2 min. Add grated carrot and sauté another 5 min or until softened, adding more oil if it seems too dry.
Once the meat has been cooking at least 45 min, place sliced potatoes into the soup pot and cook 10 min, then add cabbage, sautéed beets, onion & carrot, and chopped tomatoes. Cook another 10 minutes or until potatoes can be easily pierced with a fork.
Add 2 bay leaves, ¼ tsp pepper, and more salt to taste (I added another ½ tsp salt).
Chop parsley and pressed garlic then stir them into the soup pot, immediately cover and remove from heat. Let the pot rest covered for 20 minutes for the flavors to meld.
The End. Go Eat.