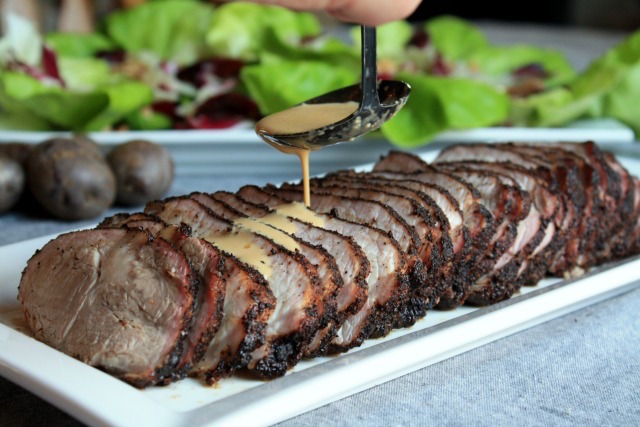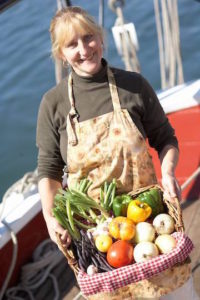 For over 25 years, Annie Mahle has honed her craft with both knife and pen. Annie and her husband, Captain Jon Finger, run the Maine windjammer, the Schooner J. & E. Riggin. Not only is Annie a maritime captain, she also is the captain and chef of her galley, where she has been cooking meals on her cast iron wood stove, Lucy. In the winter, she continues to create new recipes and shares them on her recipe and lifestyle blog, At Home & At Sea. Her third cookbook, Sugar & Salt: A Year At Home and At Sea – Book Two is the second in a series of cookbooks featuring a collection of recipes, crafts, thoughts, and stories from Chef Annie's adventurous life on the coast of Maine.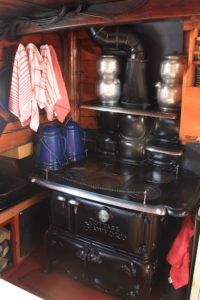 Chef Mahle notes, "In Sugar & Salt, I share more memories, stories, and recipes that are inspired by my life on the coast of Maine. Whether it's through my cooking, crafts, or gardening, I'm always creating, and I hope that this book will be a inspiration for the reader."
Chef's Questionnaire (with a nod to Proust):
How long have you been cooking?
My first cooking memory is of canning tomatoes with my grandma in her kitchen. Several years later, I had a love affair with chocolate chip cookies. I started cooking professionally after I graduated from college and haven't looked back!
What is your favorite food to cook?
Anything from the garden but kohlrabi.
What do you always have in your fridge at home?
Half and half, kale, leftovers.
What do you cook at home?
All of the comfort food.
What marked characteristic do you love in a customer?
I love someone who is willing to try something new. Like oysters. And really savor that first bite.
What marked characteristic do you find unappealing in a customer?
Boorish or selfish sorts who are unaware of how much airtime and space they take up.
Tupperware, Rubbermaid, or Pyrex?
Ball jar.
Beer, wine, or cocktail?
Wine. Red. Although I do love creating new cocktails.
Your favorite cookbook author?
Lori Colwin, Laura Brody, Dorie Greenspan. I wish I liked James Beard more.
Your favorite kitchen tool?
My santoku. One day I wasn't thinking and used the tip to pry something open. Rookie move. The tip broke. But then Jon, my husband, ground the tip down to look like a blunt sailor's knife and I love it.
Your favorite ingredient?
Flour. Or eggs. They can become so many creations.
Your least favorite ingredient?
Kohlrabi. Hate it.
Least favorite thing to do in a kitchen?
Clean.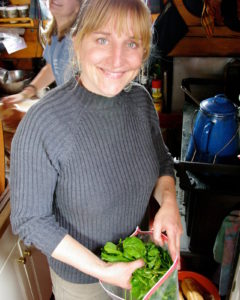 Favorite types of cuisine to cook?
The type you eat with family and friends.
Beef, chicken, pork, or tofu?
Pork. Flavor, flavor, flavor.
Favorite vegetable?
A ripe tomato picked just off the vine on a warm summer day.
Chef you most admire?
Is it a cliché if I say Julia Child? Well, it's true.
Food you like the most to eat?
I'm loving poached eggs, kale, and avocado for breakfast right now.
Food you dislike the most?
Food that is too clever for its own good. The sort that looks like the height of art on the plate, but leaves you still feeling hungry and wishing for a burger.
How many tattoos? And if so, how many are of food?
I've never gotten a tattoo, but my crew has poked at me for years to get one. I think a tattoo would bore me after a time. If I did get one, it would be a ring of a knife, fork, and spoon around my wrist or bicep.
Pork, Potato, and Parsnip Hash with Poached Eggs and Asparagus Recipe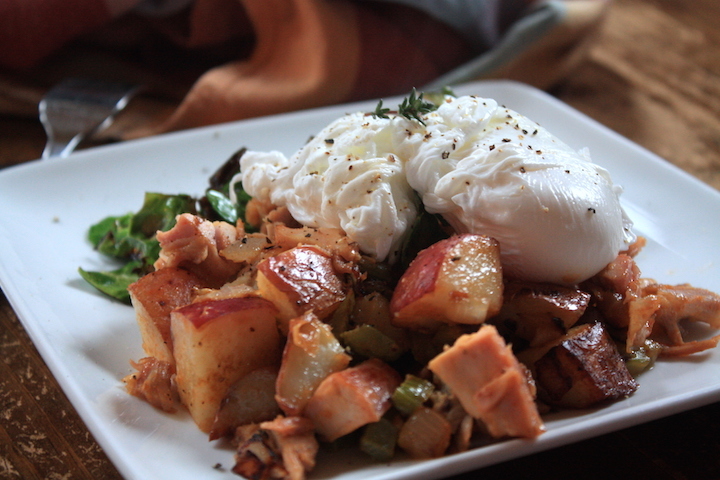 Hash is usually made with leftover meat or fish from a previous meal. Feel free to substitute beef, pollock, or other flavorful fish in place of the pork.
Serves 4
Ingredients:
1 1⁄2 cups diced parsnips, peeled; about 2 parsnips
5 cups diced red potatoes; about 11⁄2 pounds or 6 potatoes
3 tablespoons olive oil
1 cup diced onion; about 1 medium onion
1 teaspoon minced garlic; about 1 clove garlic
1⁄2 teaspoon kosher salt
several grinds fresh black pepper
1 pound cooked pork shoulder or other tender pork meat, pulled apart with a fork into bite sized pieces
1 pound asparagus, ends cut or snapped off; about 1 bunch
Poached Eggs
Herbed Salt (recipe below)
Directions:
Place the parsnips and potatoes in a wide saucepan and cover with salted water. Bring to a boil and boil for 5 minutes or until tender when poked with a fork. Remove from water with a basket strainer or slotted spoon and set aside. Keep the water hot for the asparagus. In the meantime, heat a large skillet over medium-high heat and add the olive oil and onion. Sauté until translucent, about 10 minutes. Add the garlic and sauté for 30 seconds to 1 minute. Add the parsnips, potatoes, salt, and pepper and cook until the potatoes begin to brown. Add the pork and sauté until the pork is warm. Remove from heat and cover.
Add the asparagus to the boiling water and cook for 1 minute or until the asparagus is tender. Timing will vary with the thickness of the stalks. Remove from water with tongs, transfer to a platter and cover. To the same pot of water, add the vinegar (from Poached Egg recipe) and poach the eggs. Plate the hash, asparagus, and poached eggs and sprinkle the eggs with a pinch of Herbed Salt.
Herbed Salt
Makes about 2 tablespoons
1 tablespoon kosher salt
1⁄2 tablespoon freshly ground black pepper
1 tablespoon minced fresh dill
In a small bowl, combine all of the ingredients. Store in a glass jar indefinitely.
– The End. Go Eat. –