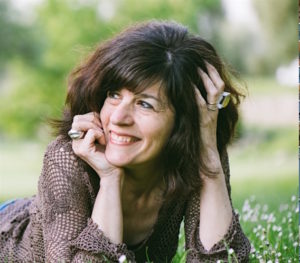 Jamie Schler writes stories inspired by food, culture, travel, and the real people she meets in real life, every day and she's an advocate for authentic traditional French home cooking. Jamie has worked in the world of art in Philadelphia and New York, as a milliner in Milan, Italy, and gastronomic tourism in Paris. She grew up on Florida's Space Coast but now lives in Chinon, France, where she owns and runs the Hôtel Diderot with her husband, and where she makes a whopping 1500 pounds of jam a year. An IACP award-winning writer, her work has appeared in The Washington Post, The Art of Eating, Fine Cooking, France Magazine, Modern Farmer, Leite's Culinaria, and The Kitchn, among other publications. She blogs at Life's a Feast, and she just wrote her first cookbook, Orange Appeal, featuring her favorite fruit, the orange.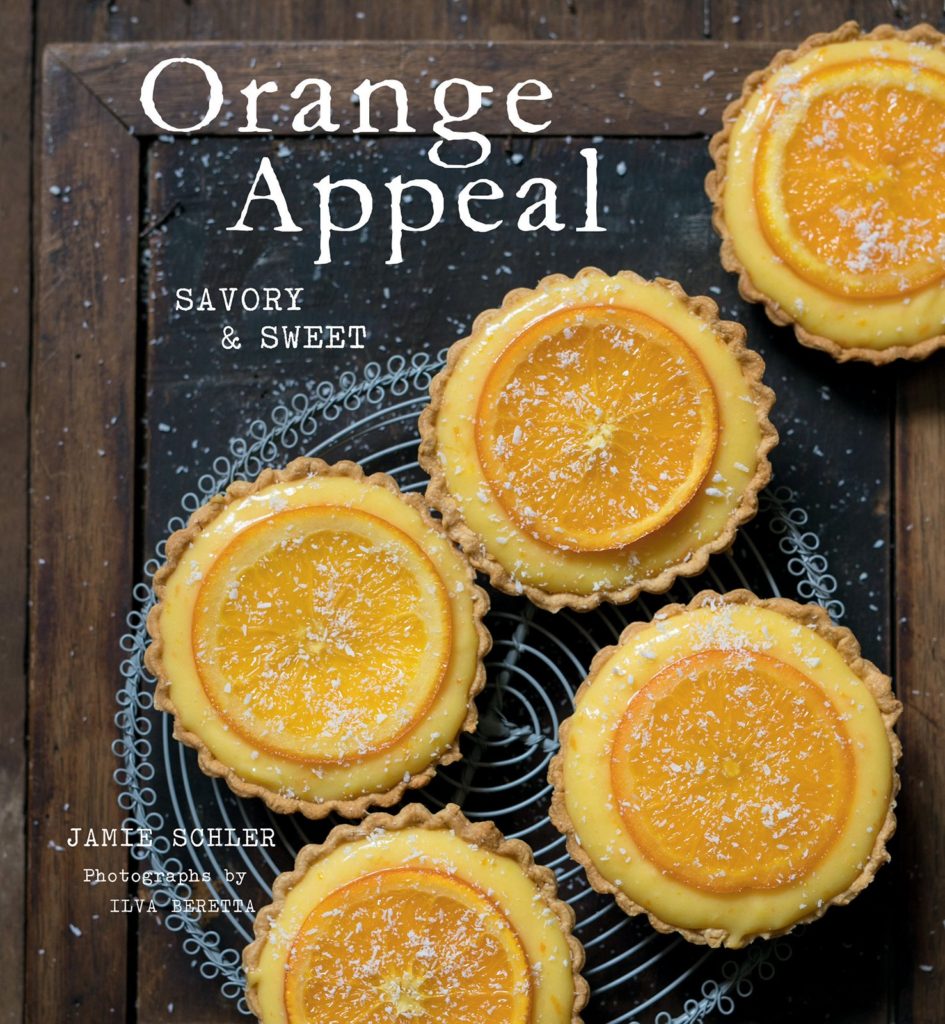 Orange Appeal highlights one of my favorite fruits…but the one I always forget how incredible it is until I'm eating it – the orange. Schler is incredibly creative with oranges, and brings them into everyday life with ease.
I asked Schler about including oranges into our cooking and eating repertoires. She noted, "A day without orange juice is like a day without sunshine" was more than just a familiar television jingle, it was our mantra, emblematic of the culture of my childhood and youth. I grew up on the Indian River in Florida, famed for its citrus and one of the world's largest producers of oranges. My first cookbook, Orange Appeal, is, in some sort, an homage to my favorite fruit, the fruit I became addicted to growing up in Florida, a central element of our food culture. But a transformation happened during the creation, development, and testing of the recipes for Orange Appeal – I stopped thinking of the orange as simply a fruit and began thinking of it as an astonishing and versatile staple ingredient. My recipe testers and I were just astonished at how the orange in one of its many forms (fruit, juice, zest, peel, marmalade, orange blossom water, liqueur) transformed the flavor profile of every single dish we made in such unexpected ways!"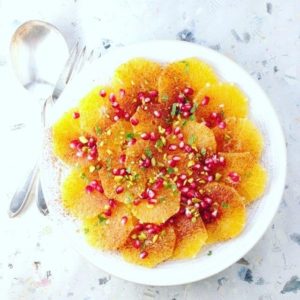 It's hard to stop reading Orange Appeal. When I queried Schler about her favorite recipes in the book, she said, "My favorite dishes from the book? That's tough to answer, there are so many! Maybe the Sweet and Spicy Caramelized Onion, Raisin, and Orange Compote; the Blood Orange Hummus Vinaigrette; Mediterranean Lamb Meatballs and the Curried Cod in Coconut Milk, Lime, and Orange. For sweets, the Moroccan Spiced Orange Slices in Orange Blossom Water, and the Oranges in Spiced Wine Syrup; the Orange, Ricotta, and Chèvre Tart, and the Orange-Cranberry Spiced Granola with Almonds. Is that too many?"
Food People Questionnaire (with a nod to Proust):
What is your favorite food to cook at home?
Cake! Always cake! There have even been times when my family has arrived home after a long day of work and school and my answer to their "What did you make for dinner?" is "Cake!"
What do you always have in your fridge at home?
Yogurt, milk, mustard and salad dressing, butter, olives and pickles, a jar of cherry jam. Packets of butter and a few out of date packets of phyllo.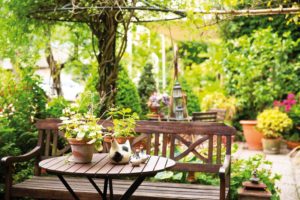 What marked characteristic do you love in a person with whom you are sharing a meal?
There are 2 necessary characteristics I love in a person with whom I share a meal: real interest in and knowledge about food and a great sense of humor!
What marked characteristic do you find unappealing in a person with whom you are sharing a meal?
I get little pleasure out of dining with a glutton, someone who swallows down food without savoring or appreciating it.
Beer, wine, or cocktail?
Wine, of course! I have never liked beer and rarely think of a cocktail, maybe because I have lived the last 30 years in France and Italy, both wine countries!
Your favorite cookbook author?
Anna Thomas and Françoise Bernard
Your favorite kitchen tool?
A great knife and my Better Zester zester! I love a good whisk, too!
Favorite types of cuisine to cook?
French and Moroccan – and I have several recipes from these cuisines in my cookbook!
Beef, chicken, pork, or tofu?
Lamb! Always lamb!
Favorite vegetable?
Oh, hard question! Garden-fresh tomatoes in summer and zucchini all year round! Although I love Belgian endives and cauliflower, too. And eggplants. Is that too much to love?
Chef you most admire?
Antonin Carême
Food you like the most to eat?
Trick question?
Food you dislike the most?
Liver and offal. Ugh. I'm not particularly crazy about sorrel, either, much to my husband's chagrin. And don't ask me to eat overripe bananas or mealy apples.
What is your favorite non-food thing to do?
Read. And write.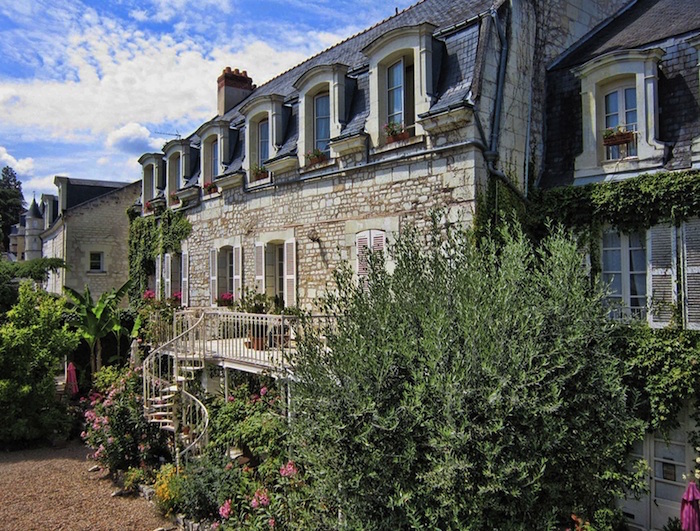 Who do you most admire in food?
I admire people who break barriers. There are several men on my list, from Antonin Carême, to Graham Kerr to Paul Prudhomme, but let's concentrate (mostly) on the women. I admire the first women chefs who, against norms and misogyny, worked their way to head great kitchens in France, from women such as La Mère Brazier to Rougui Dia, Anne-Sophie Pic, and Hélène Darroze. I admire women like Anna Thomas, Rose Levy Beranbaum, Mollie Katzen, Madhur Jaffrey, Françoise Bernard, the intrepid and groundbreaking cookbook authors who inspired me, just out of college and just married, to cook and bake fearlessly and adventurously and, in extension, to begin to eat better, too.
I've always admired TV chefs like Graham Kerr and Julia Child, Nigella Lawson and Jamie Oliver who brought the raw passion and casual simplicity to millions and inspired us to cook and to love cooking (even if and especially when we messed up) and sharing food with others.
I admire chefs like Virginia Willis, Kathleen Flinn, Zoë François, Sandra Gutierrez, Nancie McDermott who reach out and teach others to live better and eat better by cooking real food, local food, ethnic or regional food, those loud voices who, with grace, passion, generosity, and humor, continue to instruct and share and inspire and push forward to carry on their mission.
Where is your favorite place to eat?
Living in Europe for more than 30 years, I head straight to the nearest – and best – diner whenever I visit the States. I love a great American diner! I've eaten in many Michelin-starred restaurants and bouchons in Lyon and have had such sublime and truly memorable meals, but my favorite place to eat is at home when my husband (or now my son) cooks.
What is your favorite restaurant?
I've had some amazing and incredible meals in France, Italy, and the States. It's hard to commit to a favorite, although I could draw up a list.
Do you have any tattoos? And if so, how many are of food?
Tattoos? No, none. They are against my religion. But I'd gladly wear food-inspired jewelry!
Leek and Potato Soup Recipe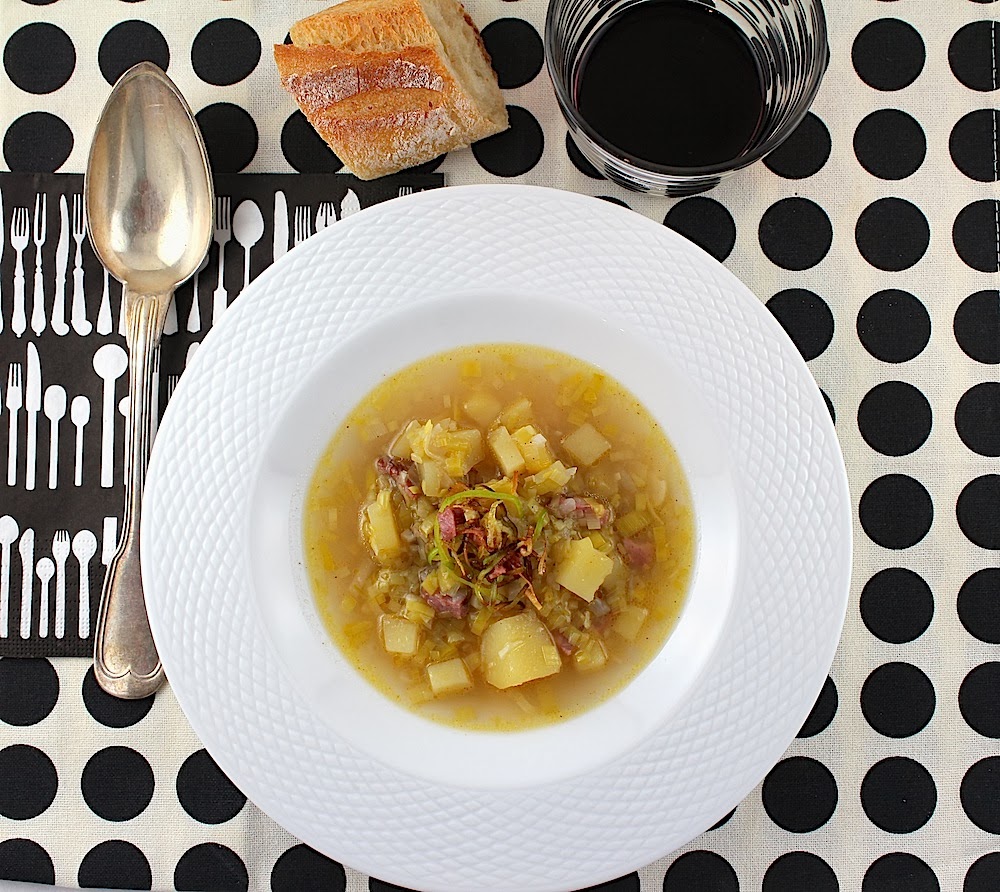 My French husband is constantly busting those myths about French cuisine that I, as an American, have ingrained into my mind, that French home cooking is fussy, complicated and complex, and expensive. This Leek and Potato Soup proves the point: while utterly elegant and flavorful, it is simple and quick to make and absolutely thrifty. Leek and Potato Soup for Two is at once warming, comforting, and sophisticated.
3 medium leeks, whites only + 1 extra small leek for topping
1 small red onion
2 cloves garlic
2 medium potatoes (about 10 ounces / 300 g)
Olive oil and butter or margarine
50 g smoked lardons or bacon in small cubes
1 small cube vegetable bouillon (or 1/2 large cube) or enough homemade to cover vegetables (soup for 2 bowls)
Olive oil or equal parts olive oil & margarine
Salt and pepper
Prepare the vegetables by chopping the white parts of 3 leeks, the onion and 1 clove garlic.
Peel the potatoes and cut into small cubes. Simply crush the second clove of garlic, leaving in one piece.
Add 2 or 3 tablespoons of olive oil or half oil, half butter into a soup pot.
Heat and add the onion and garlic and cook, stirring, for a minute or two; add the chopped leeks and bacon and a couple grindings of pepper, stir and cook "until it smells good" as the French cook told me… just a couple of minutes until the onion is transparent.
Add the potatoes and just cover with water, adding the bouillon cube, or bouillon.
Bring to the boil, lower the heat and allow to simmer gently for 15 – 20 minutes just until the potatoes are tender.
Taste, add salt and pepper to taste.
Remove the soup from the heat, cover and allow to sit until dinner time (we make this about half an hour or so before dinner).
When ready to serve, heat a tablespoon of olive oil in a clean skillet or pot; add a tablespoon or two each of cubes of bacon or lardons and very thinly sliced white leek; cook, stirring, until crisp.
Reheat the soup and serve topped with the crisp lardons or crumbled bacon and leek strips.
– The End. Go Eat. –