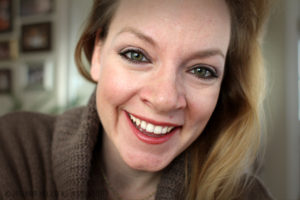 Imagine your life filled with music – and good food. Doesn't it sound like the perfect day, home, mealtime? For food and music writer Jessica Bullock, those two subjects go hand in hand. Her website, MamaBullock.com, is one of the most interesting food sites I've seen in a long time – not only for the delicious recipes, but the creativity involved with her music pairings. I had a chance to talk with Jessica, and was simultaneously inspired and amazed by the way she lives music and good food.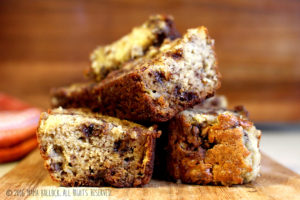 Jessica notes:
I'm a post-production producer by day and a food & music blogger by night. I live in Chicagoland, and I have a husband and three sons, 6, 4, and 1 month. My blog, mamabullock.com, is where you'll find inspired food and music, good for the soul. If music is the language of love, food is the manifestation of love. No matter where you come from, food and music remind us that we are universally creative and loving human beings. That's why I pair a piece of music with every recipe on the site. You can listen while you cook.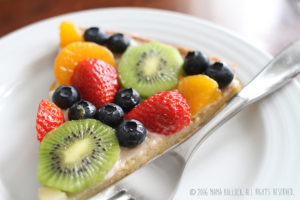 Mama Bullock is for foodies who don't have a lot of time for meal prep but enjoy cooking and listening to great music. As a working mom, I know how difficult (impossible) it is to have delicious and healthy meals ready for the family every night. Mama Bullock is all about creating delicious food without having to make everything from scratch, while avoiding the packaged, full-of-crap meals you find in boxes in the middle of the grocery store.
In addition to creating recipes, the site is also about sharing products, ideas, and healthy eating tips. One of my most important goals is to educate as many people as possible about how both food and music can be used as medicine. I cook. I eat. I listen. I share.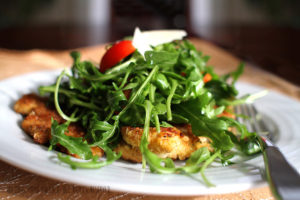 See? She's amazing! I asked Jessica about how she decided to pair music with food. Her answer was longer – and more interesting – than I expected. Are you surprised to discover that music is a big part of her life? She grew up exposed to a variety of music, from church to jug bands. What? I know! I listened carefully as she said that her parents had a jug band for years – and that her dad can play the 1812 overture on his jug (and he was named best jug player in the world)! She loved going to blues clubs, and then started in orchestra, playing the viola.
As you can imagine, when Jessica said that music has been the common thread throughout her life, I nodded. I could see this even more so when she talked about her kids and gave tips on how to get kids to love music. Her husband was a professional DJ (see where I'm going with this?), and they always have music in their house, from playing the piano to a variety of music to listen and dance to. Perhaps the best part was when she said her 6 year old's favorite composer is John Williams, because of all his incredible superhero movie soundtracks (genius kid!). Talking with Jessica has inspired me to incorporate more music into our lives – and my teen is one happy listener! She's now the house DJ, following in Jessica's footsteps, pairing music with our meals.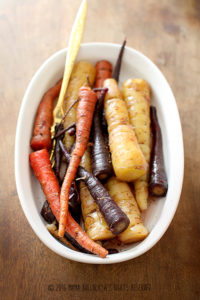 And on to the food that Jessica shares on Mama Bullock. She noted that buying good food is really important – and advises people to look for locally grown, sustainable food. But there's not just great recipes (and great music) on her site. She also includes gourmet hacks, such as making things from scratch easily. Through her work, she tries to educate about the health benefits of certain foods, and help others. For, as she says, "not only is food medicine (there's evidence of preventive health care and reversing ailments through food), but musical therapy can also help people. Music therapy (music as medicine) is helping people with Alzheimer's and stroke patients, as well as people in nursing homes. Life gets better when you have music. Music should be important to our whole life – and it's good for our health!"
Food People Questionnaire (with a nod to Proust):
What is your favorite food to cook at home?
One-pot meals of any kind.
What do you always have in your fridge at home?
Forgotten celery. Wine. Lemon juice. Did I mention wine?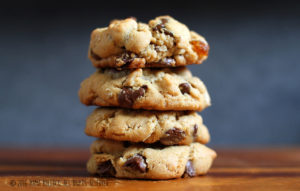 What marked characteristic do you love in a person with whom you are sharing a meal?
Witty banter.
What marked characteristic do you find unappealing in a person with whom you are sharing a meal?
Criticism.
Beer, wine, or cocktail?
Cocktail-y wine.
Your favorite cookbook author?
Lidia Bastianich or Spike Mendelsohn. I like laid back, gracious writing and simple food made delicious.
Your favorite kitchen tool?
A good sound system.
Favorite types of cuisine to cook?
Mediterranean for its simplicity and use of fresh herbs.
Beef, chicken, pork, or tofu?
Depends. What are we drinking?
Favorite vegetable?
Avocado
Chef you most admire?
All of them. It's a tough gig. My hometown favorite is Rick Bayless. The food is inspired, delicious, and healthy.
Food you like the most to eat?
Anything made with tender loving care is usually wonderful.
Food you dislike the most?
I really hate boiled zucchini.
What is your favorite non-food thing to do?
Walk in the woods and be musical.
Who do you most admire in food?
People who are taking the time to feed and educate lower-income communities with urban gardens. Also doctors who are committed to the proliferation of using food as medicine.
Where is your favorite place to eat?
At my dining table with friends and family.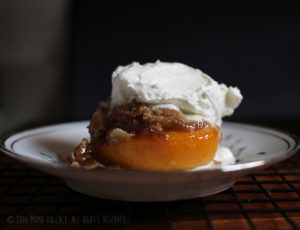 What is your favorite restaurant?
I pretty much stick to the West Loop in Chicago. I really like La Serina Clandestina mostly because I can't get enough of Chef John Manion's kale salad and daily empanada creation, but also it's just a cool place with a cool vibe and great cocktails. I also love a place called La Luce. It's super yummy Italian with a great staff. It's the kind of place you take your grandparents to and visit for hours.
Do you have any tattoos?
No, I'm not that cool.
Recipe: Simple Black Bean, Corn, & Tomato Ensalada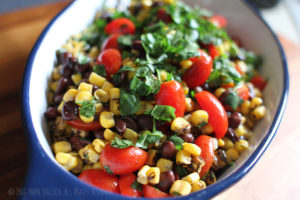 6 oz cherry tomatoes
6 oz sweet corn
6 oz cooked black beans
1 palmfull chopped cilantro
1/4 tsp course sea salt
1/2 tbsp agave syrup
1/2 tsp lime juice
Wash and cut cherry tomatoes in half, length-wise. Combine tomatoes, corn and beans into a large bowl. Add 1/2 the cilantro, salt, agave syrup and lime juice. Mix well. Garnish with remaining cilantro. Serve chilled as a salad or with chips as a salsa. Serves 4. Enjoy!
Music Pairing:
This recipe lets the vegetables speak for themselves. The only thing added is salt, lime, cilantro, and syrup. Today's music pairing is a duo who lets the music speak for itself. No frills. Just two guitars. These two are from Mexico City but got their start in Dublin, Ireland during an eight-year stint playing pubs. They're what I'd call "flamenco rock." Both on acoustic guitar, they grew up with flamenco, jazz, and rock – but also love heavy metal, which comes through in their sound. They've been performing together since 1999, and have released five studio albums together. They've collaborated on movie soundtracks, performed at the White House, and continue to tour around the world. They're also vegan, so I thought it a good pairing for today's recipe, which is clearly Mexican-inspired, like the music. Please enjoy Rodrigo y Gabriela, performing live at the 2014 Montreux Jazz Festival.
HAPPY EATING + HAPPY LISTENING!
Note: All the gorgeous food photos? Discover the recipes on her site!
The End. Go Eat.