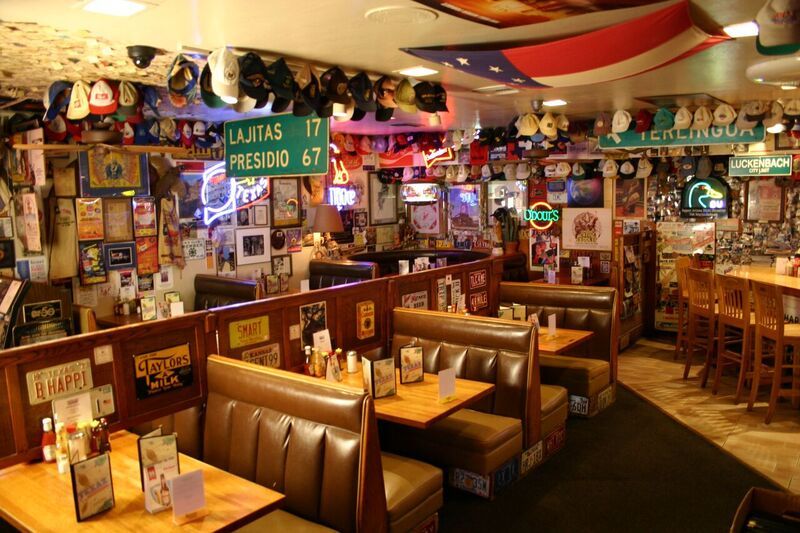 Chef and owner of TEXAZ Grill Steven Freidkin is that rarity in restaurants nowadays. Long before the Food Network and celebrity cooks ruled our dinner tables, Freidkin had always been a good, respectable chef, and learning the trade not in fancy culinary schools, but employed in the eateries were he worked. As a pre-teen, he began his kitchen career working at his family's kosher deli in Shreveport, Louisiana cutting up corned beef in the front and then hanging with his friends. Reminiscing about his youth, Freidkin said, "We would be hiding behind the pickle barrels.  We were the only store that cured our own pickles."
His first job away from his parents' store was as a dishwasher. Then while attending college in the Dallas, he cooked in many kitchens, learning that this could be his way of making a living instead of getting a social work degree. Ultimately, this led him to turn specifically failing restaurants into moneymakers. For a bit of time, he worked for well-known Victoria Station, a popular chain of railroad themed steakhouses that proliferated throughout the 1970s and 80s.
Arriving in Phoenix in 1976 on a proposition to a restaurant called Pointe of View located by Squaw Peak, he's been in the Valley of the Sun ever since.
Before TEXAZ Grill, there were a couple of other stints in restaurants and a catering company, but in 1985, he, along with a former partner, opened the Phoenician steakhouse landmark. TEXAZ Grill isn't one of the high-end places where people drop their credit cards to pay for the hefty price-tag on a wine and ribeye. No. Freidkin has established an important Valley of the Sun staple – as important as a saguaro cactus on a dusky evening — among the steak and chops set, leading the southwestern pack in crafting down home eats.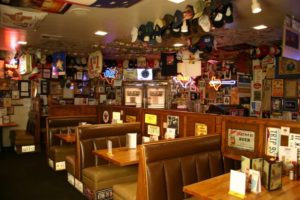 Regulars come to sit in the eclectically decorated space. Walls filled with hundreds of baseball hats, deer heads, pen and ink drawings found in thrift stores, black and white photos, and beer labels lavishly cover the space. It's an homage to roadhouses long gone, or it's an actual roadhouse, depending on your personal age and reference.
Among the ribeye and the New York Strip, listed above the delicious stalwart of fried chicken, is the house specialty – the chicken fried steak. Friedkin recalls, "When we first opened, we had a lot of requests for it. We put it on the menu for a special, and then gradually it stayed." Two big breaded cubed steaks are dredged in flour, deep-fried, and served with white gravy. "We have served more than 900,000 of these since we opened," Freidkin comments. Here's to 900,000 more.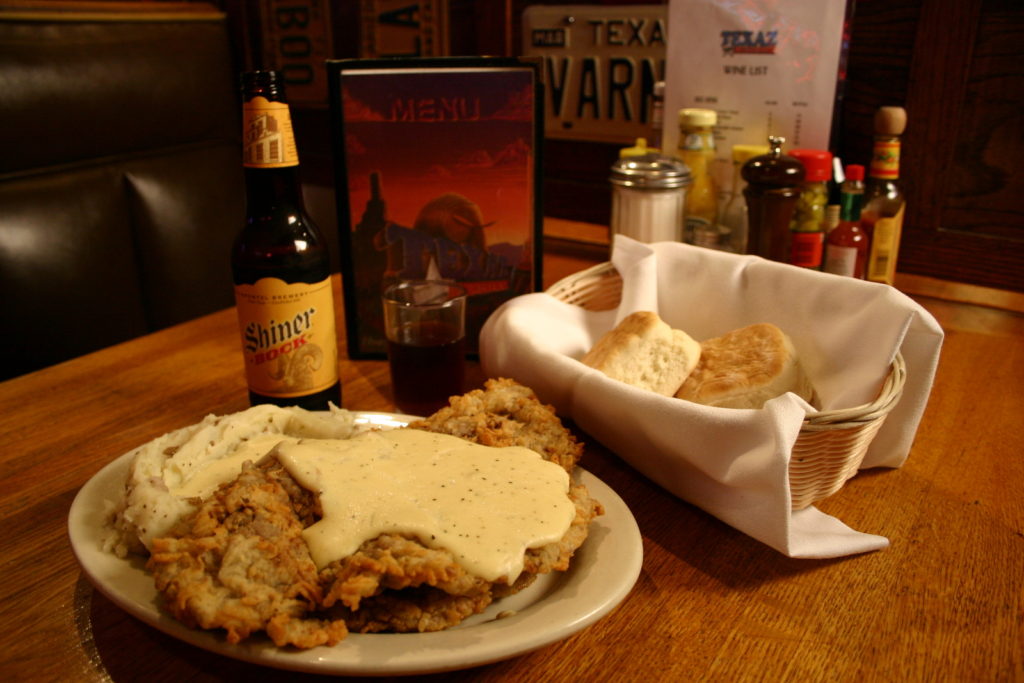 Chef Questionnaire (with a nod to Proust):
How long have you been cooking?
I started cooking in our family delicatessen in Louisiana when I was 10, so I have been cooking 50 years.
What is your favorite food to cook?
My favorite dish to cook is noodles, Cajun and Creole.
What do you always have in your fridge at home?
I always have pickled okra in my fridge.
What do you cook at home?
I cook everything- Mexican, Asian, Southern, Italian, Greek, Middle Eastern…and I fridge raid (clearing out the fridge and making a full meal).
What marked characteristic do you love in a customer?
Friendliness.
What marked characteristic do you find unappealing in a customer?
Unfriendliness.
Tupperware, Rubbermaid, or Pyrex?
Pyrex.
Beer, wine, or cocktail?
All of the above. My favorites range from a Shiner Bock, Old Vine Zin, and Tito's on the rocks with a pickled Okra.
Your favorite cookbook author?
Robb Walsh.
Your favorite kitchen tool?
Japanese Cleaver.
Your favorite ingredient?
My favorite ingredient is black pepper.
Your least favorite ingredient?
My least favorite ingredient is CILANTRO!
Least favorite thing to do in a kitchen?
Clean up!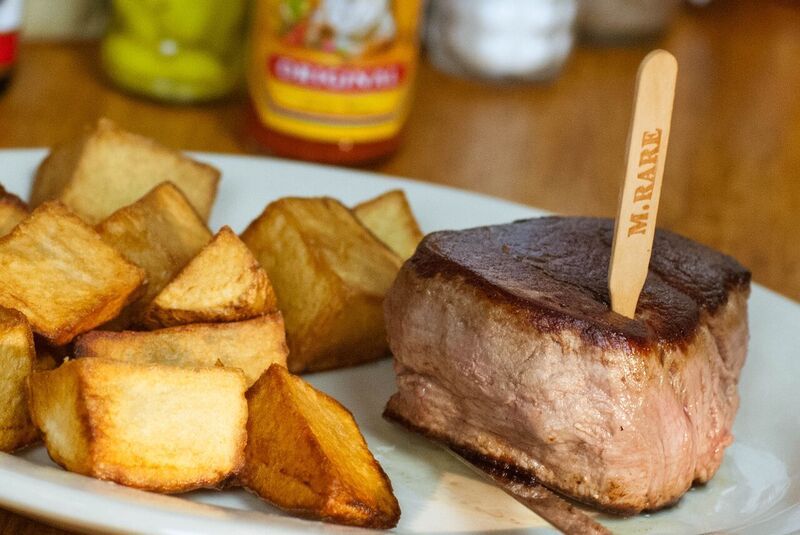 Favorite types of cuisine to cook?
Southern, Italian, Mexican, and Asian.
Beef, chicken, pork, or tofu?
Beef.
Favorite vegetable?
Eggplant.
Chef you most admire?
The chef I admire most locally is Robert McGrath.
Food you like the most to eat?
Noodles, Creole and Cajun are my favorite foods to eat. My absolute favorite is Texas BBQ.
Food you dislike the most?
Liver.
How many tattoos? And if so, how many are of food?
N/A.
Recipe: Chicken Fideo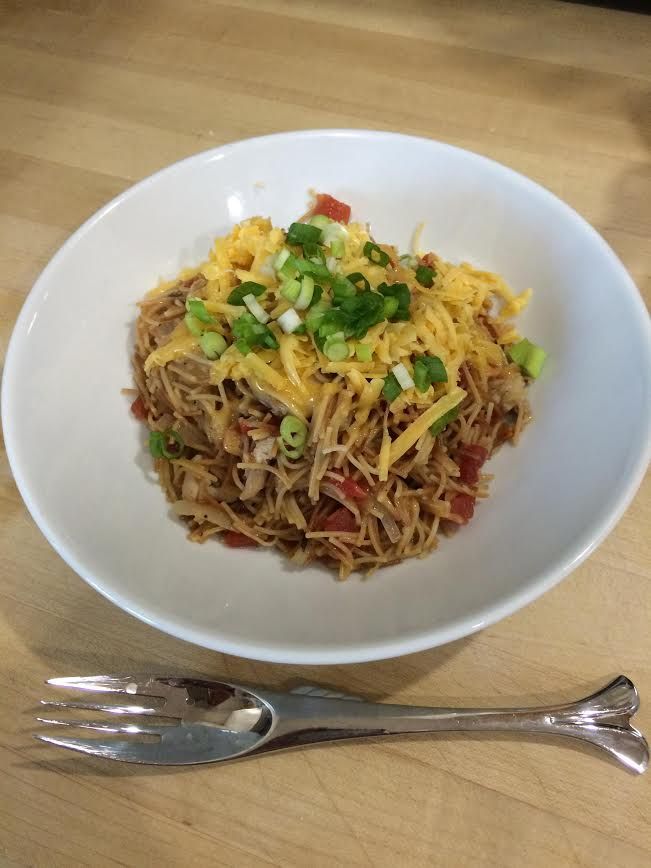 Serving Size: 5
Prep Time: 0:21
Ingredients:
7 oz vermicelli — fideo
1 oz butter
3 cups cubed chicken thigh meat
1 c julienned onion
2 t minced garlic
1 can Ro-tel tomatoes
3 cups water
2 t chicken bouillion paste
1 t oregano
2 t whole cumin
2 oz canned jalapeno peppers – juice
Directions:
Brown fideo in butter until golden.
Add onion and garlic and saute briefly.
Add chicken and cook for 3 minutes.
Add the rest of the ingredients and cook over moderate heat, until done – about 30 minutes.
Serve topped with sliced green onion and grated cheddar.
– The End. Go Eat. –