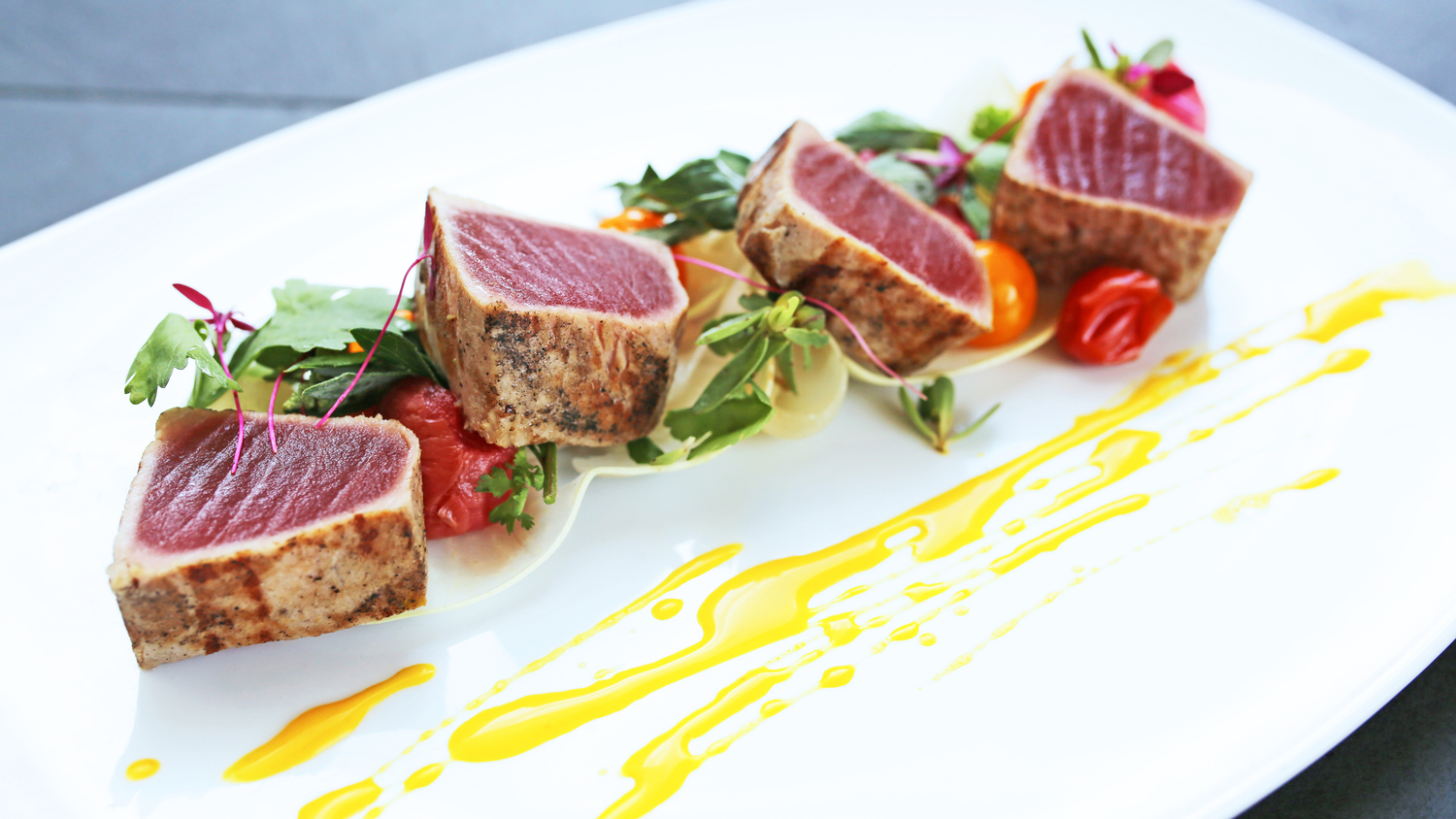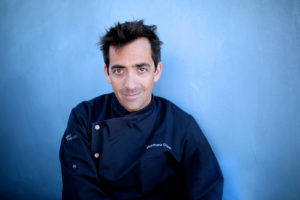 Matthew Dolan  is an established chef and restaurant owner who trained at The Culinary Institute of America in New York. His restaurant, Twenty Five Lusk, was named Esquire magazine's Best New Restaurant and Open Table Diners Choice Top Hot Spot Restaurants in the United States since its opening in 2010.
Dolan notes, "I am an American, aware of my Celtic roots, and I blame these roots for the passion that I carry forth in all things, especially my love of cooking and creating dynamic experiences through food. Cooking for others is a joy rewarded by seeing the enjoyment of others. Passion and care are the fundamentals of excellent food, and I am passionate about fish."
Chef Dolan has a new venture out, one that is accessible to food lovers around the world. His new cookbook, Simply Fish, is a treasure.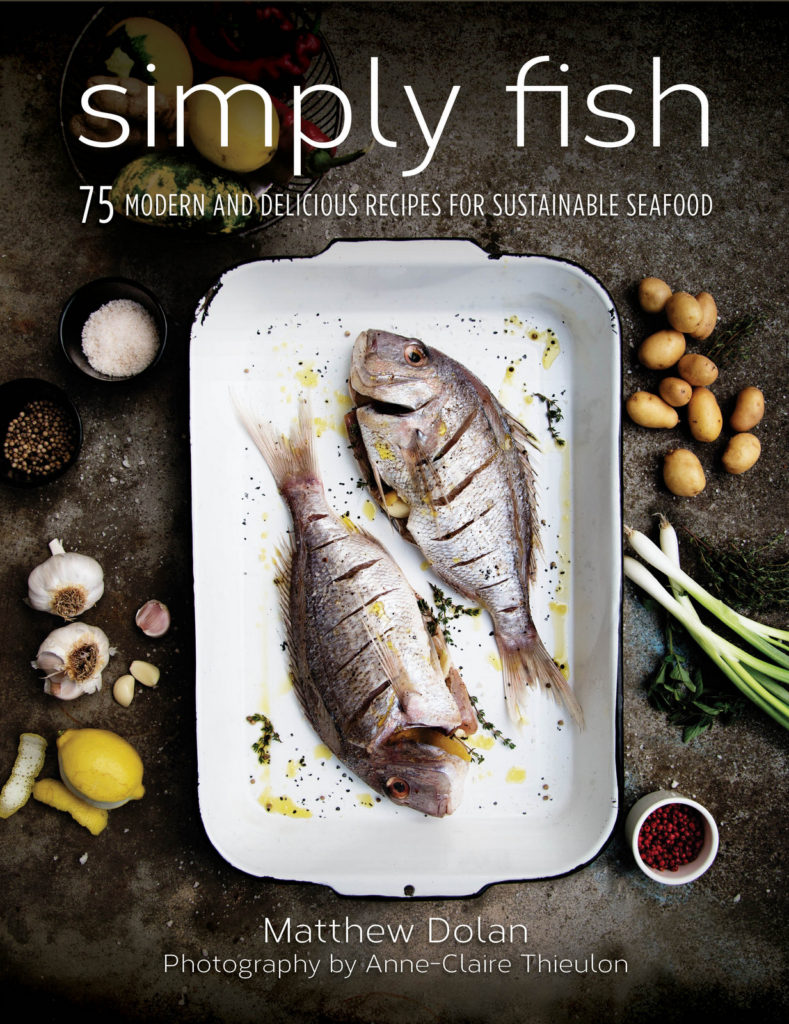 "Simply Fish is your definitive guide to preparing seafood that is sustainable, healthy, and delicious. Matthew Dolan's recipes are accessible and brilliant, and his stories are engaging. The bounty of the sea is here, in a book you'll treasure." — Drew Nieporent, restaurateur, Tribeca Grill, Nobu, Bâtard
Simply Fish explores many recipes, techniques, and secrets to delivering a restaurant-quality experience in your own home, simply through cooking fish. You'll learn about fish, sustainability, and enjoying cooking with seafood, and get inspired by the beautiful, delicious, seasonal recipes (including no-fish desserts!). I especially love the section of each recipe entitled 'what to tell the fish guy' – because I think many people are stumped by fish right from the point when you need to purchase it. Genius!
Chef Dolan has also included a few stories of travel, fish, and eating that showcase his humor, quick wit, and thoughtfulness. About a sauna, swimming in the frozen sea, and the meal afterward, Dolan said, "One by one, these crazy Finns leapt in and swam about as if it was noon and they were at Club Med somewhere in the Caribbean. What else was I to do except take the plunge—literally. What a contrast as I felt my heart implode and an unexpected feeling of warmth. I thought I was dying. Then this passed and it was time to get out. Thanks to a little insane moment of ice swimming, we were ravenous and alive. At the center of the table was a beautiful arctic char, roasted whole and awaiting its place in our bellies. Dill and butter-poached potatoes, smoked whitefish, pickled herring, roasted beets, butter lettuces, caviars, and mind-blowing sour breads encircled this magnificently roasted cold-water fish. There were marinated cucumbers known as grandma's cucumbers, sausages, wine, and beer. The inherent simplicity and care with how this feast came together would later redefine my cooking."
Chef Questionnaire (with a nod to Proust):
What is your favorite food to cook at home?
Risotto, seasonally driven, usually with mushrooms.
What do you always have in your fridge at home?
Beer and ham. Simple staples.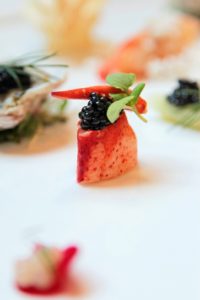 What marked characteristic do you love in a person with whom you are sharing a meal?
Excitement for the experience, the food, and the effort that surrounds it.
What marked characteristic do you find unappealing in a person with whom you are sharing a meal?
Inferior table manners. I am worried that we are losing sight of the importance of table manners. I still believe that good manners shows that we respect each other, as well as the time we have committed to one another. And speaking with food in your mouth is silly and awful…it would be nice if we stood when others join the table, but I realize this is asking too much.
Beer, wine, or cocktail?
Beer mostly, softer and gentler wines always, but I am not a tough guy who can handle heavier brown spirits, so if it's cocktails, we are talking Dark and Stormy or a very fresh margarita – no salt nor triple sec.
Your favorite cookbook author?
Michel Roux
Your favorite kitchen tool?
Tasting spoon. The difference between good and great is determined by this tool.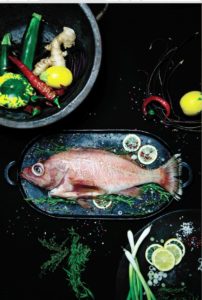 Favorite types of cuisine to cook?
Tough question. I'm an Irish-American with a classical French background. I employ the French and Italian, borrow from the Chinese at times, but the favorite path is driven by sustainable seafood and making the most of ethical choices that are market driven.
Beef, chicken, pork, or tofu?
Pork.
Favorite vegetable?
Asparagus
Chef you most admire?
Pierre Gagnaire
Food you like the most to eat?
Szechuan Dumplings
Food you dislike the most?
Kidneys. Can't do it.
What is your favorite non-food thing to do?
Sky dive – only been once, but need to go again quickly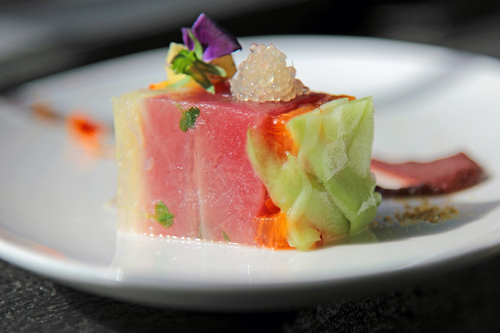 Who do you most admire in food?
Anybody that agrees that food has the ability to take people away from their lives, their issues, and create a moment of joy. There are loads of us doing this, but those that care about the individual receiving the food first, I admire you. And we waste too much food in the USA. So if you are controlling your portion size and making efforts to reduce food waste, I admire you even more.
Where is your favorite place to eat?
There is a Korean inspired place here in San Francisco, Namu Gaji, and it has become a regular thing. They do a really good job.
What is your favorite restaurant?
I have to say, Farm Shop in Brentwood (LA), California is a very amazing and consistent place. That said, Liho Liho Yacht Club in San Francisco is a stunner, as well.
Do you have any tattoos? And if so, how many are of food?
I only have accidental tattoos, or scars from burns if you will, after twenty-eight years in the kitchen. I think that they are a lot cooler and less of a time commitment. Not opposed, maybe one day?
Recipe: smoked salmon and farm egg frittata with basil, lemon, chives, and tomato
serves 4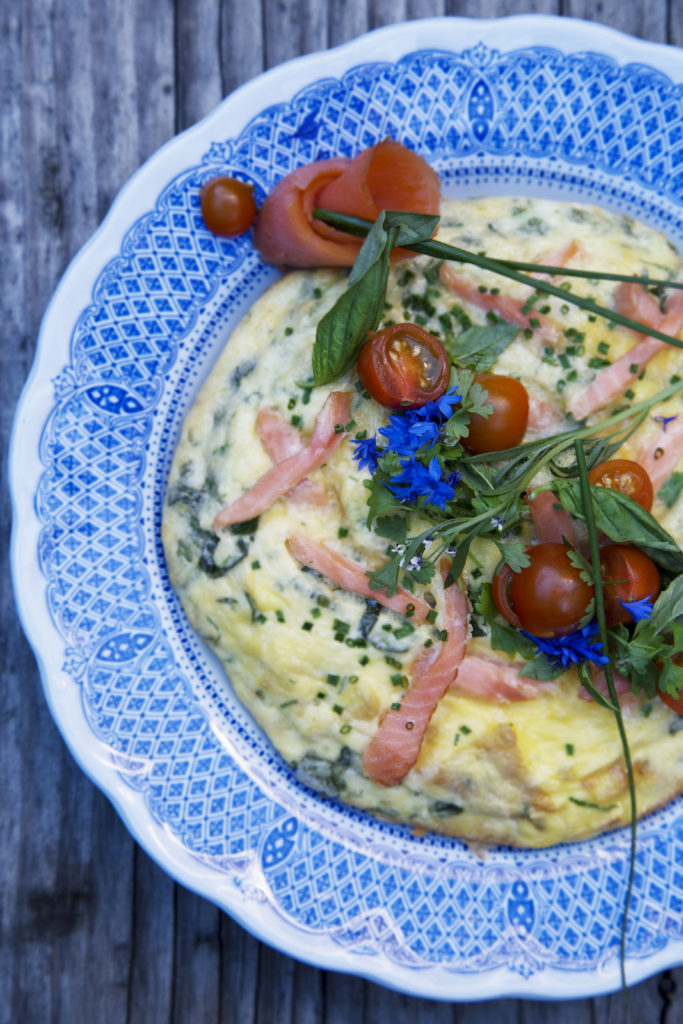 what I cook at home, actually this is also from the book
10 free-range or organic eggs (if farm-direct, the flavor's even better)
½ cup sour cream
Juice of 1 lemon
Zest of 1 lemon
2 teaspoons salt
1 teaspoon pepper
1 cup grated sharp cheddar cheese
½ pound Pacific or sockeye smoked salmon, sliced into thin strips
1 cup basil leaves, destemmed, torn
2 Tablespoons (½ bunch) fresh chives, diced
1 cup cherry tomatoes, halved lengthwise (reserve ½ cup for garnish)
2 Tablespoons cooking oil
1 Tablespoon unsalted butter
what to drink
Blanc de blanc champagne
Txakolina Rosé from Spain
Your favorite daytime drinking beer
Bloody Mary
what to tell the fish guy
You probably don't need the fish guy for this one. There is usually a refrigerated case close to the fish counter that will have what you are looking for. But, if the fish guy has some smoked fish options that are not pre-packaged, you can ask where the fish is from and when it was smoked. Normally, fish will be brined or cured before smoking. If you go the prepackaged route, check the sell by date; the fresher the better.
method
Preheat your oven to 400°F. In a mixing bowl, whisk together the eggs, sour cream, lemon juice, lemon zest, salt, pepper, and cheddar cheese. Using a wooden spoon or spatula, fold in the sliced smoked salmon, basil, chives, and ½ cup tomatoes. Heat a cast-iron skillet or nonstick pan over high heat and add the oil and butter. Once the butter has melted and the combination begins to slightly smoke, add the contents of the mixing bowl. Using a wooden spoon, stir everything in the pan in an effort to evenly distribute the garnish throughout the egg mixture. Cook for 3 minutes and place in the oven. Cook for 15 to 20 minutes or until the eggs are fully cooked. Remove from the oven and allow the frittata to cool for 2 to 3 minutes. Turn the frittata over onto a cutting board and serve.
plating
I usually cut this into pie-shaped slices. Add ½ cup of the sliced cherry tomatoes on the side to serve.
 – The End. Go Eat. – 
Photos copyright 2017 by Anne-Claire Thieulon