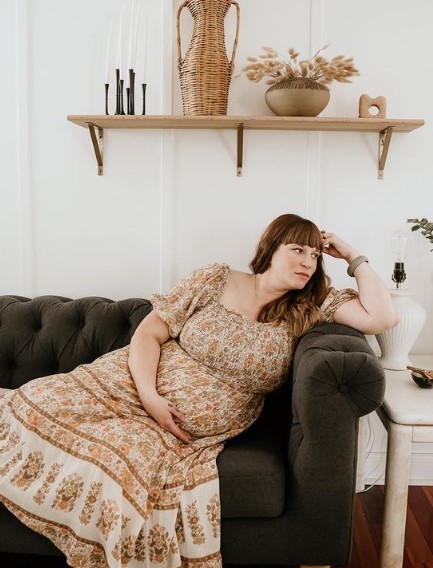 Thrifting, Parenthood and the Joys of Living in Indy; Plus, a Spicy & Sweet Hand Tart Recipe
I first met Abby Breece, 36, and her husband, Eric, as neighbors when Nick and I moved to Indianapolis. The mid-thirties duo allowed us to glom onto them since this was my first time living anywhere in the Midwest, and they knew a Midwestern newbie when they saw one. Together, we wandered around Massachusetts Avenue in Indy, bar-hopping before their baby was born. They met our respective families, we met theirs, and we joined their "Covid-19 circle" during the early days of the pandemic. We even went to Chicago together, eating in some stellar places while touring the city.
A native Hoosier, Abby, maintains a thriving practice as a licensed marriage and family therapist. On the side, she created an online vintage Instagram shop called Beulah, named after one of Eric neighbor's growing up in Traverse City. As she says on her Instagram store, "(Eric) remembers Beulah's home filled with rattan, wicker and other furniture from the sixties and seventies. After we got married nine years ago, he saw me follow suit, bringing home thrifted furniture from the same era and affectionately (or not, I'm not really sure referring to (my purchases) as "more Beulah."
An empathic healer during the day, and in her free time, using Beulah Vintage as a creative outlet. Her company of four years sells on a single social platform, and the business thrives. Active 2: She sourced and curated items for her store over the past year, opened a small kiosk in the Lux & Ivy Shop located in the hipster area of Broad Ripple, appeared on a TV segment in the area, and occasionally sells in local outdoor markets.
Somewhere through all of this, she gives back to the community by volunteering for the Friends of Martin Luther King Jr. Park, a neighborhood volunteer initiative that helps to beautify the city's neglected memorial green space.
And then she bakes. Delicious cookies. Holiday pavlova. Banana bread.
We inserted ourselves into Abby's busy life to learn more about this new mom, her life and where she finds inspiration with i8tonight Questions.
I8tonite: Tell us about yourself. Where were you born, and what does a typical day look like? I was born in Indianapolis. My mom was an elementary education teacher, and my dad was in shipping logistics.
A typical day includes recent motherhood stuff. That means a lot of feedings every few hours and dog walking. Still, when I'm not doing that, I'm sourcing online or in person for stuff for Beulah or doing inventory.
I'm also a licensed marriage and family therapist in private practice. And I've done that since officially 2016.
Why did you start Beulah?
I didn't start it intentionally, but it came out of the joy of liking to source and thrift vintage and, honestly, inexpensive items while I was in college and as I grew into my career. And so that became a hobby for me, and I wanted to share it with others.
Instagram was a big platform that I could use. I started doing it on there, and it's taken a lot of different shapes, sizes and evolutions over the years, but that's where it began. I've wanted to keep it unencumbered without a third party. That's been how I've done it, but I don't say we'll always be like that. It's just like that right now.
What gives you the greatest joy with Beulah?
It is the sourcing. Going out and thrifting without an agenda, especially when traveling. Not looking for something specific, but finding that one-of-a-kind thing. It feels freeing.
What is your favorite period in interior design?
Eighties post-modern. I really like things like Formica or lacquered finishes when used tastefully. Things like faux marble, for instance. I have a console table right now that's faux marble. It's Formica, but there's something about it – that I don't know – I like the texture. Sometimes the versatility that certain textures are easier to care for, clean and maintain than marble. Sometimes I like the utilitarian surfaces of 80s post-modernism. They're easier to keep clean, even fake brass. If not done right, they can look really gaudy, but I think tastefully done, it can be like a chef's kiss.
Tell us about your favorite inspirations and who inspires you.
When I talked about different textures, it's a bit of following the muse and not trying to be too specific. I try to be very open-minded to find my inspiration. I won't find something if I'm looking too hard for something. I could miss out on something else that could give me inspiration. It is about timing and not having the blinders on too much. So usually, that takes the form of different textures that I like.
I'm really into tessellated stone, suede, or leather, which could be a specific color I'm feeling right now. I honor that, follow those whims, and trust that people will follow.
For people who inspire me, my friend Gretchen with Mama Ochre. Her compass is very much like her heart. She trusts her own taste and style and, always shows up for her work and won't do it if it's not genuine or authentic to her. And so I've always really liked that about her and her business; it doesn't feel fabricated or fast fashion. It's sincere and vulnerable. You can always see her when you see her work, so I've wanted to emulate something similar with Beulah and myself.
What are your favorite things about living In Indy?
I was thinking about this yesterday. I love the urban culture in Indy. It's very walkable and still a small town, meaning you can access most things without having to be on a waitlist for months for new restaurants or stuff like that. Many people are really approachable and friendly and want to be engaged. It's that Midwest nice. And for me, there's definitely a familiarity since this has been the one place I have lived and done life, so there's a comfort here.
What is your favorite city and why?
I really like Golden, Colorado. The backdrop is beautiful with mountains. It's a quaint small town with delicious restaurants and bars but lovely scenery with rivers. It's outside Denver, so it's less noisy but still within the metropolis. Some good food and shops.
You and your husband are new parents. What is your favorite place to walk or stroll in Indiana with the baby?
The Monon Trail has always been my favorite. There are many restaurants and shops accessible from it, and you feel unencumbered by traffic. That's the main reason I like it because you don't have to stop at every street for a traffic light; there might be a crosswalk or two. And it's surrounded by nature and a lot of trees. It feels like you're in your own little world. When Eric goes to the office, I take Huck and Rooney in the stroller for a walk. I stop at Breadworks or someplace place afterward for iced tea. Or a coffee shop I last visited a while ago and get something on the way home. It makes me happy and gets me out of the house. A new and little tradition.
What do you have in the fridge currently?
I have a giant pitcher of iced coffee. A lot of things to make meal prep easier. Our grab-and-go stash of hard-boiled eggs and pickled bologna. (I want to be clear. That is not for me because it's disgusting. My mid-northern Michigan husband loves the stuff.) And cookie dough. Always cookie dough.
Adapted by Abby Breece
Spicy Apricot Pop Tarts.
How to Make this Puppy!
Preheat oven to 400, then line a baking sheet with parchment. Put it to the side until ready to use.
In a large bowl or bowl of a stand mixer, to make part of the filling, beat together the butter, sugar, and almond paste. add 1 egg (reserving the other for an egg wash), followed by the lemon juice and extracts. Once that has been mixed, add to it the salt, flour, and red pepper flakes until just combined. Place to the side.
Roll out your dough to a pie crust thickness. Using a sharp paring knife and ruler, cut out eight 2-inch by 3-inch squares of pie dough. Place onto the baking sheet about an inch and a half apart. In the center, dollop a teaspoon of apricot jam and spread. Do the same with the almond batter.
Roll up the remaining pie dough, and cut out eight more rectangles that are a 1/4-inch longer on all sides, so that they fit over the filling. Place that layer of pie dough over the filling and crimp the edges with a fork to seal the edges. If not done, well filling will bubble out. With the remaining egg and a thimble of water to brush the edges of the tarts. This will provide a nice golden crust. Gently poke the tops with a fork twice and bake for 10-15 minutes until ever so browned. While it cools, in another bowl, stir together the powdered sugar and milk to create the glaze. If it is too thick, add more milk. Two thin? Add sugar, to achieve your desired consistency. Spread over the top and add a sprinkling of sprinkles!
I8tonite.
Disclosure: We may make a commission on links. We need to make money in some way.