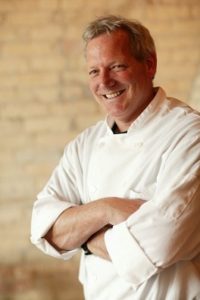 Traverse City, Michigan is a special place. Globally known as an incredibly beautiful location, there's so much more to Traverse City than Sleeping Bear Dunes, named the most beautiful place in America. It seems that everyone here loves food, as you can tell from the array of incredible restaurants, second homes of well-known chefs, and a farm to table movement that has been going on for over a hundred years.
Two of the things I love most about TC are the friendliness and sense community. Whenever I head north from our cottage an hour south, I ask my friend Mike Norton, of Traverse City Tourism, for a recommendation. He's got the goods, and knows the best in town (including his contributions for my 50 best Midwest Coffee Roasters, but I digress). Mike recommended amical restaurant to me a while back, and I couldn't wait to share this favorite restaurant with our readers.
Owner and Chef Dave Denison is one of those people you immediately love. He's funny, creative, and extremely interesting. You'd pick him, if you were going to be stuck on a desert island (hopefully, his chef knife would come with him, because I would be carrying sunscreen). He started by cooking at a young age, and has always worked in restaurants. When he moved out west to California, he thought about getting out of this line of work. Luckily for us, his plan backfired, as he got a job at a growing chain restaurant, and moved up through the ranks and opened up restaurants all over the country for them.
Denison grew up in Southeast Michigan, as well as in Alamaba and Georgia. When he and his family decided to leave California and find a place to start a new restaurant, Traverse City fit the bill. He's one of Traverse City's top chefs, with his restaurant amical, which opened in 1994. amical started as a quick service gourmet cafeteria, and has evolved into a European-style bistro.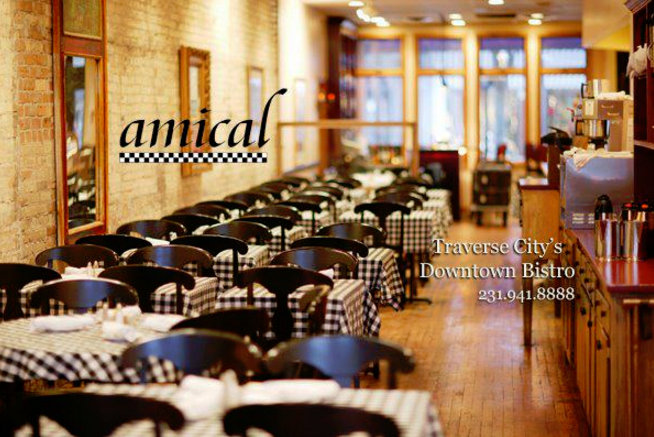 Denison remarked that they were fortunate in that through all these changes, their customers supported them and kept coming back.  He noted that "how amical started, to where we are now, is very, very different. We've always treated our guests and visitors with respect and knowing that they are the reason we are here."
I was intrigued by his description of the local food scene. Denison said that "TC has obviously enjoyed national and international recognition over the last 10 years, and it's well-deserved. It might look like it's an overnight sensation, but people have worked a long time at their craft here, and many established chefs have been here for a while – in fact, moved to the area with the intention of practicing their craft, using local ingredients. Generations of families have been raising these local ingredients for 100+ years! The farm to table movement was always here, but we were able to utilize it well in our restaurants, and then people 'discovered' it. However, it's always been going on in this area – now just on a bigger scale. This is an agricultural community that has lived for centuries with such natural beauty. We're surrounded by farmers and people that create a bounty from the land, and we're happy to be able to be a part of that legacy, and know that this will continue for quite some time."
amical's food is local, fresh, creative, and delicious. The staff are incredible – supportive, supported, and intent on creating an excellent dining experience in the community.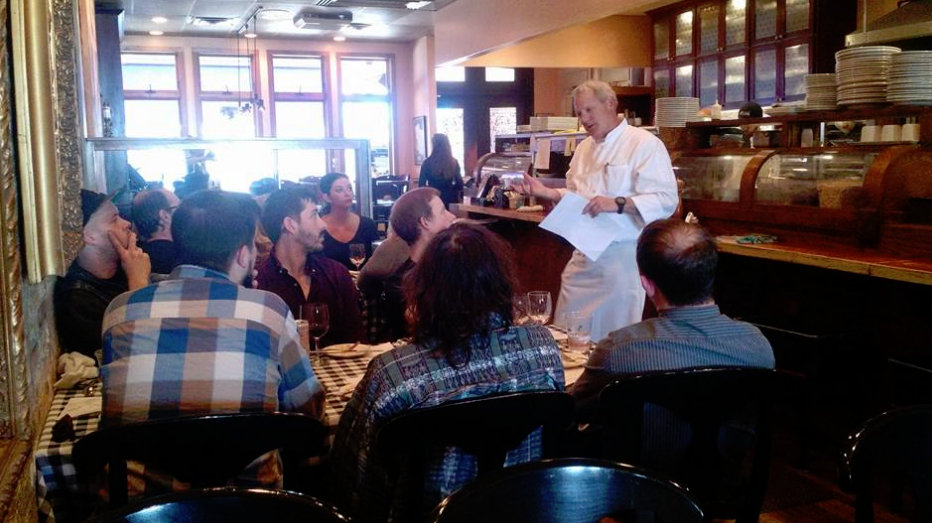 There's one more thing you'll love about amical – the annual Cookbook school, held during the winter months. Denison shared, "for those new to the series, this is what we do: once a month, our kitchen staff will create a week-long dinner menu that consists of recipes from a cookbook. You will find a nice blend of cookbooks from the past, previously featured chefs with new publications, and first time cookbooks. Over the past 19 years, the kitchen team has developed menus from over 100 different cookbooks…while preparing almost one thousand recipes. We credit our loyal patrons for their support and our staff for their passionate drive in making this series an incredible success."
A community treasure, indeed.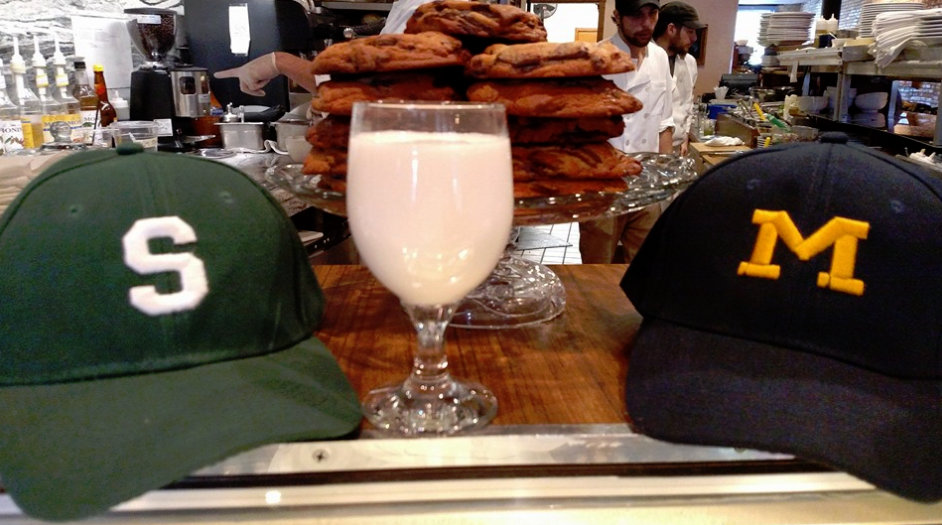 Chef Questionnaire (with a nod to Proust):
How long have you been cooking?
"Professionally" since I was 15. My mom was, admittedly, a lousy cook, but for some reason I had an interest at an earlier age. She says it was due to my survival instincts.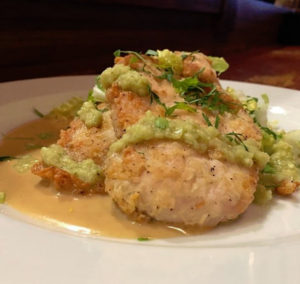 What is your favorite food to cook?
I like to prepare hearty soups, especially during the winter months. Can you tell I'm from the Midwest?
What do you always have in your fridge at home?
Tortillas (corn & flour)… and cheese – usually a St. Andre or a local chevre or Raclette. P'tit Basque, too.
What do you cook at home?
For a quick bite, it would be tacos. Or a stir fry.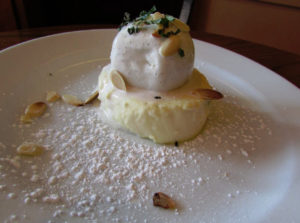 What marked characteristic do you love in a customer?
The fact that they continue to return!
What marked characteristic do you find unappealing in a customer?
Paranoia. A few people think "we're out to get them" or treat them differently because they were late, not from around here, etc… and for the record, we are not, unless you are late or from another town. JK on that.
Tupperware, Rubbermaid, or Pyrex?
Pyrex, then it's on to ziplocks.
Beer, wine, or cocktail?
Cocktail. Right now its tequila, ginger beer, and lime.
Your favorite cookbook author?
I plagiarize cookbook authors on a frequent basis. Everyone from Mario to Jamie Oliver are represented somewhere on our menus. Right now we are using Pickles, Pigs and Whisky recipes from John Currence. But Yotam Ottolenghi is quickly becoming a new favorite.
Your favorite kitchen tool?
A 10" French knife but I like having a good quality mandolin around. A garlic slicer is a neat little gadget to have around, too.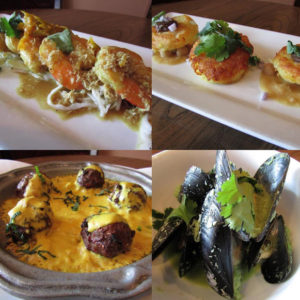 Your favorite ingredient?
Onions, onions of all kinds. Caramelized onions, grilled onions, roasted onions, onion soubise, fried onions, don't forget the chives, red onion, Vidalia onion, green onions…
Your least favorite ingredient?
Eggplant. My mom would pan-fry it and pour maple syrup on it. Yikes! Did I mention she was not a very good cook? But I love you, mom!
Least favorite thing to do in a kitchen?
Re-make a dish because we made a mistake.
Favorite types of cuisine to cook?
Asian preparations for their versatility, quickness, and healthy attributes. Mexican is a close second.
Beef, chicken, pork, or tofu?
C'mon. Pork.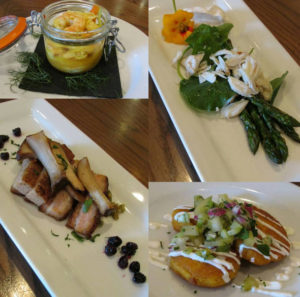 Favorite vegetable?
Local asparagus. It's only around up here for a few weeks in the Spring.
Chef you most admire?
One you would recognize would be Eric Ripert. Locally, it would be Harlan "Pete" Peterson of Tapawingo fame in Ellsworth, Michigan. He is so talented but incredibly humble. He just opened Alliance here in town. Already a favorite of many!
Food you like the most to eat?
Fresh seafood and shellfish. Walleye is a favorite. But put a fried egg on something and I'll order it.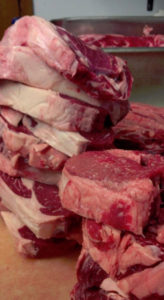 Food you dislike the most?
I never really acquired a taste for calf's liver. I'll get my iron somewhere else, thank you. (<<Look left)
How many tattoos? And if so, how many are of food?
None so far, but my wife has one. Does that count?
Recipe: amical's Chicken Pot Pie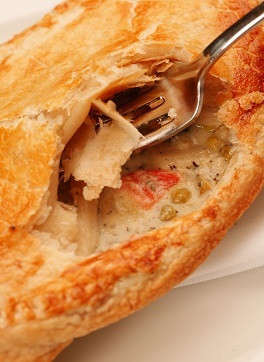 Servings: 6
Size: 1.5 Cup(s)
Prep. Time: 0:35
Ingredients:
2 c chicken breast, cooked and diced
1/2 c carrots, peeled and diced
1/2 c celery, diced
half a medium onion, peeled and diced
1/2 c frozen peas
1 pound potatoes, peeled, cooked, diced
1 c mushrooms, sliced
1 c heavy whipping cream
1 c whole milk
1 T chervil
1/2 T dried basil
1/4 T salt
1/4 T pepper
2 c chicken stock
4 oz butter
1/2 c all-purpose flour
2 T grated parmesan
2 pieces puff pastry dough
1 egg, beaten
Directions
1. Saute vegetables in butter in a small stock pot.
2. When onions are translucent, add flour and mix. Simmer for 5 minutes.
3. Add milk, cream, potatoes, stock, spices, and parmesan. Heat until sauce has thickened. Check for seasoning and proper thickness. Add more roux if needed.
4. Place filling in individual oven-proof dishes. Cut out a puff pastry dough lid to fit the top of the dish. Brush with eggwash and bake at 350 degrees for 12-14 minutes or until pastry is golden brown, and the filling bubbles.
– The End. Go Eat. –