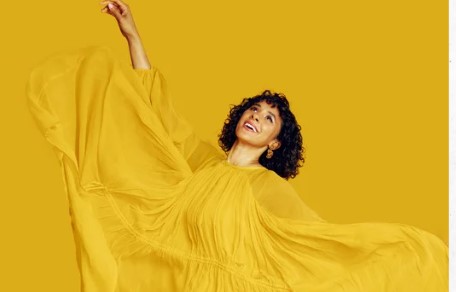 When I first met Jennifer Magley at an event, she offered huge smiles, genuine warmth, displayed a brilliant fashion sense all while listening to an old fart (me) prattle on about nonsense. That very morning, her company downsized leaving her without work. To her credit, she showed grit and resilience by coming out to make new acquaintances instead of staying cooped up, feeling sorry for herself, which is what I would have done.
Born in Kansas, Magley attended the University of Florida and was a scholarship athlete at IMG Academy under the direct tutelage of renowned tennis coach Nick Bollettieri. While in college, Magley became the number one ranked NCAA Division, Singles player in the country, a four-time All-American, and the Arthur Ashe Jr. Sports Scholar recipient. As a member of TEAM USA, Magley represented the United States in over 14 countries. After graduation, she competed professionally on the WTA Tour before being named Associate Head Coach at Wichita State University. With many accolades and recognition, she became the nation's youngest NCAA Division head coach at Florida Gulf Coast University.
She has written two books, with her debut novel Division I, released in 2014, spotlighting issues that affect female collegiate athletes and, in 2021, How to Be Queen-A Leadership Fable, about the power of imperfect leadership.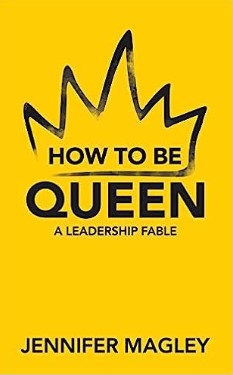 Today, with national media coverage, from USA Today, CNN, ESPN, Foundr Magazine, and US News & World Report, she is a successful Keynote Speaker and High-Performance Coach, having spent over a decade as a recruiter and helping successful people become their best. Additionally, she started Magley Mass Media, where she promotes women, including her mother, Evelyn Magley, the first Black woman to head a men's professional basketball league. Her father, a former pro player with the Cleveland Cavaliers, Dave Magley, was the former commissioner of the National Basketball League of Canada and now is the president and chief operating officer for the North American Basketball League.
Between her sold-out luncheons, writing, speaking, and being just a media superstar, Magley graced us with answers to i8tonite questions and a time-honored yeast rolls recipe.
Why did you start Magley Mass Media?
In March, my full-time role as a technical recruiter laid me off and launched Magley Mass Media. I just looked at my phone and it says I started doing my thing on April 18th full time.
What gives you the greatest joy in working in this space?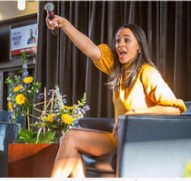 For most people, the reality is that no one knows your name; I help change that through 90-day Media Mastermind Groups. My greatest joy is seeing the folks I partner with land more media, connections, and onstage opportunities. People need to know you exist and that you have expertise.
What is your favorite thing to do around your company?
Finding new ways to surprise and promote the people I work with. I deeply believe that over-performing is such a gift. It's a joy to be able to see my clients light up.
Could you tell us about your favorite inspirations?
There have been a lot of people who have sacrificed in my bloodline for me to be where I am today. I have descended from slaves and slave owners, immigrants, and orphans. That's positive motivation. On the flip side, there are a handful of men that have taunted me with their money and arrogance. Hard to say which inspires me more.
What are your favorite things about the Midwest?
The people. Indiana has been rated by the IEDC as one of the best places in the country to begin a business. That proves to be true. I was born in Kansas, so that's why I probably say the people. Secondly, cost of living.
What is your favorite regional city and why?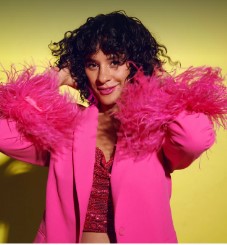 This is unexpected but Cincinnati, that counts right? They have done so much to develop their downtown, especially Over the Rhine, with restaurants and shops. They have a bit more elevation than Indianapolis and it really is such a lovely place, and the food is fantastic.
Where is your favorite place to eat and why?
VIDA. (It's a) Cunningham property, however it is a chef's restaurant, so it is not a chain. This is where we go for special occasions because of their four-course dinner. Chef's kiss. I've had literally everything on the menu and their consistency is unmatched for fine dining in Indy.
What do you have in the fridge currently?
Oatmilk. Organic Eggs. Champagne. Organic Greens. I want to be bourgeois.
Jennifer Magley's Grandma's Yeast Rolls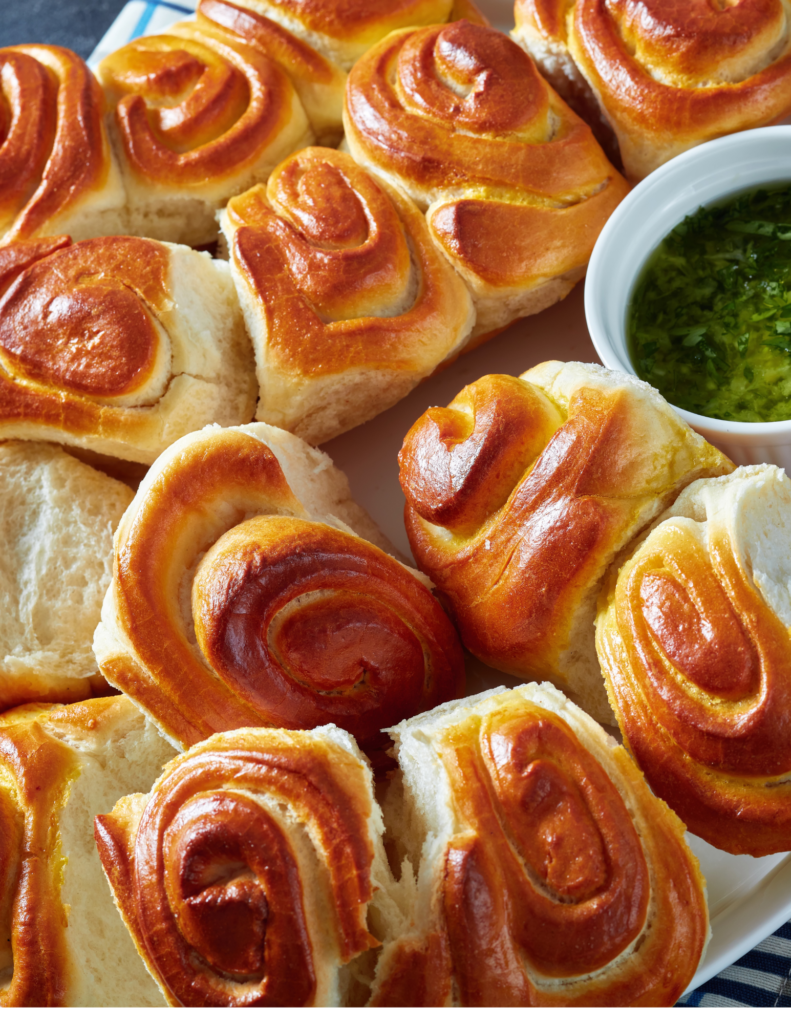 Ingredients
4 – 5 cups all-purpose flour
2 cups hot water
⅔ cup sugar
½ cup of liquid Crisco or any liquid cooking oil
3 eggs
2 packages yeast, Rapid rise or day (3 if you are in a hurry)
Cupcake pans, greased and floured
To Make: 
Pre-heat oven to 375° to 400°depending upon oven. Mix hot water, oil, sugar and eggs. Stir until sugar is dissolved. If you use rapid rise yeast, sprinkle in liquid, then let it dissolve waiting a few minutes. Stir. Add about two cups of flour and stir adding more flour on the right consistency for kneading. You may put a kneading board on the counter-top. 
Knead very little, just enough to roll out and cut. If you don't have a biscuit cutter, use a cup to cut out two circles and a half. Fold the circles in half and add the half-circle into the greased and floured cupcake pans. Pinch the edges together. Brush with melted butter and let rise until they look right for baking. (Forty-five minutes to an hour).
Bake for 10 minutes or until brown, brush with butter again when removed from oven.
Cinnamon Rolls: Simply roll out as you do for rolls. Brush with butter.
Mix brown sugar, white sugar, cinnamon, raisins and nuts. Roll up the dough into a log. Let rise.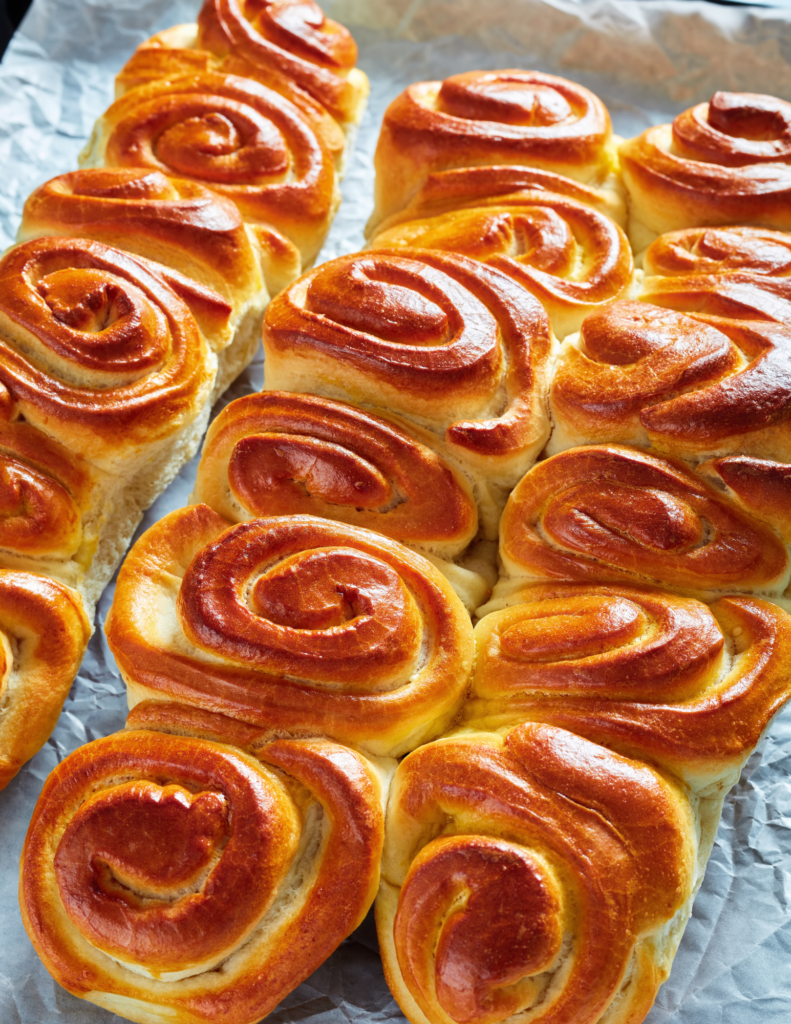 We may make a small commission on the links.